MAJOR SYDNEY BANKS KEAST, O.B.E., M.C.*
Royal Engineers
by
Lieutenant Colonel Edward De Santis
© 2008. All Rights Reserved.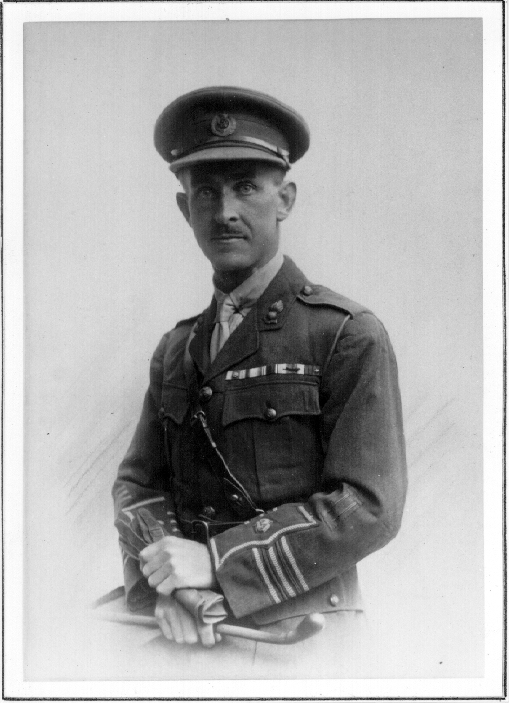 PREFACE
This is not the story about a well-known hero. Rather it is the story of a relatively unknown British officer who served his country in two major wars as an officer in the Royal Engineers, and between the wars as a colonial civil servant. Despite the fact that he is mentioned only briefly in the military histories of his country, Sydney Banks Keast was more than just an ordinary man. He represented all that we normally think of when we think of the British officer born in the Victorian era, raised in the Edwardian era, and living through the troubled times of King George V and King George VI. He died during the reign of Queen Elizabeth II after a life spanning 80 years and the reigns of five monarchs.
Sydney Banks Keast was many things during his life; soldier, engineer, explorer, hunter, rifleman, and polo player. He was in fact an extraordinary individual whose life is well worth recording. The many hours I have spent researching his life have been pleasurable ones. I have had the opportunity to correspond with and talk to many interesting people during the course of this work. To all of these individuals I am deeply indebted for their assistance.
Having finished this work I feel as if I knew Major Keast personally. Preparing the work has given me much pleasure. I hope that anyone who reads it will appreciate Major Keast's contributions to his country. Medal collectors, I am sure, will benefit from the research methods employed.
THE YEARS OF HIS YOUTH, 1884-1906
Sydney Banks Keast was born on 5 January 1884 at 102 Kennington Park Road. Kennington 1st, Lambeth, Surrey, the son of Walter Keast, a master bootmaker, and Emma Mary Keast (nee Banks) [1]. Kennington is located to the south of metropolitan London about one mile southeast of Vauxhall Bridge and is today actually a suburb of the city. In 1884 Kennington was rather a depressed area, not connected to London, yet close enough for its inhabitants to pass as cockneys.
When Sydney was born the Keasts already had one child, a three-year-old daughter named Ethel Mary. They were to have a third child some time later, another daughter who they named Kate Evelyn.
In 1897 when Sydney was 15 he entered a prepatory school at Geddington, Northants as a boarder [2,3]. By this time his family had moved to a new residence at Hillcroft, Russell-hill, Parley, Surrey, a town located about 12 miles south of the center of London [4]. He was a good student and after four years was able to enter the City of London School in January 1901. He also attended Kings College, London and Technical College where he took evening classes [5].
While Sydney was away at college in London his family moved again. Walter Keast's family had grown and his business affairs had prospered enabling him to take up residence in a huge house at 45 Cheriton Road, Folkestone, Kent. Folkestone is a seaside town about six miles southwest of Dover. The house at Folkestone was a large, splendid structure of brick and masonry with a dormered roof and bay windows. It consisted of two stories and an attic or loft and sat on a terraced, hill overlooking the road below. The family kept a large Old English Sheep Dog and a beautiful black pony, which was used to pull a small tram for local transportation and pleasure rides [6].
In 1906 Sydney graduated as a Civil Engineer and sought immediate employment with the Sudan Civil Service. In June of this year he was employed as an Assistant Engineer in the Public Works Department of that colony [7].
HIS WORK AND TRAVELS IN THE SUDAN, 1906-1913
Armed with his engineering degree and. a camera Sydney set out for a life of adventure in the Sudan. One can only imagine the wave of excitement that surged through this young man as he headed for this vast and still turbulent area of Central Africa. As a child in Victorian England he grew up listening to and reading stories about military operations in Egypt and the Sudan; events which had been of intense interest to Englishmen during the last quarter of the 19th century. In literature Kipling's "Fuzzy-Wuzzy" and A.E.W. Mason's novel "The Four Feathers" had fired his imagination. Newspapers recounted the sagas of Hicks Pasha, Gordon, and Kitchen at Omdurman. Sydney Banks Keast was not far removed in time from these historic events. William Hicks died in the Kordofan, his body pierced by spears, on 4 November 1885, just 14 months before Sydney was born. Charles George Gordon, a Royal Engineer officer, lost his life in Khartoum on 26 January 1885, when Sydney was a year old. Another officer of the Royal Engineers, Horatio Herbert Kitchener destroyed the Dervish Empire at Omdurman on 2 September 1898 while Sydney was a young lad of 14 in prep school.
Now at the age of 22 Sydney was entering the fabled land of intrigue and violent history that he had read so much about as a child. The Sudan was the largest country in Africa. Yet for all its size and strategic location, bracketing both the Arab world and black Africa, it was a neglected land, protected by its swamps and deserts from world history [8]. Many Europeans who visited this grim land were appalled by what they saw. In 1885 Charles George Gordon [9], who lived in both the north and south of the Sudan and who played such an important role in its history, said:
"No one who has ever lived in the Sudan can escape the reflection "what a useless possession is this land". Few men also can stand its fearful monotony and deadly climate."
In 1898 G.W. Steevens thus described the northern Sudan [10]:
"Nothing grows green. Only yellow halfa grass to make you stumble, and sapless mimosa to tear your eyes; dompalms that mock with wooden fruit, and Sodom apples that lure with flatulent poison. For beasts it has tarantulas and scorpions and serpents, devouring white ants, and every kind of loathsome bug that flies or crawls. Its people are naked and dirty, ignorant and besotted. It is a quarter of a continent of sheer squalor. Overhead the pitiless furnace of the sun, under foot the never easing tread-mill of the sand, dust in the throat, tuneless singing in the ears, searing flame in the eye - the Sudan is a God-accursed wilderness, an empty limbo of torment for ever and ever."
The southern Sudan was even worse. In 1900, only six years before Sydney Banks Keast's arrival, Ewart S. Grogan wrote [11]:
"In the course of a chequered career I have seen many unwholesome spots; but for God-forsaken, dry-sucked, fly-blown wilderness, commend me to the Upper Nile; a desolation of desolations, an infernal region, a howling waste of weed, mosquitoes, flies, and fever, backed by a groaning waste of thorns and stones-waterless and waterlogged. I have passed through it, and have now no fear for the hereafter."
Such was the Sudan that greeted Sydney's eyes and was to be recorded by his camera. His personal photo albums record with extreme clarity the observations of Gordon, Steevens and Grogan. He found it to be a harsh and primitive land.
Sydney was posted to El Obeid the historic capital of the Kordofan where on 1 November 1885 the Mahdi had assembled over 100,000 tribesmen to support his divine mission. El Obeid was the largest and most important town of the western Sudan. It was the commercial center of Kordofan and the gateway to Darfur. Sitting in a slight hollow in a plain, it was able to collect enough water in its wells during the winter months to last the remainder of the year. Most of the houses were built of mud, except for the government buildings of sun-dried brick. Its population was about 100,000. It contained a number of wealthy merchants, dealers in camels, gum, ostrich feathers, cattle, skins and senna. There were also a number of foreigners, principally Egyptians, Syrians and Greeks, and, of course, many British government officials.
Sydney was provided with a house in El Obeid, a rather ramshackle structure of mud-brick and cracked masonry. He purchased a pony with the unseemly name of "Wogah-Wogah" and hired a young Sudanese houseboy named Hassan. His working kit consisted of khaki trousers and tunic, boots and tropical helmet fitted with the badge of the Sudan Civil Service (S.C.S.). He also developed the habit of smoking both cigars and cigarettes.
Sydney's duties as Assistant Engineer in the Kordofan seem to have been many and varied. Traveling by river, camel, horse, mule or on foot he visited and inspected various Public Works projects in his area of responsibility. The following is a list of just some of the projects which he supervised:
1. The operation of a wood station north of Kosti on the White Nile from which lumber for the region was procured.

2. The procurement of camels at Ed Dueim.

3. The operation of the brickfields and weighing station at El Obeid.

4. The operation of oil drills in El Obeid.

5. Water well drilling and water supply for the region.

6. The production of aggregate and the manufacture of concrete block.

7. The construction of local government buildings and residences for government officials.
With a passion for sports Sydney seems to have spent most of his off duty time either participating in or observing some form of competition. He was an avid polo player, shooter and hunter, and also seems to have tried his hand at water polo, diving, tennis, horse racing and motorcycle riding. Whenever he had the opportunity he observed and photographed the native sports. His photo albums include numerous snapshots of Sudanese engaged in aquatic and other sports to include the "greasy pole", camel wrestling, donkey races, the "quarterstaff", tug of war, and the "Diluka", a form of native dance. These events were extremely popular and were well attended by British and Sudanese alike.
Work, sports and travel appear to have been the main elements of his life during his seven years in the Sudan. He also seems to have developed an interest and close association with the military during these years. Again, his photographs show his attendance at many military reviews and ceremonies, the details of which will toe more fully covered later in this chapter.
In January 1908 Sydney visited Abu Haraz in the Kordofan. Traveling on camels and accompanied by Captains Anderson, Geere and Bisset also of the P.W.D. he made a rather extensive tour of this portion of the country before returning to his post at El Obeid.
In February 1909 Keast attended a review of the Camel Corps in El Obeid. His close friend Captain B.H.S. Romilly, D.S.O. of the Scots Guards was O.C. of No. 2 Company and appears as the main subject in many of Keast's photographs. The military activities of the day included officers "taking the oath" and the Corps marching past in column of sections. The band of the 6th Battalion, Egyptian Army provided music for the occasion. After the review the British military and civilian officials retired to the Officers Mess, a well-constructed masonry "building, for refreshments.
In September 1909 he made a much longer journey of some 660 miles to Omdurman, Khartoum and Port Sudan. His camera recorded the sights of the journey to include native boats, timber rafts and steamers on the White Nile and the tomb of Said el Mekki, a religious sheikh of the Kordofan. He stopped on his journey at Khartoum to inspect the work on the large elevated water storage tower at Burri and the newly completed river retaining wall. From the quay in Port Sudan he sat and watched the large cargo vessels that had passed through the Suez Canal steaming to their ports of call in the Red Sea.
Accompanied by other officers of the P.W.D. and. a large entourage of transport servants he made the trip in a number of stages, traveling overland 120 miles to Ed Dueim; on the Nile by steamer for 100 miles to Khartoum; and overland again some 400 miles to Port Sudan. Traveling by day and living in tents at night Sydney must certainly have experienced the desolation and dreariness of the Northern Sudan as described by G.W. Steevens.
With Captains Craig and Gillan he encountered Baggara horsemen and their women herding cattle near the Nile. The Baggara were a rugged lot who only eleven years earlier had ridden under the sacred black flag of the Mahdi with the Khalifa's brother Yakub on the field at Omdurman. By 1909 they had returned to their nomadic life in the Kordofan but frequently they caused trouble for the local authorities. In October 1909 Keast recorded the arrest of a group of Baggara by the Camel Corps, brought in to El Obeid for grazing in another tribes reserve. Cases of this kind were not normally handled by the Army so all offenders were turned over to the Kordofan Police.
By May 1910 Keast was playing polo with great frequency having acquired two polo ponies of his own including a beautiful bay appropriately named "Bay Boy". In October of the same year he was off on another trip with J.A. Gillan, Inspector of the El Obeid District. This time their travels took them to the south and west of Kordofan. With two servants, and mules for transport, they trekked through the region visiting P.W.D. projects for which they were responsible. A typical camp included a small two-man tent, folding cots, chairs and tables, and the ever-present double barrel shotguns. Whiskey and soda seems to have been carried in sufficient quantities and bird hunting was the main recreation. An interesting photograph of Keast and Gillan taken on this trip shows that Sydney Banks Keast was a rather short chap, standing at most five feet - five inches tall!
The year 1910 also brought a series of splendid celebrations to El Obeid in honor of the coronation of King George V. One such event was King George V Sport Day held on the town's parade field. The Camel Corps, now commanded by Keast's good friend Romilly, engaged in the usual series of sporting events; camel wrestling, tug of war, quarterstaff, etc. Captain Romilly acted as the starter for the games using of all things, a Martini-Henry service rifle to fire the opening shot. Apparently the Martini-Henry was still in use by some of the military units in the Sudan as late as 1910. This rifle was also widely used as a hunting weapon during this period.
Keast's activities during the year 1911 were confined to the El Obeid area. Most of his time was devoted to the procurement of aggregate and the manufacture of bricks for four construction projects including the Senior Inspector's new house in El Obeid, two District Inspector's houses, one in El Obeid and the other at Bara, as well as a new mosque in El Obeid.
On the 27th and 28th of February 1912 a gala event took place in El Obeid. The occasion was the opening of the Kosti-El Obeid railway line by Lord Kitchener of Khartoum. Keast attended the ceremony along with his military and civilian friends from El Obeid; Beck and Teacher of the Royal Scots Fusiliers and 3rd Battalion, Egyptian Army; Fork of the Manchester Regiment and Camel Corps; Romilly of the Scots Guards and O.C. of the Camel Corps; and Davies, Craig and Gillan of the S.C.S. For the occasion the Camel Corps and Egyptian Army Battalions formed up in ceremonial order. Kitchener delivered a speech to the assembled British and Sudanese dignitaries including many tribal sheikhs who had come to El Obeid to attend the ceremony. Many historic personages accompanied Lord Kitchener to Khartoum on this day. Keast was to meet, or at least get a first hand look at each of them. Lord Kitchener of course was the guest of honor, his exploits being well known and needing no further elaboration. Sir Francis Reginald Wingate was also present at the ceremony. In 1886 Sir Reginald had been a major and chief of the Intelligence Department of the Egyptian Army. He was instrumental in developing plans for Kitchener's reconquest of the Sudan and the rescue of Slatin Pasha from the Khalifa. As a colonel, Wingate accompanied Kitchener's army to Omdurman and in November 1899 leading a force of 5,700 troops he tracked the Khalifa to Umm Diway-karat (near Kosti). On 25 November 1899 after a forced march by night Wingate and his column found themselves in a position on high ground overlooking the Khalifa's camp. As soon as it was light the Khalifa's 5,000 Dervishes attacked Wingate's force. Wingate's men cut them down with rifle and machine gun fire and then advanced for the kill. The battle was over in half an hour. The Khalifa Abdullahi along with Khalifa Ali Wad Helu and most of the principal emirs were found dead, the Khalifa lying on his sheepskin rug facing Mecca. Only the wily Osman Digna, that expert in escaping from lost battles, managed to escape again, the last of the great Dervish generals. Wingate succeeded Kitchener as Governor General of the Sudan in December 1899 and ruled wisely and well for 17 years. The turmoil which raged through the Sudan during Wingate's tenure (and during Keast's tour of duty) is best described by Byron Farwell in his book "Prisoners of the Mahdi":
"Wingate faced his first crisis only one month after Kitchener left; a crisis caused not by the Mahdists but by the stern discipline of Kitchener. The 14th Sudanese Battalion, led by its Egyptian officers, mutinied in Omdurman. Wingate won back the soldiers by promising them an amnesty and the officer ringleaders were drummed out of the service and returned to Cairo under escort."
"There were no more mutinies, but there were continual revolts, most of which were of a messianic nature. In 1900 there was trouble among the ansar who expected the coming of the Prophet Jesus. The leaders of this movement were tried by a religious council and sent into exile as heretics. In 1905 a new mahdi sprang up in eastern Kordofan. He was captured and hanged. In 1904 a Prophet Jesus appeared at Sinja on the Blue Nile. Four years later (while Keast was at El Obeid and Abu Haraz) a former Dervish emir raised a fair-sized revolt that had to be crushed by a military expedition. In 1912 there was still another Prophet Jesus in Kordofan who had to be put down. There were also numerous revolts created from other than religious motives. In 1913 there were no less than nine expeditions sent out to stop intertribal wars, halt the arms traffic and uphold the authority of the government. There were a number of military operations over the years in the Nuba Hills to bring the refractory Nuba tribes under the control of the government. The fighting went on intermittently for years."
In 1917 while Keast was fighting in France and Flanders Wingate became British High Commissioner to Egypt and was retired in 1918.
Rudolf Slatin was another prominent figure present at the February 1912 ceremonies at El Obeid. Slatin was an Austrian by birth. He traveled the length and breadth of the Sudan in the service of the Egyptian government, until imprisoned by the Khalifa Abdullahi. After his escape from Omdurman, with Wingate's help, he returned to Egypt and was appointed Inspector General by Wingate. By 1907 he had won so many honours and titles that he became Major General Baron Rudolf von Slatin Pasha, K.C.M.G., G.B. With his intimate knowledge of the language, customs and people of the Sudan, Slatin was an invaluable aide to Wingate, but he did not always understand the outlook of the young Englishmen such as Keast who came to the Sudan to work in the Civil Service. After a short training period in Khartoum, the young men of the S.C.S. were sent out to work or rule in the remote provinces. Keast may have been one of these young men who was so trained and advised by Rudolf Slatin.
Accompanying Lord Kitchener, Sir Reginald Wingate and Rudolf Slatin at the ceremony was Captain E.G. Midwinter, Royal Engineers. Midwinter was a member of the Railway Staff who, under Lieutenant E.P.C. Girouard, D.S.O., R.E., was involved in the construction of a railway line to Dongola in 1896. He remained in the Sudan after the defeat of the Mahdi and continued his work on railways in the area, being one of the officers most responsible for the construction of the Kosti-El Obeid line. In 1914 Midwinter, as a Lieutenant Colonel, was appointed Director of Railways in the Sudan.
Returning now to the opening ceremony. Lord Kitchener reviewed the assembled troops after the speeches were over. The Camel Corps passed in review and Lord Kitchener and Sir Reginald took the salute. Following the review Keast accompanied Lord Kitchener and his staff on an inspection of the town of El Obeid. They visited the bazaar and then proceeded to the sports field for the day's athletic events. The crowd assembled for the sporting activities was enormous with tribesmen from every corner of the Kordofan, some outfitted with spears and long chain mail shirts. The usual native sporting events were the order of the day. Sheikhs from all parts of the Kordofan were present and Kitchener, Wingate and Slatin took the opportunity to talk to many of them at length. Keast's photo albums cover in great detail the events of this two-day celebration.
Later in 1912 and again in early 1915 Keast visited Um Ruaba and stopped on the way to visit the site of the massacre of Hicks Pasha and his troops. During his trips to Um Ruaba he visited the District Inspector's house and the local tramway and water wells. One well was still under construction during his 1915 visit. He assisted in the supervision of its construction and took photos showing donkeys being used to transport sections of corrugated steel pipe lashed to their sides. This pipe was used as linings for the well. Um Ruaba was also a big sports town. Keast participated in the Sports Day and captured the native sporting events on film.
In the spring of 1913 Keast made formal application to the Colonial Office for transfer and on 20 June he signed a contract for engagement on the Gold Coast as a Superintending Sanitary Engineer.
Prior to signing his new con-bract Keast returned to England visiting the Temple of Philae en route. This ancient temple is located on an island in the Nile in upper Egypt and is normally submerged during those months of the year when the Nile is at high stage. Keast was fortunate enough to be able to visit the temple during that time of year when one could walk through its passageways and courtyards.
While in England Keast listed his residence as the Sports Club, St. James's Square, London. His new contract provided him with an annual salary of 500 pounds with annual increments of 20 pounds to a maximum of 600 pounds annually. This must have represented an increase in pay and position for him and provided the incentive for him to ask for the transfer. He certainly could not have been attracted by the living conditions on the Gold Coast since they were not much better than those in the Sudan. Accra of course was somewhat more civilized than El Obeid but living conditions there could certainly not have been luxurious. This fact is borne out by the difficulty which was experienced in finding suitable candidates to work in the Gold Coast P.W.D. Keast's application was eagerly received by the Colonial Office to fill a long-standing vacancy.
His appointment became effective on 2 July 1913, the date of his departure from Liverpool on the SS "Dakar". He arrived in Accra on 16 July where he assumed the duties of his new post. He performed his work with great efficiency during his first two years on the Gold Coast and was duly recognized for it by being elected a Member of the Royal Sanitary Institute (M.R.S.I.) in January 1915.
Five months earlier the Great War had started in Europe and was soon spreading to other areas of the world. Keast's interest in military affairs in the Sudan had instilled in him the desire to serve. As the war spread to West Africa he got his chance. His education and experience enabled him to secure an appointment as a Lieutenant specially employed with the West African Frontier Force on 14 May 1915.
THE GREAT WAR, 1915-1919
The Cameroons (1915-1916)
Sydney Banks Keast was seconded for military service as a Lieutenant in the Cameroons on 4 July 1915 and was assigned as a Sanitary Engineer with the Expeditionary Force under the command of Brigadier General G.M. Dobell, D.S.O.[12] On 9 July he proceeded to Duala, the major port city at the head of the Cameroon Estuary [7]. Here he was assigned to the 36th (Sierra Leone) Field Company, Royal Engineers commanded by Captain P.J. Mackesy, R.E. [12] Upon joining the company Keast was placed in command of the field section attached to the column under Colonel E.H. Gorges, D.S.O. [13] At the time of Keast's arrival in the Southern Cameroons there was a lull in the operations that lasted until October 1915. Dobell was preparing his force to advance on the German positions at Yaunde. The start of the general advance found Keast and his field section at Ngwe along with one section of the Nigerian Battery, one section of the Gold Coast Battery, the 2nd Nigerian Regiment, two companies of the Sierra Leone Battalion and the Gambia Company all under the command of Colonel A. Haywood. Gorges' column was to advance along the main road from Edea to Yaunde. Haywood moved out of Ngwe on the morning of 6 October. He camped for the night about four miles from Ndupe, having met only slight opposition during the march. Early on 7 October it was discovered that the enemy had evacuated the Ndupe position. Haywood immediately pushed on in a pouring rain only to discover that the river was shoulder-deep and running swiftly. Keast's section immediately set to work and by 1400 hours the bridge was repaired and the crossing made without opposition. Camp was made at this location for the night. Haywood's column continued its advance the following day and captured Wumbiagas on 9 October 1915. The part played by Lieutenant Keast in the advance was instrumental in maintaining the momentum of the operation.
Haywood now organized an advanced base at Wumbiagas to await the development of operations by the other elements of Gorges' force, and to strengthen the lines of communications to his rear. During November 1915 Gorges' entire force was concentrated at Wumbiagas. The distance from Wumbiagas to Yaunde was about 65 miles. The first 40 miles lay through dense forest, consisting of high trees and nearly impenetrable undergrowth, making movement difficult and slow. Added to this the country was intersected with deep valleys, numerous streams, and swamps, on either side of which loomed precipitous rocky hills. It was terrain ideally adapted to the siting of strong defensive positions and one requiring tremendous engineer effort to facilitate the movement of infantry, artillery and baggage. Keast and his sappers were put to the test in this terrain. Their work included bridge and road construction and repair, land clearing, drainage and a myriad of other pioneer tasks. The rapid progress made by the force proved that Keast and his men were equal to the task.
The advance to Yaunde was resumed on 23 November and the enemy position on the Puge River was captured on 30 November. On 7 December the advance was continued and the enemy's positions at Belok Nkonjok/Manjei River were taken by 16 December. The advance on Yaunde began again on 25 December and on 1 January 1916 Keast along with Haywood's column occupied Yaunde Fort without opposition. During this final advance on Yaunde Keast is specifically mentioned in the Official History of the Great War as follows [14]:
"The good progress made through a very difficult country also owed much to the exertions of other portions of the force. Rapid repair or replacement of broken roads and bridges had constantly been necessary, and the work of the Field Section of the 36th (Sierra Leone) Company, R.E. under Lieutenant Banks Keast, had been of great assistance ..."
Among Keast's personal effects were four picture postcards of the landscape around Yaunde printed in German by C.F. Wendler of Hanover, with the caption Jaunde, Hinterland Sud-Kamerun. Presumably these cards were "war trophies" of the campaign that were acquired by him during the occupation of the town.
From Yaunde Gorges' force undertook the pursuit of the fleeing enemy force between 5 January and 18 February 1916. The Germans surrendered to General Dobell at Mora on 18 February thus ending the campaign. The Allied Forces began the departure from the Cameroons on 16 March. Keast, having participated in the entire campaign from Edea to Mora, was granted full pay leave on 25 March 1916.
Keast returned to the Gold Coast where he decided to continue his military service rather than return to his civil duties. On 16 April 1916 he asked permission of the Colonial Office to allow him to leave the civil service and seek a permanent appointment in the Army. His request was approved on 28 April 1916 and he was seconded in his appointment as Superintending-Sanitary Engineer in the Gold Coast to military service in Europe. In the same communication approving this request Keast was commended by the Colonial Office for his services in the Cameroons as follows:
"Mr. Bonar Law (Colonial Secretary and later Chancellor of the Exchequer) has learnt with much pleasure that you discharged your duties in the Cameroons to the entire satisfaction of Major General Dobell, and I am to express his appreciation of the work which you have performed."
Keast had already returned to England on leave while he awaited an answer to his request to join the Army. On 7 May 1916 he was granted an appointment as a Temporary/Acting Lieutenant in the Royal Engineers and was assigned to the School of Military Engineering at Brompton Barracks, Chatham, Kent, where he remained until 21 July. On 22 July 1916 he was posted to No. 2 Depot Company at Deganwy in Wales. On 2 August he was posted to the 150th Field Company, R.E. and shortly thereafter preceded to the European Theater.
France and Flanders (1916-1917)
On 2 September 1916 Lieutenant Keast joined the 150th Field Company with the 25th Division, British Expeditionary Force. Shortly after his arrival in the unit he was appointed Acting Captain on 17 September and became Second-in-Command of the company. At this time the bloody battle of the Somme had been raging for over two months. Keast's division, as part of the British II Corps had not taken part in the general attack of 1 July 1916, but it was to see a good deal of the action very soon afterwards. The 25th Division took a very active part in the advance to follow-up the German withdrawal to the Hindenburg Line from February to April 1917. Lieutenant Keast's distinguished services in the field were recognized by a mention in Sir Douglas Haig's despatch dated 9 April 1917.
In early June 1917 the division took part in the Battle of Messines. As a part of the II Anzac Corps, the division under Major General E.G.T. Bainbridge began the assault two miles due west of Messines and about one mile northeast of Wulverghem. At 0510 hours, 17 June 1917, nineteen mines were exploded simultaneously beneath the German defenses. At the same moment the British guns opened fire and the infantry assault was launched. Covered by a concentrated bombardment, which overwhelmed the enemy's trenches and to a great extent neutralized his batteries, the British troops swept over the German foremost defenses all along the line. By evening Oosttaveme Line had been taken, and the British objectives had been captured.
A detailed description of the work of the sappers in general, and Keast's company in particular during this action, is contained in a little booklet printed by Harrison & Sons of St. Martin's Lane, London. This booklet is entitled "Report on the Attack Carried Out by the 25th Division on the MESSINES RIDGE on the Seventh of June 1917 and Subsequent Dates". A copy of this booklet was found among Keast's personal possessions along with an original aerial photograph of the vicinity of Messines. The booklet describes the preparatory work of the engineers as follows:
"For the task of preparing the Wulverghem Sector for the capture by the 25th Division of their objectives, the technical troops consisted of the 105th Field Company, R.E., 106th Field Company, R.E., and the 150th Field Company, R.E. commanded by Major C.G. Lynam, Major N.T. Fitzpatrick, M.C., and Major R.K.A. Macauley, D.S.O., respectively, and the 6th Battalion, South Wales Borderers (Pioneers) commanded by Lieutenant Colonel E.V.O. Hewitt, C.M.G., D.S.O. Work commenced about 12 April to 31 April, when the Division had withdrawn from the line. It was resumed about 11 May and continued until the eve of the attack when the whole programme was completed."

"During these periods the Pioneers were employed on roadmaking, dugouts, and tunnelled dugouts for Reserve Brigade Headquarters. In addition this Battalion constructed and ran the whole of the new tramline from DE KENNEBAK to ST. QUENTIN CABT. (5,000 yards) and another 5,000 yards for Batteries and magazines."

"The 106th and 150th Field Companies, R.E. supervised the R.E. preparations on the Right and Left Sub-Sectors respectively and departmental works in the back area, and the preparation of artillery positions, until about 18 May, when the 105th Field Company, which up to then had been employed elsewhere, chiefly on construction of Heavy Artillery emplacements, took over from the 106th Field Company the R.E. work for battery positions."

"The entire programme of preparation was completed by 5 June and briefly comprised road-making, water supply, storage, trench tramways and sidings, Divisional Reserve and Advanced Magazine, Advanced Dressing Stations, two Regimental Aid Posts, shelters for walking wounded, two protected cable crossings over the River DOUVE, five bomb proof telephone exchanges, a girder bridge over the DOUVE for tanks, protected tramway and water main crossings for tanks, Tank Company Headquarters, dumps for R.E. stores, dumps for rations, one tunnelled dugout for Brigade Headquarters, 12 Battalion Headquarters, 5 concrete report centres, two communications trenches repaired and made good, six new communications trenches revetted and boarded the whole way, five Artillery Group Headquarters, Command Posts and shelters for gun crews of 25 batteries, three heavy trench mortar emplacements, six complete lines of assembly trenches within 500 yards of German Front Lines."

"The construction of the first line assembly trench was a notable piece of work. Working parties of the 7th Infantry Brigade dug their trench (ONSLOW TRENCH) in three hours on the night of 50/51 May, including communications trenches and wiring. The trench was roughly 150 yards from the enemy front line and was so sited that the garrison of each length of it would face directly towards the portion of the enemy line required to assault. The taping of the operation was shared equally by 106th and 150th Field Companies, R.E. The last two days before the attack were used to put final touches, including the placing of bridges and ladders for the use of the assaulting troops. At noon on 6 June all trenches were reported to be in good order. During the whole of this period of preparation, Infantry worked with the technical troops on a scale of one Battalion daily to each subsector and another 200 men daily for work on Artillery positions and another 120 men daily from the R.A.M.C. for work on medical preparations."

"Success in offensive operations ultimately depends on the fulfillment of several conditions, of which not the least important is the thoroughness of these preparations by the technical troops. Too much care and forethought cannot be lavished on them. Their inception and completion depended on Lieutenant Colonel R.J. Done, D.S.O., C.R.E., 25th Division, and his staff. Without complete co-operation between the R.E. and other services this end cannot be obtained. In this case the men were working against time, and the task was only completed thanks to the unremitting toil of the technical troops, combined with the hard work and keenness of the Infantry working parties, who knew that their work was in no small measure contributing to the defeat of the enemy."
The booklet goes on to describe the actions of the 150th Field Company, R.E. during the battle as follows;
"This company was detailed to assist the 7th and 74th Infantry Brigades to construct communication trenches, beginning at OCTOBER TRENCH, and working westwards towards our old line. The company moved forward at 7.10 a.m., when Major Macauley, D.S.O., laid out and started work on two communication trenches, afterwards known as BOB and PIP Avenues. Work was continued on these communication trenches by Infantry working parties during the night. On the 8th this Field Company continued the same work, by which time BOB and PIP Avenues were 700 yards and 650 yards long respectively. The night of the 9th and following days these communication trenches were improved and extended eastwards to the DESPAGNE FARM line."
Consolidation and establishment of advanced posts took place during the following four days. The British progress on the battlefront made the German's positions between the Lys River and St. Yves very dangerous and they gradually began to evacuate them. British patrols kept close touch with the enemy and by the evening of 14 June the whole of the old German front and support lines north of the Lys had passed into British possession. By this operation the British Second Army front was pushed forward as far as was then desirable. Their efforts in this area were now directed to putting the line gained in a state of defense and establishing forward posts.
During the period 7 to 22 June 1917 the 150th Field Company, R.E. suffered the loss of two officers wounded and three other ranks killed and 16 wounded. Although Keast escaped injury during the battle of Messines he became a casualty on 20 July 1917 when he was slightly gassed in the vicinity of Ypres. He recovered sufficiently to go back on the front line almost immediately. The officers wounded at Messines included Lieutenant P. Mackinnson who was hit on the 10th and Second Lieutenant T.A.E. Ledbury who was wounded on the 8th. The 150th Field Company, R.E. suffered more casualties at Messines than either of the other two Field Companies.
The Third Battle of Ypres began on 31 July 1917 but the 25th Division took no active part in the initial attack. During the night of 31 July and on the two following days, the Germans delivered counter-attacks against the new British line. The counter-attacks failed but the violence of the German artillery temporarily compelled the British to withdraw from the St. Julien area although a bridgehead across the Steenbeck was retained just north of the village. In spite of these counter-attacks the British made steady progress with the consolidation of the captured ground, and every opportunity was taken to improve the line already gained.
On 3 August St. Julien was reoccupied without serious opposition. A week later a successful minor operation was carried out by the 18th and 25th Divisions giving the British complete possession of Westhoek. The War Diary of the 150th Field Company for this period indicates that Keast's unit was engaged in cutting the communication trenches and dugouts between the Reserve Line and the Front Line on the 25th Division's front facing Westhoek. On 10 August 1917, the date on which the division captured Westhoek the diary shows the following entry [15,16]:
"Captain S.B. Keast, M.C., R.E. was wounded on his way up to see the work and reconnoitre the situation."
Captain Keast's conspicuous gallantry during the battle and prior to his being wounded earned him the Military Cross and a mention in the despatches of the 25th Division. The citation accompanying the award of the Military Cross (London Gazette 14 Sep 1917) reads as follows:
"T./Lt.(A./Capt.) SYDNEY BANKS KEAST, R.E. - For conspicuous gallantry and devotion to duty on numerous occasions whilst engaged in siting and constructing defences. His determination and great powers of organization in dealing with working parties at night, under heavy fire and in exposed positions, were entirely responsible for the successful and rapid completion of the trenches, and he showed untiring energy and great fearlessness when constructing trenches within very short distance of the enemy's line."

Captain Sydney Banks Keast, M.C., R.E.
England (1917)
Keast's wounds were of such a serious nature that he had to be evacuated to England for treatment, hospitalization and convalescence. It was during this period that he met his future wife, Miss Una Tomlin Hunter, daughter of Edward Hunter a stockbroker from "Wentworth", Gosforth, Northumberland. She was a member of the V.A.D. at the time and nursed him during a period of his recovery. They were to marry a year later.
Miss Hunter started her nursing career in October 1914 at the Hospital for Sick Children, Newcastle-upon-Tyne. As casualties began to return from the continent she was posted to the military hospital at Brancepeth Castle in December of 1914 and remained there until April 1915. The spacious and luxurious interior of the castle was converted to accommodate the "Old Contemptible" casualties as they returned from the front. Its hallways, dining room, drawing room and saloon were converted to wards for the sick and wounded. Living quarters were provided on the upper floors for the staff and nurses. The soldiers were given access to the library and billiard room for recreation and could walk and exercise in the courtyard and rosery. The castle contained a splendid Armour Gallery which was converted to a game room but was little used according' to Una who wrote:
"The armour is covered up with sheeting-the one place they (the patients) may not smoke, so a notice up "no smoking". Consequently not a soul sits there now-not even all the "games in Christendom" set out there will tempt without my lady nicotine."
The old castle was damp and very cold in winter and Una complained about her bedroom, writing:
"Tell it not but I have 6 blankets! Putting the fur coat over my bed had the desired effect. Presto 2 more blankets-warm as toast (of course there is not counterpane)."
Una became fond of many of the patients and they liked her as well, many of them giving her picture postcards of themselves as a remembrance. The majority of the troops at the hospital appear to have been Northumberland Fusiliers although she did have a photo in her personal album of two sappers. Lance Corporal G. Lansberry and Sergeant Jack Hinson both of the 2nd North Division, R.E., who were patients at Brancepeth in February 1915. Frenchmen were also treated at Brancepeth as evidenced by a group photo in which appears a soldier named Prosper of the 1er Regiment de Chasseurs a Pied who was recovering from a hand wound.
In October 1915 Una went to France where she remained on active service until early December 1918. Her first assignment was with the 26th General Hospital at Etaples. She was subsequently assigned to Millicent Duchess of Sutherland Ambulance No. 9 and served in Calais, Saint-Omer, Abbeville, and Roubaix. Her final posting before departing for home was to the Duchess of Westminster's (No. 1 British Red Cross) Hospital in Le Casino de la Foret at Le Touquet-Paris-Plage. She served in this hospital from April 1918 until shortly after the armistice. The gallant work carried on by women such as Una is clearly shown by the newspaper accounts on pages in her personal scrapbook.
France and Flanders (1917-1919)
By 27 December 1917 Keast had fully recovered from his wounds and was posted to "A" Depot Company at Newark in Nottingham. On 8 April 1918 he was assigned to the 510th (London) Field Company, R.E. More of the war still lay before Captain Keast as he returned to the continent on 19 April to join his new unit. The 510th was with the 29th Division at St. Sylvestre-Cappel in France. Keast joined the unit as the Officer Commanding and was appointed on the same day to Acting Major. His arrival in France coincided with the big German Offensive at Lys in April 1918. Just prior to his arrival the 510th had suffered severe casualties. The bulk of the company had been sent to Merville on the evening of 10 April. In the words of the 29th Division history [17]:
"When the enemy crossed the river that night, this party found itself completely isolated. But there was no thought of sudden retirement, to get themselves out of their difficult position. On the contrary, they took up a position to prevent the Germans debauching from Merville, and held them up for a considerable time. When eventually forced back, after severe casualties, they continued to fight a rearguard action on their own for the next two days, suffering and inflicting severe losses. All the officers but one of this gallant company were killed or wounded, and well did it earn the three Military Crosses and three Military Medals awarded it."
The loss of so many officers in this action resulted in the need for many replacements. Keast was assigned to command the company after the loss of its old commander. Between 28 April and 5 August the 29th Division spent most of the time out of the front line at Vieux-Berquin, Wardrecques, Blairingham, and Bavinchove. The 510th Field Company spent this period on general engineer works and the construction of support trenches. The division went back on line at Strazeele between 5 August and 6 September taking part in the actions at Outersteen, Ploegsteert, and Hill 63. Major Keast was mentioned in the Records of the 29th Division for gallant conduct and devotion to duty in the field from 19 to 21 August and again from 50 August to 1 September at Outersteen. The division came out of the line and was placed in reserve near Hazebrouck from 6 September to 20 September. The unit went back on line on 20 September at Ypres and took part in the actions at Hooge, Gheluvelt and Kruiseke, going again into a reserve position from 4 to 6 October. After this short rest the division went back into action at Ledeghem, taking part in the advance to Lys (Courtrai) and St. Louis from 6 to 24 October. Major Keast was again mentioned in the Records of the 29th Division for his actions during this period. The 29th Division was now due a slightly longer rest and went into reserve positions from 28 October to 8 November in the Hallebeke-Gueme-Mouveaux-Croix-St. Andre-Bondues-Rolleghem areas. From 8 to 11 November the division again went into the front line at Scheldt and advanced to the Armistice Line. "For gallantry and devotion to duty in the field" Major Keast was awarded a bar to his Military Cross [18].
Major Keast crossed the German frontier at Malmedy with his company on 4 December 1918. Una Tomlin Hunter had returned to England by this time and Keast was sending her postcards with great frequency although none of them contained any messages. He was not much on writing and it appears that after their marriage Una did most of the corresponding with relatives and friends. She also appears to have been the one who set up the photo and postcard albums often referred to in this narrative, getting Sydney to sit down with her and provide some of the captions for the pictures which he took. At any rate, each of the postcards was addressed to Miss U.T. Hunter, Wentworth, Gosforth, Northumberland with only one phrase written on it; "On Active Service". Each card was postmarked from a Field Post Office and Keast himself, as the unit commander, censored each one. Each card bears the stamp "Passed Censor No. 5289" and is signed S. Banks Keast. During the period 9 December 1918 to 25 February 1919 he mailed her cards from Zulpich, Cologne, Bensberg, and Burscheid.
On 8 December 1918 the French Government awarded Keast the Croix de Guerre. This award was subsequently officially authorized by the British government on 19 June 1919 [19]. The division continued its advance into Germany and crossed the Rhine River at the Hohenzollern Bridge on 15 December. Keast's company moved into quarters at Burscheid as part of the occupation forces. He received one final mention in the Records of the 29th Division for the period 17 September to 31 December 1918.
On 26 February 1919 Major Keast was replaced as O.C. 510th Field Company, R.E. by Major D.J. Murname, R.E. The following day he departed Burscheid for England and demobilization. On 29 February he relinquished his appointment as Acting Major and by 29 March he had been demobilized and relinquished his commission upon completion of service. He was at this time granted the rank of Major and took up residence at 15 Lanpham Street, London. An additional honor for the Great War came his way in the form of a Mention in the Despatches of Sir Douglas Haig, dated 16 March 1919.
Thus ended the military service of Major Sydney Banks Keast in the Great War of 1914-1918. By the age of 35 he had risen to the rank of Major, served in three Royal Engineer Field Companies in two theaters of the war, been gassed and severely wounded, was mentioned in numerous despatches and had received the Military Cross with bar, the 1914-15 Star, War Medal, Victory Medal, and French Croix de Guerre.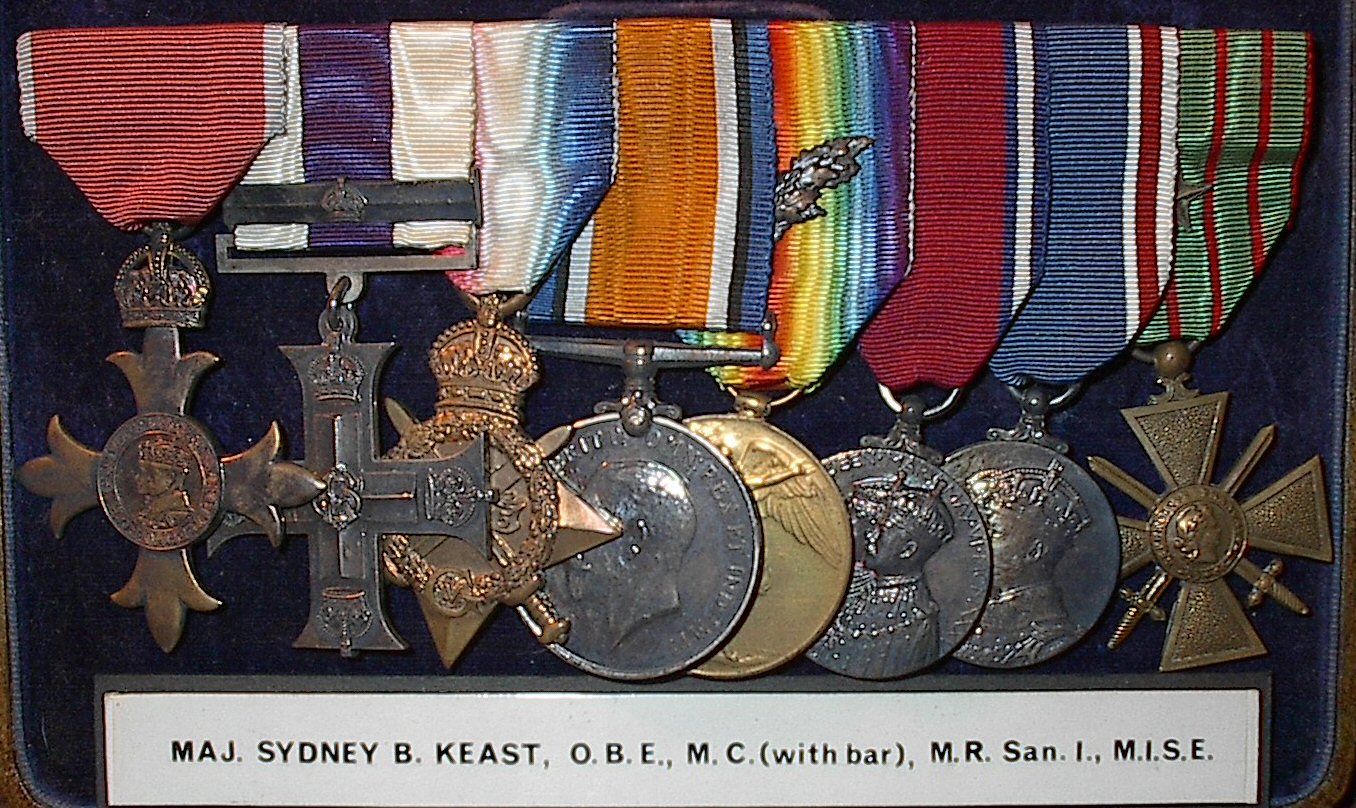 BETWEEN THE WARS, 1919-1940
Sydney Banks Keast and Una Tomlin Hunter were married on 16 April 1919 at All Souls Church, St. Marylebone, London. On the same day they departed for the seaside resort area at Bournemouth where they enjoyed some boating, golf and sightseeing. They remained at Bournemouth for two weeks, returning to London during the first week in May. Keast had given up his rooms at Lanpham Street and took up suitable lodgings for himself and his new bride at 85 Howard's Lane, Putney. He bought an automobile, a small Stellite convertible, which both he and Una drove.
May 1919 was a busy month for Keast. He was personally decorated by H.M. King George V at a ceremony in London during this month. On 5 May he contracted for re-engagement as Superintending Sanitary Engineer on the Gold Coast.
Prior to their departure for Africa the Keasts visited their parents. In the latter part of May and early June they visited Sydney's mother and sisters at Folkestone. His father had died some years earlier. They then proceeded to Gosforth, Northumberland where they visited Una's parents at "Wentworth", the Hunter family estate. At Gosforth they enjoyed the lovely spring weather, taking long drives in the country, playing croquet, and lounging on the luxurious lawns of the estate.
Their honeymoon over, the Keasts left for Liverpool to board the K.M.S. Elmina, which would take them to their home for the next 18 years in the Gold Coast. They departed Liverpool bound for Seccondee on 11 June but arrived instead in Freetown, Sierra Leone on 22 June. Traveling overland they finally arrived in Accra on the 28th where they were assigned to Bungalow 64 in the Government Compound. Sydney immediately assumed his duties in the Public Works Department. The Keasts were fortunate in being assigned to Accra itself rather than to some smaller town in the outlying areas of Ashanti or the Northern Territories. While many of Keast's fellow P.W.D. officers were stationed in such out of the way places as Tamale, Salaga and Kumasi, Sydney and Una enjoyed the relative comfort and social life that the capitol city afforded them. The Keasts moved very shortly into Bungalow 49, which was anything but a "bungalow". It was a four-wing, two-story house, beautifully constructed and surrounded by lush lawns, trees and hedges. It was a spacious dwelling with an elegant veranda and large airy rooms. It was tastefully furnished with an assortment of wicker and wood furniture of African design and manufacture, the majority of it of course being hand made. Its highly polished wooden floors were partially covered with a variety of oriental rugs. Una used the profusion of windows to provide sunlight for the large number of houseplants that she grew indoors. Additionally she tried her hand, and was very successful, at growing a beautiful assortment of roses in large flower boxes around the outside of the house.
In contrast to the Keast's house in Accra a photo of the residence of a fellow P.W.D, officer by the name of Pomeroy in Salaga shows a dramatic contrast. The Pomeroy residence was actually a compound of four separate huts, circular in shape and constructed of mud brick with conical thatched roofs. The bedroom, dining room, kitchen and storeroom were each housed in a separate hut! As late as 1928 this type of rustic accommodation was still commonplace for P.W.D. officials living in the bush.
At any rate the Keasts were not subjected to these types of difficulties. In addition to their lovely living quarters, the social side of colonial life in Accra was also at their disposal. Among the many diversions available to them were the polo club, the hunt breakfasts, receptions at Government House, tea parties, supper parties, horse races, and the military reviews and ceremonies which took place with great frequency in Accra.
Sydney's work on the Gold Coast was not unlike that which he had done in the Sudan except that now he was in a position of greater responsibility. After ten months on the job he was granted permanent confirmation in his appointment as Superintending Sanitary Engineer on 27 April 1920. As his first year in Africa came to a close he became eligible for leave. He and Una departed Accra on 26 July and returned to England to visit their families. By December 30th they had arrived back in Accra and Sydney resumed his duties. Unusual as it may seem, they appear to have spent Christmas of that year aboard ship, probably due to the requirement to return to Accra no later than the end of the year.
The year 1921 was rather uneventful. Sydney performed his normal duties but he did have his title changed on 1 April to Senior Sanitary Engineer. On the first of July he received word from the War Office that he had been appointed to a commission as a Major, Regular Army Reserve of Officers (Class 2) in the Constructional and General Engineering Branch of the Royal Engineers with seniority dating back to 19 August 1920. Undoubtedly his outstanding service record during the Great War and his engineering expertise continued to make him a valuable asset to the Royal Engineers. Additionally, he remained active in military matters while in Africa by performing service in the Gold Coast Defence Force, a local colonial military establishment.
The Keasts took no home leave in 1921, but they did travel rather extensively through the Gold Coast and Togoland. It was not until 5 March 1922 that they again departed Accra for England. Again they spent their time visiting their families and returned to Accra on 24 August 1922. They took no home leave in 1925 and waited until 2 February 1924 to return to England. While on leave Sydney's title was changed again on 1 April to Senior Public Health Engineer. The Keasts visited Somerset while at home and in April Sydney took part in a stag hunt at Haddon Hall while Una was visiting with her family at "Wentworth".
On 20 August the Keasts returned to Accra and on the first of September he was appointed an official member of the Accra Town Council. In this capacity he would take an active part in the management of local government affairs.
The prosperity that came to the colonies during the years following the Great War was to reach the Gold Coast in 1924. This prosperity enabled the Governor, Sir Gordon Guggisberg, late Royal Engineers, to initiate a program for the improvement of the colony's roads which were somewhat in a primitive state, that is to say virtually none existed. While Keast was dealing with sanitation and health problems in the colony other R.E. officers were assisting in the road development program. Captain R. LI. Brown, R.E. and Lieutenant G.C. Rogerson, R.A. began surveys in 1924, and the following year saw the start of the Temporary Roads Department (T.R.D.). The staff of this new department was never to become very swollen and consisted, during its eight years of existence of two or three R.E. officers, about four K.C.O.s and a civilian clerk [20].
The small sapper party was confronted with the task of surveying, mostly in dense tropical forest or high elephant-grass country, the routes for hundreds of miles of new roads and then of arranging for their construction. For this purpose they developed a new survey technique with a 4½-inch compass and chain, preceded by a cutting party and followed by levellers. From this preliminary line, supplemented by frequent cross-sections, a map was produced from which the first location of the road could be chosen.
The roads were of gravel, but the curves, gradients and formation were laid out with care so that they could be used later for a better surface. The bridges were of reinforced concrete or masonry, with a few steel girder spans up to a hundred feet.
The bridges were designed to carry on top, steamrollers crowded at a check, and below, the raging floods of tropical Africa. Most of the work was don® by local Italian contractors but at one period, as a relief measure in anticipation of a locust famine, large parties of direct labor were employed, mainly on a long embankment across a swamp, involving 120,000 cubic yards of earthwork.
By the time the T.R.D. was disbanded owing to financial difficulties in the Colony during the world economic crisis of 1951, it had constructed 560 miles of road and surveyed a further 420 miles. Its few officers and N.C.O.s had certainly left their mark on the Gold Coast and the fruits of their labors remain as a permanent profit to the nation of Ghana.
In January 1925 Keast was recommended for and granted a Fellowship in the Royal Geographical Society (F.R.G.S.) [21]. The recommendation came from Mr. J. Clendinning who verified that Keast had extensively travelled in Egypt, the Sudan, the Cameroons, the Gold Coast, Ashanti and the Northern Territories. Except for the photographs in the Keast family albums there are no written records or journals of his travels. The photos themselves however are more than adequate to describe his journeys. These albums are in the possession of the author and reference to them is extremely useful while reading this account of Keast's life.
In September 1925 Sydney departed Accra on leave. Una had left for England some time earlier and was in Gleneagles, Perthshire at the time. After Sydney's arrival they had a short visit with their families in England and then went on holiday to Lenzerheide, Switzerland, arriving there on 1 January 1926. They spent almost a month at this beautiful Swiss resort and engaged in every type of winter sport. They stayed at the Kurhaus, a magnificent alpine hotel, and accompanied by friends they packed their vacation with cross country skiing, ski jumping, ice-skating, and curling. Sydney appears to have been a rather accomplished skier but there is photographic evidence that Una must have taken frequent spills on the slopes. Sydney apparently learned to ski as early as 1908 when in July of that year he made a trip to Switzerland, presumably while he was on home leave from the Sudan.
On 28 January 1926 their holiday came to an end and they departed for England. They spent about a month at home before returning to Accra on 18 March. The same day that Sydney arrived to resume his duties he was appointed President of the Accra Town Council in addition to his P.W.D. duties. This appointment was however only temporary and on 16 June he reverted to his permanent position as a member of the Council.
On 7 October 1926, with over seven years of seniority with the Gold Coast P.W.D., Keast was appointed Assistant Director of Public Works. After settling into his new assignment he and Una departed Accra on 26 February 1927 for another period of leave. In addition to their normal family visits Sydney went stag hunting at Tiverton, Devonshire and attended some polo matches at Dunster in Somerset during April. In June he returned to "Wentworth" to spend some time with Una's family and returned to Accra on 20 July to resume his duties.
Keast rose quickly in the civil service receiving a promotion to Deputy Director of Public Works on 4 May 1928. With this promotion came the requirement to travel to outlying districts in the Colony to visit P.W.D. projects. He and Una also took this opportunity to visit old friends and do a bit of socializing. Sydney and Una headed north from Accra and visited their friends the Pomoroys in Salaga on the River Daka near the Togoland border. From here they preceded to Nararonga to visit Captain Ardron, the District Commissioner. Tamale in the Northern Territories was their next stop, which they reached by automobile. Their final stop was at Wa in the upper regions of the Northern Territories along the border with the Ivory Coast. Here they visited the local native chief and the mosque as part of their sightseeing junket. The Keasts returned to Accra and remained there until 28 October when they again departed for England on leave. After spending Christmas with Una's family the Keasts departed for Switzerland, arriving at Lenzerheide on New Year's Day 1929. They stayed again at the Kurhaus resort and again spent a month actively pursuing winter sports. They did break up their stay this time with some side trips to Basel, which they visited on the 7th of January and to Lucerne where they arrived on 2 February. While at Lenzerheide they engaged in their normal round of skiing, skating, sightseeing and socializing. Una appears to have improved her skiing and cut a handsome figure as an ice skater.
By 8 February the Keasts were in Folkestone visiting Sydney's family. They returned to Accra on 23 April and Sydney returned to duty after a very pleasant and restful vacation. How they must have enjoyed the cold Swiss weather after experiencing the tropical climate of the Gold Coast year round.
The year 1929 was also a very busy one on the Gold Coast. It was a good year for polo with the Accra team competing against the club from Tamale at the Tamale Polo Ground. The Keasts were the proud owners of a new Humber convertible that they used for their travels in country. There were the hunt breakfasts and the Poppy Bay celebrations at Accra and Kumasi. There was Una's work with the Nurses of Maternity Hospital in Accra and the gala wedding of Sir A.R. Slater's daughter Betty at Government House. Finally there was Sydney's appointment as Acting Director of Public Works on the 26th of October after the Director's departure on home leave. The Director returned from leave on 25 March 1950 and on that date Sydney reverted to his substantive appointment.
Sydney had remained active in military affairs while working on the Gold Coast. He joined the Gold Coast Defence Force and was Second-in-Command to Colonel R.A. de B. Rose, C.M.G., D.S.O., an officer with whom he had served in the Cameroons during the war. On 5 May 1950 Keast assumed command of the Defence Force when Colonel Rose departed for England on leave. Sydney and Una departed shortly thereafter on their own home leave. After a medical examination on 25 May, which found Sydney to be in good health, he and Una departed Accra for England aboard the SS "Aba" on 28 May. They arrived at Plymouth on 10 June and visited Una's family at "Wentworth". During this leave Sydney went to Bisley Camp at Brookwood in Surrey where he fired in the National Rifle Association competitions. In the "Barnett" (Junior Mackinnon) Imperial Challenge Cup the Gold Coast team placed second; Keast firing top score for his team with 87 points out of 100. In the "Morning Post" (Junior Kolapore) Imperial Challenge Cup the team placed third with Keast again firing the top score of 151 points out of 150. For "His Majesty the King's Prize" Keast placed 85th in order of merit among the top 100 shooters with a total score of 259 out of a possible 500 points.
After the shooting matches Sydney returned to "Wentworth" and he and Una visited Torquay, Teignmouth, Dartmoor and Princetown between the 10th and 17th of July. In September of 1930 they visited Taunton in Somerset where they stayed at the Carnarvon Arms Hotel. Here they attended the Devon and Somerset Hunt at Winsford. On 30 September the Keasts left Taunton for Folkestone for a visit with Sydney's mother who was ill. Emma Mary Keast had moved from the family estate on Cheriton Road and was now residing at 30 Kingsnorth Gardens, Folkestone. After a stay of about two weeks Sydney and Una traveled to Liverpool where they departed for the Gold Coast on 22 October aboard the mail steamer "Adda". Unhappily Sydney's mother died the following day at the age of 73 while her son was at sea. At the time of his mother's death Sydney's elder sister Ethel Mary was still a spinster, Kate Evelyn had already married and was at the time the wife of John Charles Spurgen.
The Keasts arrived in Accra on 4 November and Sydney was again appointed Acting Director of Public Works. He remained in this position until 24 March 1931 when the Director returned from home leave and Sydney reverted to his substantive rank. The year 1931 also brought with it the appointment of Lieutenant Colonel, Commanding, Gold Coast Defence Force upon the permanent departure of Colonel Rose. On 4 August Sydney was recommended for promotion to Director of Public Works by Sir A.E. Slater, K.C.M.G., K.B.E., Governor of the Gold Coast, upon the retirement of the incumbent Director, Mr. J.D. Shannan. His promotion was approved by the Colonial Office on 18 September but his appointment did not become effective until about four months later.
During Mr. Sharman's absence Sydney was again appointed Acting Director on 3 November 1931. In the meantime he and Una were planning their own home leave. A physical examination administered on 9 December found him in good health although the doctor did prescribe, as was customary, that he continue to take quinine during the voyage home as a preventive measure against malaria. Mr. Sharman returned to Accra on 15 December and Sydney reverted to his substantive rank. On that same day he and Una departed Accra for England aboard the SS "Apapa." Prior to his departure from Accra Keast had requested permission to attend a special training course for selected members of Colonial Defence Forces. Although it is not known for certain, it is believed that he attended this course during his 1931-32 home leave. The Keasts arrived at Plymouth on 28 December and proceeded to Una's family estate.
On 25 January 1952, while he was in England, his permanent promotion to Director of Public Works became effective. But his duties on the Gold Coast would wait, for April was stag season in Devonshire and there is exactly where Sydney and Una headed. They returned to Tiverton where they had last been in 1927 to ride to the hounds.
On 18 May the Keasts left Liverpool for the Gold Coast aboard the SS "Appam" and arrived in Takoradi on the 31st. He did not arrive in Accra to resume his duties until 1 June.
From 21 to 25 February 1933 Keast attended a training exercise at the Gold Coast Regiment camp at Ejura-Ashanti. In July after another medical examination, which found him fit, the Keasts departed Accra on the 25th of that month aboard the steamer "Accra" arriving at Plymouth on 4 August. As usual they visited Una's home and in October they attended the Devon and Somerset Stag Hunt at Tiverton, staying once again at the Carnarvon Arms Hotel. They departed Liverpool on the mail steamer "Accra" on 13 December arriving in Accra on the 27th .
Effective the 5th of January 1934 Keast ceased to belong to the Regular Amy Reserve of Officers having reached the age limit of liability to recall of 50 years. His age however did not dull his competitive spirit. As a matter of fact 1934 was one of the most active years of his life as far as sports were concerned. He was at this time Captain of the Accra Polo Club. The Accra team traveled to Ibadan in Southern Nigeria to play in the West African Cup Inter-colonial Polo Tournament. Additionally the team traveled to Tamale and hosted the Tamale team at Accra in competition for the Tamale Cup.
Sydney's string of polo ponies included, three magnificent animals named Blanco, Charlie and Mustard Pot. Charlie appears to have been Una's favorite while Mustard Pot appears to have carried Sydney through most of the polo matches. The Keasts also appear to have owned a fourth horse named Cow-Boy and Sydney is seen in photographs taken in 1934 riding on two other unnamed mounts. The year 1934 was one devoted to polo, horses and visits to friends. Sydney and Una travelled with their terrier Jill in the Humber to visit Major and Mrs. C. Owen Butler in Winneba. Owen Butler was a fellow polo player and a member of the Black Cats Polo Team. One of the highlights of the trip was a visit to the local rifle range in Winneba where Una displayed her marksmanship ability with a caliber .303 Lee-Enfield. At Kumasi they visited the house of Captain J. Lotinga, a good friend and fellow polo team member of the Hurricanes. The Black Cats and the Hurricanes were the two Accra Polo Club teams. Keast, as Captain of the Club played on the Black Cats team with C.O. Butler, T.A. Brown and L.A. Hagen. The Hurricanes consisted of Captain P. Grant, G.W. Stacpoole, Captain N.S. Mansergh, Captain J. Lotinga, C.S. Morley and Captain N.G. Maclean. A third team known as the Regiment team was composed of Captain P. Grant, R. Rose, R. Elliott and R.R.N. Redder. Additional members of the Club included E.S. Turner, H. Wood, R.S. Burton, Major B.A.S. Bennett, A.P. Taylor, C. Cox, A.H. Cruickshank, W.F. Snook and J.R. Cole.
Despite his wounds from the war Keast had remained in excellent health during his service on the Gold Coast. After a strenuous year of work, travel and sports he came down with malaria and was placed on the sick list between the 9th and 19th of November 1934. It appears that he did not feel that he was susceptible to contracting malaria and was often negligent in taking his prescribed doses of quinine. This omission finally caught up with him and he did come down with the disease. But his bout with malaria did not keep him down long for on 11 November he attended the parade in Accra at which His Excellency The Governor Sir Arnold Hodson placed a wreath on the War Memorial in Accra to honor those who fell in the Great War.
Between 11 and 19 February 1935 Lieutenant Colonel S. Banks Keast, G.C.D.F. attended the maneuvers of the Gold Coast Regiment as part of the annual training of the Gold Coast Defence Force. On 25 March his medical examination showed him to be in a good state of health and on 31 March he and Una departed Accra on the steamer "Accra" for leave in England. They arrived at Plymouth on the 13th of April and proceeded to "Wentworth". Keast again attended the N.R.A. shooting competitions at Bisley Camp. In the "Barnett" the Gold Coast team led by Sir A.W. Hodson came in second, losing to the Sudan team. Keast fired the top score for his team, shooting 86 out of a possible 100. In "His Majesty The King's Prize" competition Keast fired 266 out of a possible 500 and placed 89th in order of merit of the top hundred shooters. Keast excelled in "H.R.H. The Prince of Wales's Prize" competition by firing top score in the entire match with 69 out of a possible 70 marks. For winning first prize he was presented with H.R.H. The Prince of Wales Badge and 100 pounds. He particularly excelled in the "Morning Post" (Junior Kolapore) Imperial Challenge Cup and received special mention in the N.R.A. Journal of September 1935 as follows:
"The finish between the Gold Coast and the Sudan attracted a large number of spectators. Major S. Banks-Keast, who put on the top score for his team, had to score an inner with his last shot to secure the trophy with a lead of one point. He was signalled "Bullseye 5". The result was cheered by the Gold Coast supporters, and the first to offer Sir Arnold Hodson congratulations on the team's success was Captain M.W. Parr, the "skipper" of the Sudan team, which was so near repeating its success of yesterday."
The Gold Coast team won this match with Keast firing top score of 147 out of 150 points. Additionally he won the "Fletcher" Challenge Trophy and competed in the "Public Schools Veterans" Challenge Trophy competition, shooting on the Old Citizens team. (This latter team is associated with the John Carpenter Club Old Citizen Association, in connection with the City of London School, an association which he was elected to in 1935).
His other successes in the 1935 matches were rewarded by a telegram from the Prince of Wales conveying His Royal Highness's congratulations on winning his prize and the N.R.A. Silver Jubilee Medal (of which only 57 were struck) for being a member of an over-seas team eligible to shoot in the Junior Kolapore Match and for making the highest score in the 1st Stage of H.M. The King's Prize Competition. Additionally he received the George V Jubilee Medal for participation in the ceremonies, which took place during the period of his leave in England. After the N.R.A. competitions the Keasts went on holiday to one of their favorite vacation spots at Taunton, Somerset. They then returned to "Wentworth" on 7 September to spend a few days with Una' s family.
On 18 September the Keasts departed England on the SS "Appam" and arrived in Accra on 3 October. They took no leave during 1936 but remained in Accra where Sydney played polo and organized the celebrations for the coronation of King George VI. For his work in this regard he was awarded the George VI Coronation Medal. He again participated in the West African Polo Cup against Nigeria during this year and also in a number of local Accra Polo Club matches. His abilities as a polo player are perhaps best shown in the following description of a match found among his personal papers;
GOLD COAST REGIMENT Versus CIVILIAN MEMBERS OF THE ACCRA POLO CLUB TEAMS:
REGIMENT

Captain J.L.L. Lotinga, Royal Fusiliers

Captain E.W.D. Western, Queens Own R.W. Kent Regiment

Lieutenant A.G. Ames, The Lancashire Fusiliers

Lieutenant C.H. Alien, The Welch Regiment

ACCRA

Lieut-Col S. Banks-Keast

Mr. J. Gutch

Mr. G.D. Chamberlain

Mr. C.S. Morley
"At the commencement of the first chukka Banks-Keast, with a good run took the ball well into the Regiments half but failed to score. Shortly afterwards Lotinga hit the ball well up to Allen, the Regiments No.1, who scored the first goal. It was not long before Accra nearly equalized, for Chamberlain met the ball from a hit out and just missed scoring. Towards the end of the chukka, Accra were again pressing and a shot at goal was well saved by Lotinga. There was a certain amount of miss hitting in this chukka probably due to the over eagerness of the players."

"In the second chukka play improved considerably and was much faster. Chamberlain had a shot at goal but hit over the back line. Following the hit out there was a good run by Western and Allen but Morley was able to intercept the ball and prevented them from scoring. Following some fast play Banks-Keast took the ball up the left wing and from his centre Chamberlain scored the first goal for Accra."

"Play in the 3rd chukka was very even. After a certain amount of play in the Regiments half Allen had a good run but failed to score. Following this Morley twice took the ball down the field but Lotinga prevented him from scoring, and shortly before the end of the chukka Lotinga had a very good run down the right wing but hit over the back line on the right of the goal."

"The last chukka was very exciting, and play was fast, as both sides were keen to score the odd goal which would bring them the match. At the beginning the Regiment was pressing and Western had a good run but failed to score. Banks-Keast had a shot at the Regiments goal but it was well saved by Lotinga. It fell to Chamberlain to score again, this time by a run from the centre of the field and this proved to be the winning goal there being no further score."

"The opinion of the spectators was that this was one of the best matches seen in Accra for many years. The teams were very evenly matched, the game was well contested throughout, and play was fast."

S.B. Keast and U.T. Keast, circa 1936
Although he remained very active in sports his age was beginning to tell somewhat and Keast became more prone to ill health. He appeared on the sick list twice in 1936; once from 20 to 30 January with a sore throat; and again from 27 April to 4 May with pharyngitis. Despite these minor illnesses his overall health remained excellent.
By the end of 1936 his career as a Colonial Civil Servant came to a close. He completed his final tour of duty on 3 October 1936 but he requested to extend his duty to 12 February 1937. On the eve of his retirement he received a letter from G.C. du Boulay, Acting Colonial Secretary for the Gold Coast commending him for the valuable services rendered to the Colony for the past 23 years. The letter goes on to say that;
"The Colony's excellent road system and its many fine public buildings stand out among other achievements of the Public Works Department. Your services to the Local Forces, to the Rifle Association and, not least, to sport add further distinction to a record of which you may be justly proud."
The magnitude of Keast's work on the Gold Coast appears to have been quite extensive with the P.W.D. becoming involved in such projects as urban and rural roads, water purification and sewage treatment plants, highway and railway bridges, dams, reservoirs, water storage facilities, and building construction. The photographs in Keast's albums give a good idea of the type of work for which he was responsible as Director of Public Works. His work in no small measure assisted in the development of the Colony and the present country of Ghana.
In January 1937 Keast resigned his Fellowship in the Royal Geographical Society. On 1 February he was awarded the Order of the British Empire (Civil Division) for public services in the Gold Coast [22]. Prior to their departure from Accra the Keasts were honored by their friends in the P.W.D. A beautiful silver serving set was presented to them with the following inscription:
"PRESENTED TO MAJOR S. BANKS KEAST, O.B.E., M.C., Director of Public Works, Gold Coast by the European Staff of the Department on the Occasion of His Retirement in 1937."
Una was also honored with a silver serving tray engraved as follows:
"Presented to Mrs. S. Banks Keast by the European Staff of the Public Works Department of the Gold Coast as a token of their regard."

The medals of Una Banks Keast (photograph courtesy of Dr. R.G. Jones)
(These medal are now in the author's collection. Una's and Sydney's medals have been reunited after over 60 years)
The Keasts in turn presented their beloved Accra Polo Club with a silver statuette of a polo pony with the following engraved plaque:
"Presented to THE ACCRA POLO CLUB by Major & Mrs. S. Banks Keast in Memory of Many Happy Times - 1936."
Sydney and Una sailed for Lobito Bay, South Africa on 15 February 1957 aboard the Woermann Liner SS "Wangoni". After a stay of some two months in South Africa they sailed for England from Durban on the SS "Dunluce Castle" arriving in Tilbury on 11 June.
The 23rd of July 1937 marked the official termination of his service with the Colonial Government of the Gold Coast. After 24 years and 21 days of civil service he retired on pension with his wife at Lopen House, Lopen, Somerset. He did not let his retirement curtail his sporting activities. This same year he became a Life Member of the N.R.A. and returned to Bisley Camp where he again competed in the "Barnett" and "Morning Post" matches. In the "Barnett" competition the Gold Coast team placed fourth. Keast, as Captain of the team fired the second high score with 85 points out of 100. In the "Morning Post" match the team placed third with Keast firing 140 out of 150 total points. During his shooting career Sydney amassed a large number of prizes to include 106 pounds in prize money, four N.R.A. shooting badges, the N.R.A. Jubilee Medal, trophies, and H.R.H. The Prince of Wales's Badge. In the eleven matches in which he fired he was high scorer in six and Captain of the Gold Coast team in two. It is quite remarkable that in 1937 at the age of 55 he was still able to fire in first and second place on his team for the two match competitions. Apparently his active life had given him a keen eye and a steady hand.
Prom July 1937 to March 1940 he remained in retirement in Somerset. His passion for horses and riding kept him busy. His age and his old war wounds had not yet forced him to discontinue riding, but eventually they would. Sydney and Una had no children, but he was completely devoted to his wife. After a very active life, most of it abroad, they were both ready to settle down to a life of leisure at home. War clouds were gathering again over Europe in 1939 and this life of leisure was to be very short lived.
THE SECOND WORLD WAR, 1940-1944
With his country at war again Sydney Banks Keast again offered his services. On 29 March 1940 he was granted a Regular Army Emergency Commission as a Lieutenant in the Royal Engineers. The following day he was granted the acting rank of Captain and appointed Assistant Commander Royal Engineers (ACRE), Warwick. On 2 September 1941 he was granted the acting rank of Major and on 2 December of the same year he was granted the temporary rank of Major and the War Substantive rank of Captain. He was transferred from his post in Warwick on 1 April 1942 and appointed ACRE, Worcester and Hereford. It is quite evident that his rapid rise from Lieutenant to Major in just 18 months was no doubt due to England's pressing need for men with military experience such as that possessed by S. Banks Keast, late Major, Royal Engineers and O.C., Gold Coast Defence Force. Even at the age of 57 his wealth of knowledge and experience certainly was a valuable asset to the Army, especially in the form of administrative duties at home.
Despite all the hardships endured by Keast during his life the most painful blow came on 4 December 1942 when his beloved wife Una died at Queen Elizabeth Hospital in Edgbaston, Birmingham at the age of 56. Her death certificate lists the cause of death as uremia. The certificate also lists their residence as Eden Bridge, Leigh Linton Road, Malvern Link, Worcestershire. Apparently they had moved from Lopen House in Somerset sometime before Una' s death.
The loss of his wife was a crushing blow from which he never quite recovered. In a manner befitting a true soldier he continued his military duties and was attached to the ACRE Warwick/Worcester on 24 June 1944. His name last appears in the Army List of July 1944 and on 23 August he resigned his commission and was granted the honorary rank of Major. In September 1944 he went into retirement again, returning to Somerset to his final home.
THE FINAL YEARS, 1944-1964
Major Keast lived in relative seclusion in South Petherton keeping in touch only with the closest of friends and relatives. Grief over the loss of his wife and his failing health did curtail his activities to a large degree but he remained as active as possible and continued to ride and hunt while he could. These years were not happy ones for him as attested to by his sister Ethel Mary, whose married name was now Routly, and by his nephew, John Trevor Spurgen, the son of his younger sister. They both visited him as often as possible to keep him company and help to overcome his loneliness.
His main interest during this period of his life centered on the activities of the Seavington Bunt in Somerset where he served as Joint Master with Brigadier Hirst of Broadwindsor. Major Keast had in his employ during this period a. housekeeper, Mrs. Edith Victoria Matthews, and a groom, Mr. J.R. Swann. Mr. Swann worked for Major Keast from May 1954 to May 1957 and describes Keast's activities as follows:
"The Seavington Hunt appeared to be Major Keast's main interest after his retirement from the Army and in the season from August to March he usually went hunting two or three times a week. He did not go shooting and did not appear to be actively involved in politics, either nationally or locally, and was not involved in church, parish council or county council affairs. Neither did he appear to be engaged in any aspect of engineering, but he did make one or two three-month trips to Salisbury, Southern Rhodesia in the above period on what might have been business trips of some sort."

"The Major was especially kind to people of all walks of life, and to animals as well. He was especially popular in Hunt circles. He was very set in his ways, keeping to a strict timetable which included taking his dog for a long walk and taking an afternoon nap."

"The Major was very fond of a Miss Pamela Gordon Thompson of Dowlish Wake and she rode his horse - Kildare - on frequent occasions after an operation that curtailed his riding activities."
Mr. Swann goes on to say that Major Keast was not very happy in South Petherton, often complaining that "it was a village full of old women and dogs". He had an Austin 14 and a jeep that Mr. Swann would drive when the Major went on his occasional trips to London. Mr. Swann would normally drive him to Crewkerne Station to catch the train but he recalls that on one occasion, during a rail strike, he had to drive him to Heathrow Airport to catch a plane for Rhodesia.
Despite his life-long association with the military Major Keast was not a member of the Royal British Legion or the Royal Engineers Association. Although he did not practice engineering in any form after his retirement he did, for some years maintain his membership in the Royal Society of Health which he finally relinquished shortly before 1958.
As he grew older his weakened heart eventually forced him to cease all but the most sedentary activities. He lived alone for his few remaining years, accompanied only by his housekeeper and his dog "Jolly." Except for occasional visits by his sister and nephew he had little contact with anyone else.
Finally, on 20 March 1964, Major Sydney Banks Keast, O.B.E., M.C. and bar, late Royal Engineers died peacefully in his home at Highfield, Palmer Street, South Petherton, Somerset of congestive heart failure at the age of 80. His final resting-place was Taunton where he and Una had spent so many happy days together, and there his body was cremated.
EPILOGUE
This research project was started as a result of the author's acquisition of Major Keast' s medals, which included the Order of the British Empire, Military Cross with bar, 1914-15 Star, British War Medal, Victory Medal with Mention in Despatches, George V Jubilee Medal, George VI Coronation Medal, and French Croix de Guerre. These medals were mounted as worn by Major Keast and were in the original case from A&N.C.S. Ltd., Medallists, 105 Victoria Street, Westminster.
The medals generated the desire to learn more about the man, starting a research effort involving dozens of letters requesting information to the people and agencies recognized in the Acknowledgements and an almost equal number of replies. The research effort has taken over a year and a half to complete.
Major Keast's sister, Mrs. Ethel Mary Routly, who was 96 years old at the time of this writing, and his nephew, Mr. John Trevor Spurgen, were kind enough to provide the first photographs of Major Keast to be obtained by the author as well as copies of his Mentions in Despatches. Additionally they were kind enough to give permission for the Army Records Centre to release his service record.
To the National Archives of Ghana and its personnel a special word of thanks for taken the time and effort to locate and reproduce 185 pages of Major Keast's files and service records.
Finally to Mr. Colin Casperd of South Petherton, the author wishes to express his sincerest gratitude and appreciation. By a stroke of blind luck Colin, the present owner of Major Keast's old home, heard of the author's research while visiting the Yeovil County Library in Somerset. Through his generosity a large number of Major Keast's personal photographs and papers were provided to the author. This material filled in the many gaps which existed in the biographical data.
Copies of this work have been provided to Major Keast's family and to the Royal Engineers Library. It is the author's sincere desire that this work provide some measure of personal pride to the family and to the Corps of Royal Engineers and its present members.
One final word to collectors of military medals. It is the essence of the individual who earned the medals that is important and not just the hunks of ornate silver or bronze which you possess. Detailed research of this type is possible for anyone who has a true feeling for history and the desire and energy to persevere. Don't just be content with filling your shelves or walls with orders and medals! Do some small measure of justice to their recipients by learning as much as you can about them. Believe me you will enjoy yourself immensely and will certainly increase your knowledge of your hobby.
REFERENCES
Letters
Lt. Col. J.E. South to Mr. G.D. Emmons, 24 July 1973.
City of Liverpool Museums to Mr. G.D. Emmons, 30 October 1973.
Lt. Col. J.E. South to Mr. G.D. Emmons, 7 August 1973.
Lt. Col. J.E. South to Mr. G.D. Emmons, 29 August 1973.
Lt. Col. J.E. South to Mr, G.D. Emmons, 10 September 1973.
The Royal Society of Health to LTC E. De Santis, 25 November 1976.
The Institution of Civil Engineers to LTC E. De Santis, 24 Nov 1976.
Foreign and Commonwealth Office to LTC E. De Santis, 15 Dec 1976.
Royal Geographical Society to LTC E. De Santis, 4 Jan 1977.
The Institution of Civil Engineers to LTC E. De Santis, 17 Fob 1977.
The Institution of Public Health Engineers to LTC E. De Santis, 21 Feb 1977.
French Ministry of Defence to LTC E. De Santis, 16 Feb 1977.
National Archives of Ghana to LTC E. De Santis, 19 Apr 1977.
French Bureau of Central Military Archives to LTC E. De Santis, 31 Mar 1977.
Central Chancery of the Orders of Knighthood to LTC E. De Santis, 25 May 1977.
Ministry of Defence Whitehall Library to LTC E. De Santis, 24 May 1977.
City of London School to LTC E. De Santis, 27 May 1977.
Imperial War Museum to LTC E. De Santis, 27 May 1977.
Royal School of Military Engineering to LTC E. De Santis, 27 May 1977.
British Information Services, N.Y. to LTC E. De Santis, 2 Jun 1977.
Ministry of Defence Army Records Centre to LTC E. De Santis, 2 Jun 1977.
Ministry of Defence Whitehall Library to LTC E. De Santis, 10 Jun 1977.
National Archives of Ghana to LTC E. De Santis, 6 Jun 1977.
Imperial War Museum to LTC E. De Santis, 16 Jun 1977.
Ministry of Defence Army Records Centre to LTC E. De Santis, 16 Jun 1977.
City of London School to LTC E. De Santis, 17 Jun 1977.
Mr. Alan W. Rolfe to LTC E. De Santis, 17 Jun 1977.
Defense Attaché Office, Accra, Ghana to LTC E. De Santis, 22 Jun 1977.
Foreign and Commonwealth Office to LTC E. De Santis, 27 Jun 1977.
Mr. Alan W. Rolfe to LTC E. De Santis, 7 Jul 1977.
British Information Services, N.Y. to LTC E. De Santis,20 Jul 1977.
Somerset County Council Library to LTC E. De Santis, 4 Aug 1977.
All Souls Vestry to LTC E. De Santis, 10 Aug 1977.
Mr. John Trevor Spurgen to LTC E. De Santis, 8 Aug 1977.
Mrs. E.M. Routly to LTC E. De Santis, 8 Aug 1977.
Yeovil District Council to LTC E. De Santis, 16 Aug 1977.
Somerset County Council Library to LTC E. De Santis, 25 Aug 1977.
British Information Services, N.Y. to LTC E. De Santis, 15 Sep 1977.
Royal British Legion to LTC E. De Santis, 24 Sep 1977.
National Archives of Ghana to LTC E. De Santis, 25 Sep 1977.
National Rifle Association to LTC E. De Santis, 29 Sep 1977.
The Sports Club to LTC E. De Santis, 5 Oct 1977.
National Rifle Association to LTC E. De Santis, 21 Oct 1977.
Mr. J.E. Swarm to LTC E. De Santis, 30 Oct 1977.
National Archives of Ghana to LTC E. De Santis, 20 Oct 1977.
Mr. John Trevor Spurgen to LTC E. De Santis, 5 Nov 1977.
Mr. Colin Casperd to LTC E. De Santis, 6 Nov 1977.
Ministry of Defence Army Records Centre to LTC E. De Santis, 10 Nov 1977.
Ministry of Defence Army Records Centre to LTC E. De Santis, 16 Nov 1977.
Mr. Colin Casperd to LTC E. De Santis, 18 Nov 1977.
Mr. Colin Casperd to LTC E. De Santis, 28 Nov 1977.
Mr. Colin Casperd to LTC E. De Santis, 14 Dec 1977.
Books
Prisoners of the Mahdi. Byron Farwell. Harper and Row, New York. 1967.
The Journals of Major-General C.G. Gordon, C.B. at Khartoum. Kegan Paul, London, 1885.
With Kitchener to Khartoum. G.W. Steevens. Dodd, Mead and Co., New York, 1899.
From the Cape to Cairo. E.S. Grogan and A.H. Sharp. Hurst and Blackett, London, 1900.
History of the Royal West African Frontier Force. Col. A. Haywood and Brigadier F.A.S. Clarke. Gale and Polden Ltd., Aldershot, 1964.
History of the Great War, Military Operations, Togoland and the Cameroons, 1914-16. Brigadier F.J. Moberly, HMSO, 1931.
The 25th Division in France and Flanders. M. Kincaid- Smith. Harrison and Sons, London, 1920.
The Story of the 29th Division. Captain Stair Gill on. Thomas Nelson and Sons, Ltd., Edinburgh and New York, 1925.
The History of the Corps of Royal Engineers. Volume VII. The Institution of Royal Engineers, Chatham, 1952.
Periodicals
London Gazette, 1 February 1957.
London Gazette, 14 Sep 1917.
London Gazette, 29 Nov 1918.
London Gazette, 19 Jun 1919.
Army List 1916.
Army List 1917.
Army List-1919.
War Service of Officers 1923.
London Gazette, 18 May 1917.
London Gazette, 7 Jul 1919.
Colonial Office List 1937.
Gold Coast Civil List 1933.
Gold Coast Civil List 1936.
Army List 1944.
City of London School Old Pupils Index.
The London Times.
Western Gazette (South Somerset Edition)
Somerset County Herald.
Taunton Area Telephone Book 1977.
N.R.A. Annual Report 1935.
N.R.A. Annual Report 1937.
N.R.A. 1935 Prize List.
N.R.A. 1930 Prize List.
N.R.A. 1937 Prize List.
N.R.A. Journal August 1935.
N.R.A. Journal September 1935.
Interviews and Personal Communications
Mrs. Peggy Ferrini, British Information Services, 25 Feb 1977.
Mrs. Peggy Ferrini, 17 May 1977.
Mrs. Peggy Ferrini, 18 May 1977.
Mr. Colin Casperd, 17 Nov 1977.
Mr. Colin Casperd, 26 Dec 1977.
Miscellaneous Documents
Extract of Keast family wills 1937/64 & 1920/36.
War Diary, 130th Field Company, R.E.
War Diary, 510th Field Company, RE.
Service Records. Military and Civil, National Archives of Ghana.
Birth Certificate, Sydney Banks Keast.
Marriage Certificate, Sydney and Una Banks Keast.
Death Certificate, Una Banks Keast.
Death Certificate, Sydney Banks Keast.
Military Service Record, Sydney Banks Keast, - Army Records Centre.
Members' List 1962 - The John Carpenter Club (Old Citizens Association).
Keast family albums: No. 1, parents and the Sudan.
Keast family albums: No. 2, honeymoon photos.
Keast family albums: No. 3. the Sudan.
Keast family albums: No. 4, the Gold Coast.
Keast family albums: No. 5, the Gold Coast.
Keast family albums: No. 6, Switzerland.
Keast family albums: No. 7, the Great War.
Keast family albums: No. 8, holiday in England.
Keast family albums: No. 9, the Sudan.
Keast family albums: No.10, the Gold Coast.
Sir Douglas Haig's Despatches, December 1915 to April 1919. Lt. Col. J.H. Boraston, O.B.E. J.M. Dent & Sons, Ltd., London and Toronto, 1919.
Old Citizens' Gazette, October 1964.
Report on the Attack carried out by the 25th Division on the Messines Ridge on the Seventh of June 1917 and subsequent dates. Harrison & Sons, London.
ENDNOTES
Certified Copy of an Entry of Birth, General Register Office, London, Certificate No. 404 of 1884. Copy No. BXA 284697 dated 10 May 1977.
Letter, 8 August 1977, Mrs. Ethel Mary Routly to Lt. Col. Edward De Santis.
Obituary, Old Citizens Gazette, October 1964, p.71.
Letter, 17 June 1977, City of London School to Lt. Col. Edward De Santis with extract from the Index of Old Pupils No. 12860.
Letter, 10 November 1977» Ministry of Defence Army Records Centre to Lt. Col. Edward De Santis.
Keast Family Photo Album, Volume 1.
European Service Record, Sydney Banks Keast, National Archives of Ghana.
Farwell, Byron. Prisoners of the Mahdi, Harper and Row, New York, 1967, p. xvii.
Gordon, G.G. The Journals of Major-General C.G. Gordon, C.B. at Khartoum, London, Kegan Paul, 1885.
Steevens, G.W. With Kitchener to Khartoum, New York, Dodd, Mead and Co., 1899.
Grogan, E.S. and Sharp, A.H. Prom the Cape to Cairo. London, Hurst & Blackett, 1900.
Gold Coast Civil List, 1956. Foreign and Commonwealth Office, London, p. 164.
History of the Royal West African Frontier Force. Col. A. Haywood and Brigadier F.A.S. Clarke, Gale and Polden Ltd., Aldershot, 1964.
History of the Great War, Military Operations, Togoland and the Cameroons, 1914-16. Brigadier F.J. Moberly, HMSO, 1931, p. 395.
Letter, 29 August 1975, Lt. Col. J.E. South to Mr. G.D. Emmons.
The 25th Division in France and Flanders. M. Kincaid-Smith, Harrison and Sons, London, 1920.
The Story of the 29th Division. Captain Stair Gillon, Thomas Nelson and Sons, Ltd., Edinburgh and New York, 1925.
London Gazette, 29 November 1918.
London Gazette, 19 June 1919.
The History of the Corps of Royal Engineers, Volume VII, The Institution of Royal Engineers, Chatham, 1952, pp. 248-249.
Letter, 4 January 1977, Royal Geographical Society to Lt. Col. Edward De Santis
London Gazette, 1 February 1957.