LIEUTENANT COLONEL HENRY DRURY HARNESS
ROYAL ENGINEERS
by
Lieutenant Colonel Edward De Santis ©2008
Photograph File Number: 041999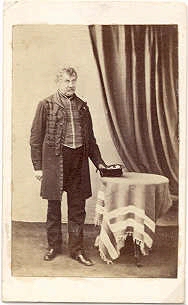 Photographer: Unknown
Type of Photograph: CDV
Approximate Date of Photograph: c. 1857
1. HEADRESS:
a. Type: 1857 Pattern Forage Cap. Blue cloth, a gold netted button in the centre of the crown, which is in eight parts, and edged in scarlet piping. Band of gold lace, 1-3/4 inches wide (Corps pattern), projecting peak.
b. Badge: Not visible.
2. COAT/TUNIC:
a. Collar: Garter blue velvet, rounded in front.
b. Shoulder Straps: None.
c. Cuffs: Jacket cuffs not visible.
d. Buttons: Gilt studs down the front.
e. Pattern: 1857 Pattern Jacket. Scarlet cloth, single-breasted, to hook-and-eye. Plain gold braid all round and on collar seam, finished with a crow's foot at centre of waist and collar seam.
Frock Coat. Blue cloth, single-breasted, rolling collar, to hook-and-eye up to 5 inches from bottom of stock.
3. INSIGNIA:
a. Collar Badges: None.
b. Rank Insignia: Not visible.
4. ACCOUTREMENTS:
a. Waist Belt and Clasp: None.
b. Sash: None.

c. Sword Belt: None.

d. Shoulder Belt: None.

e. Gloves: None.

f. Miscellaneous:
5. TROUSERS: Dark Oxford mixture, a scarlet stripe, 1-3/4 inches wide down the outer seam.
6. FOOTWEAR: Wellington boots.
7. WEAPON(S): None.
8. IDENTIFICATION:
a. Regiment: Royal Engineers

b. Individual: Henry Drury Harness, 1804-1883. Commander Royal Engineers at the siege and capture of Lucknow during the Indian Mutiny. Face easily recognized when the photograph is compared to the photograph in the reference below.
9. REFERENCES:
WILKINSON-LATHAM, C. and EMBLETON, G.A. The Indian Mutiny. Men-At-Army Series, No. 67. Osprey Publishing, Ltd., London, 1991, p. 38.