MAJOR STEPHEN HENRY FOOT, D.S.O.
Royal Engineers and Tank Corps

by
Lieutenant Colonel Edward De Santis
Ó 2017. All Rights Reserved.

1. INTRODUCTION

The principal references used in the preparation of this narrative were from a number of sources. They include census records, official registries in the United Kingdom, medal rolls, family trees, army lists, and the London Gazette. A great deal of the information, the major part in fact, was obtained from a book written by Stephen Foot, entitled "Three Lives and Now." All sources are presented in the REFERENCE section at the end of the narrative and are cited throughout in the ENDNOTES. Every effort has been made to accurately portray the life and military service of Major Foot, a very interesting and complex individual. If the reader would like to know more about Major Foot than is contained in this research work, it is suggested that a copy of "Three Lives and Now" be obtained. Foot's book contains considerably more detail about his life and military service than is contained herein and it is replete with anecdotes and humorous stories. Without reproducing his book word for word, I have tried to include in my work as complete a narrative of his story as was practical to produce. Stephen Henry Foot had a very interesting life including his time in military service that began in the Royal Engineers and ended in the Tank Corps at the end of the Great War of 1914-1918. In fact, Foot's service during the war very much influenced the creation and formation of the Tank Corps.
2.

EARLY LIFE AND FAMILY INFORMATION
To begin this narrative I have chosen to go back three generation in the family tree of Stephen Henry Foot. Stephen's great grandfather, Charles Foot, was born in Devonshire in 1761. He married Elizabeth Swaffield on the 20th of March 1787 and they had 6 children; Sarah Hart (29 May1787), William (9 September 1788), Charles (5 April 1792), Elizabeth (3 May 1795) and John (1801). John Foot would become Stephen's grandfather. [1]
John Foot was born in Sampford Spivey, Devonshire, a parish, in the union of Tavistock on the verge of Dartmoor. He became a farmer and in 1839 he married a woman named Susan (maiden name unknown). John and Susan had four children; John (1836), James (1853), William Henry (1855) and Mary E. (1860). William Henry would become the father of Stephen Henry. [2]
William Henry Foot was born in Tavistock, Devonshire. He became a lace merchant and married Harriet Pearson in 1885. The Wiggins family tree shows that William Henry Foot had a son, John Pearson Foot, who had been born in April of 1885. Since this son's middle name is Pearson and William Henry Foot's wife's maiden name was Pearson, it is not too much of a stretch to assume that Harriet was his mother. However, based on the dates of birth and marriage (assuming that the dates are accurate) it appears that John Pearson Foot was conceived before William and Harriet were married.[3]
The main character of this research work, Stephen Henry Foot, was born at 28 Fulham Park Gardens in Fulham, Middlesex at 10:30 am on the 6th of June 1887 along with his twin brother Charles James Foot.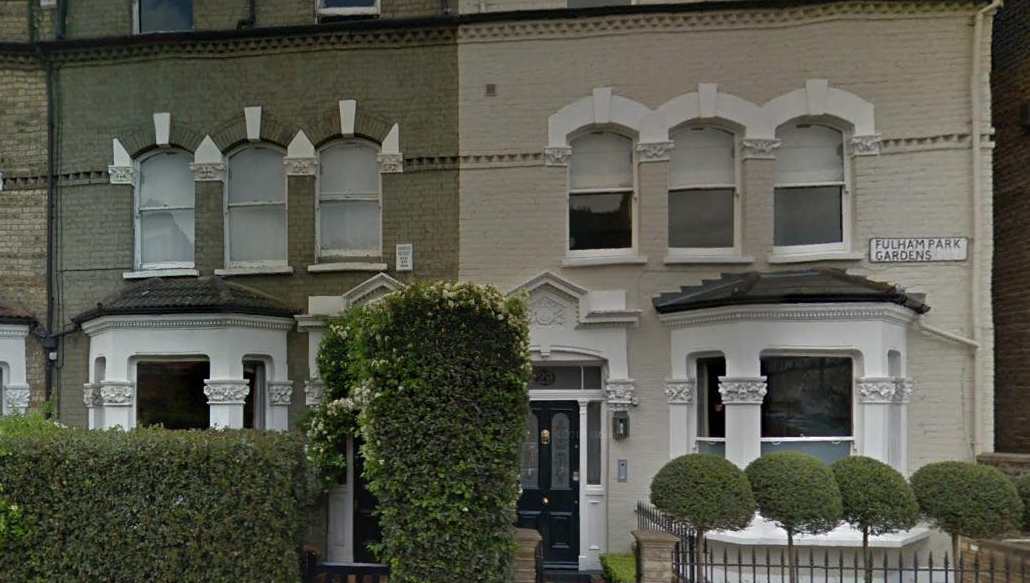 Figure 1. The Birthplace of Stephen Henry Foot at 28 Fulham Park Gardens - the darker colored house on the left.
(Photograph courtesy of Google Earth)

Stephen and Charles were baptized on the 2nd of July 1887 at St. Dionis Church in Parsons Green, Fulham, London.[4] William and Harriet had four more children after the birth of the twins:

Robert William Foot, born in July 1889, presumably in Fulham.

Lucy Dora Foot, born in April 1892 in Barnes, Surrey

Mary Winifred Foot, born on 31 January 1897 in Putney, Surrey, and

Arthur Edward Foot, born in July 1901 in Wandsworth, London.[5]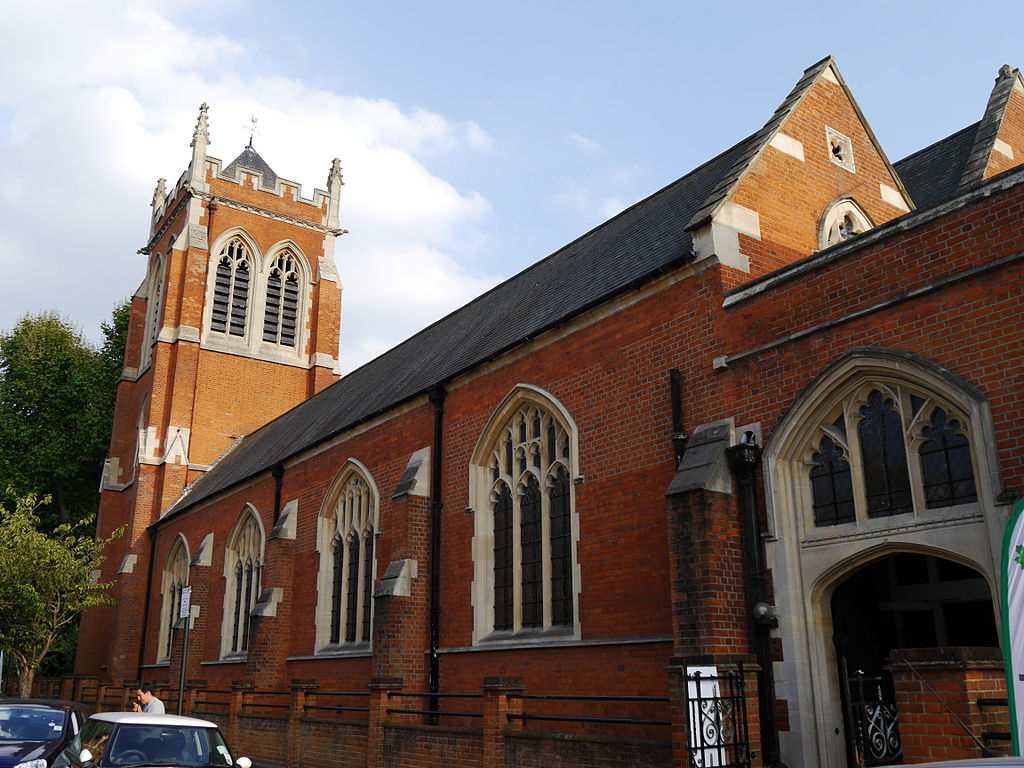 Figure 2. St. Dionis Church, Parson Green, Fulham, London.
(Photograph courtesy of Wikipedia)
The male lineage of the Foot family can be found in the Family Tree in Appendix A.
Stephen attended preparatory school at Bognor in Sussex for part of 1901 and in Sep­tember of 1901 he entered Eastbourne College in Sussex, on the south coast of England.
As a student he was very active in school activities. He was a prolific reader but was very shy as a young boy. He developed a form of nervous self-consciousness about the age of 12, but he gradually overcame this as he matured. In fact as a young man working for Shell Oil and later in the Army he developed assertiveness, bordering on aggressiveness, that sometimes got him into trouble.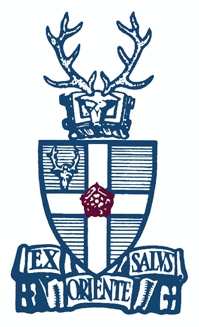 Figure 2a. The Crest Of Eastbourne College.
He played in the 1st XV and shot at the Crumbles and at Bisley[6]. He took a great interest in things military and was a Private in the Eastbourne College Cadet Corps, attached to the 1st Cinque Ports Rifles Volunteers. During his last term he was Head Prefect. Eastbourne College would play a very important role in Stephen Foot's life. In later years he would become a teacher and a housemaster at the college.

Figure 3. Eastbourne College, East Essex.
(Photograph courtesy of Wikipedia)
In 1906 Stephen entered Cambridge University as an undergraduate at Emmanuel College to study to be an engineering barrister. The term "engineering barrister" was taken from Foot's book, "Three Lives and Now," but he does not go on to explain what this course of study involved. One can assume that it pertains to the study of law as it relates to various fields of engineering, but this is a guess on the author's part. No reference to "engineering barrister" has been found during the research for this work. In any case it appears that Foot actually received a degree in engineering upon graduation.

While at Cambridge he maintained an interest in military affairs and Freemasonry. In 1906 he attended a Public School's Camp held at Aldershot with about forty schools sending contingents. By that time he had risen to the rank of Colour-Sergeant in the cadet corps and as a Signaller he was selected to take charge of the signal detachments of all the schools in camp. The detachment numbered about 50 cadets with bicycles and was naturally looked down upon by the ordinary foot-sloggers, although the term "Poor Bloody Infantry" ("P.B.I.") had not yet come into common use. One day the whole Brigade was practicing "savage" warfare. The boys in Foot's detachment were the savages. Presumably the "savages" were meant to portray tribesmen such as Zulus in South Africa or Arabs in the Sudan; that is, tribesmen with whom the British Army had fought in the 19th century. The Brigade was on the march while his band of savage signalers laid an ambush, made sudden rushes, and behaved generally like mad Mullahs. The savage signalers found the entire Brigade in a mass formation on open ground and they opened volley fire into the Brigade with blank ammunitions, which was very plentiful. The ambush was done so well that the General called a halt to the exercise. Foot soon learned that the Brigade was in mass formation because the field-day was over and the "cease-fire" had been sounded half an hour before the ambush. Since Stephen was the Colour Sergeant of the signal detachment, one can only assume that he was one of the leaders of this exploit to attack the massed Brigade, thus giving us some insight into his personality. [7]

On the 2nd of February 1909 he was initiated into the Isaac Newton Lodge of Freemasons at Cambridge University.[8] He also took advan­tage of a special scheme to commission young men into the Army while they were still studying in university. On the 26th of June 1909 he was commissioned a 2nd Lieutenant in the Royal Engineers Special Reserve. However, as he was still a student, he remained unattached from any active ser­vice unit.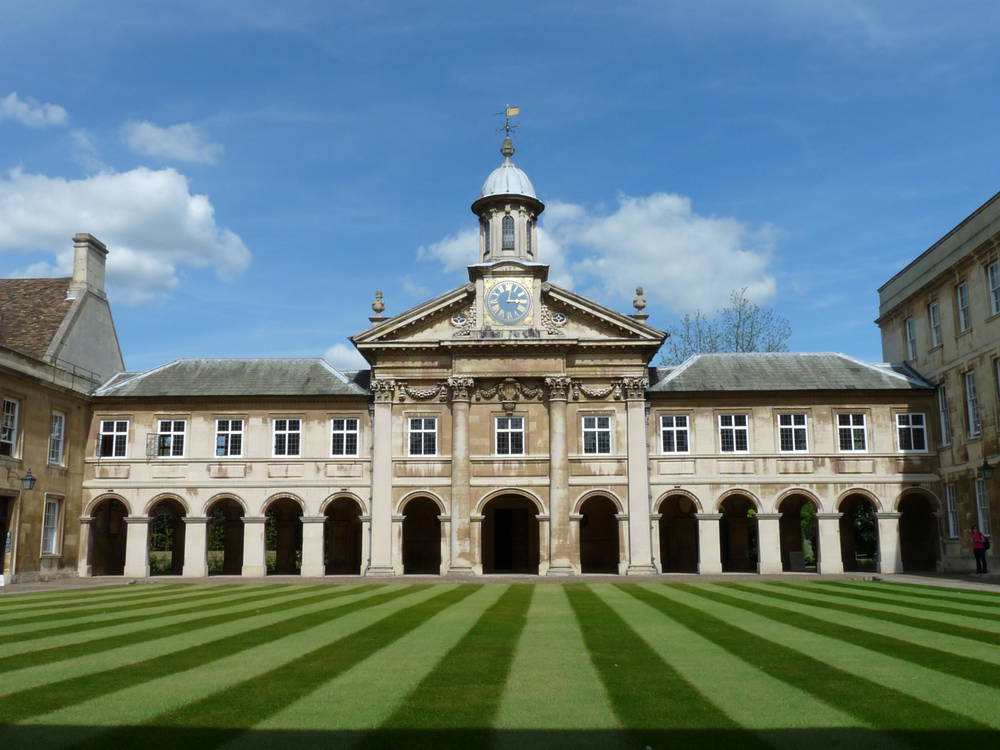 Figure 4. Emmanuel College, Cambridge.
(Photograph courtesy of Wikipedia)
3. PHYSICAL DESCRIPTION AND MEDICAL HISTORY
No physical description of Stephen Henry Foot or any medical records could be obtained regarding him during the course of this research. In his biography he states that as a young boy he was "constantly pursued by illness" and that he was nervous, highly-strung and frequently ill. He does not describe his illnesses other than to mention that at the age of nine he had measles, followed by complications, and that he was away from school for nearly a year.
The photograph in Figure 5, however, shows what he looked like when he was a Major in the Royal Engineers and Tank Corps and serving on the General Staff. He appears to be a healthy, confident, self-assured young man and in truth he does become one, as will be described in subsequent sections of this research. He does indicate in his biography that he suffered from hay fever for most of his life.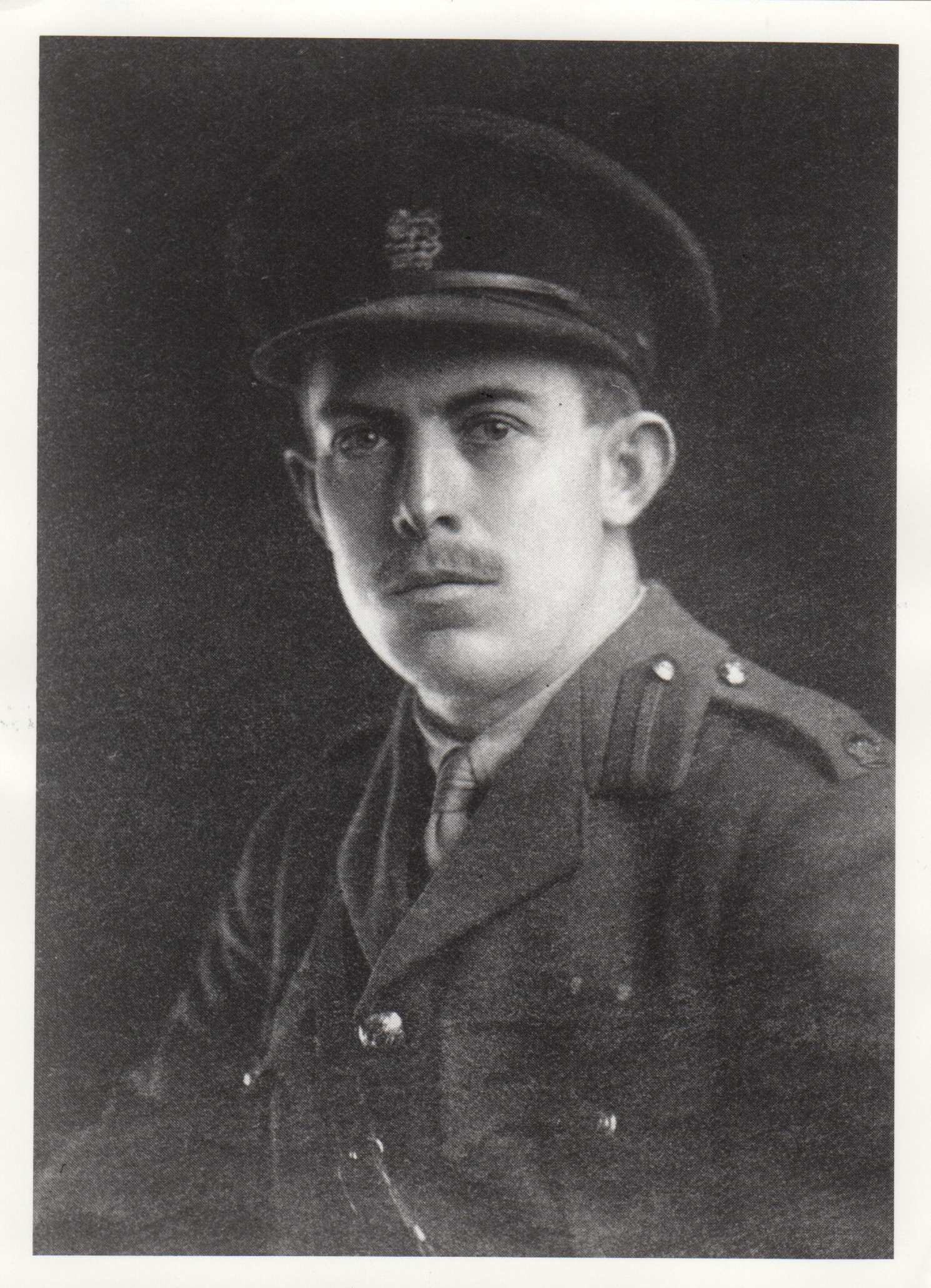 Figure 5. Major Stephen Henry Foot.
(Photograph courtesy of the National Portrait Gallery)
4. COMMISSIONING AND TRAINING
The special military program into which he had entered did require some work on his part. Although he had still not been graduated from university, Stephen was required to begin a year of military service in August of 1909. He was sent to the School of Military Engineering at Chatham, Kent for his training as a Special Reserve Officer of the Royal Engineers. There he was to remain for a period of eight months. While at Chatham he was trained in field fortifications, map reading, bridge-building, field-sketching and trench-digging among other military subjects needed by a young officer in the Royal Engineers. Stephen Foot had the opportunity while at Chatham to meet Professor Charles Edward Inglis[9] who asked him to go up to Cambridge to talk to engineering students there on the subject of the Special Reserve Royal Engineers.[10] See Appendix B for more details regarding Professor Inglis.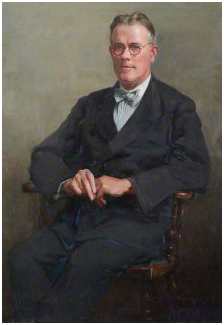 Figure 6. Professor Charles Edward Inglis.
(Photograph courtesy of Wikipedia)
In May of 1910 Stephen was assigned to the 10th (Railway) Company, Royal Engineers at Longmoor for the final four months of his Special Reserve duty. In June of 1910 he was assigned to a pontooning camp at Walton (probably Walton-on-Thames) as part of his military train­ing; however, because of certain skills which he possessed in other areas he was actually assigned to coach the R.E. Eight for the Thames Cup, having been to Henley as a spare man for his College Crew. During his time working with the R.E. boat crews he met Captain E.M.S Charles,[11] R.E. and Captain C.E.P. Sankey, R.E.,[12] both of whom were in the Senior Four. Such were the rigors of military training in the days preceding the Great War of 1914-1918 that time could be taken from training to participate in sports to such a degree.
5. PRE-GREAT WAR EMPLOYMENT
In 1910 Stephen was graduated from Cambridge with a Master of Arts Degree. Although he does not specifically state so in his book, it may be assumed that his degree was in a branch of engineering, perhaps civil engineering or maybe mechanical engineering. On the 1st of August of that year he started work with the Shell Oil Company in London. Before very long Shell Oil decided they needed him in Singapore. In the Singapore office he was assigned to the cable department where his responsibilities primarily involved decoding Morse code messages from the home office in London. The fact that he was assigned to a cable department and decoded messages begs the question concerning how and when he obtained these skills. Morse code may have been taught at the School of Military Engineering, so that could be easily explained. Foot does not indicate in his biography why Shell Oil used him in this work. His engineering degrees would have made him more useful in the oil exploration field. Perhaps his time in the cable department was a probationary period. While in Singapore he lived in the Seaview Hotel and he remained working there for six months.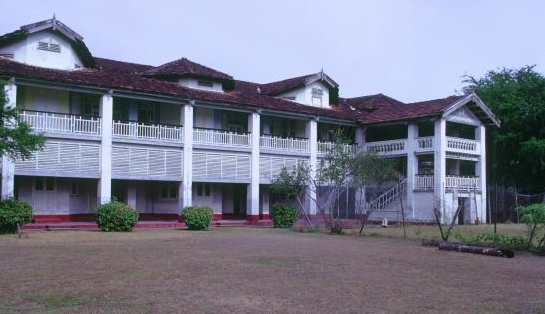 Figure 7. The Old Seaview Hotel, Singapore.
(Photograph courtesy of Lee Kip Lin and the National Library Board Singapore)

Stephen was to find that Shell Oil was even more demanding than the Army when it came to reassignment of its personnel to different parts of the world. During 1911 and 1912 they transferred him to Kuala Lumpur and Ipoh in Malaya. His assignment to Kuala Lumpur was a promotion over the position that he held in Singapore. He was made a District Manager and his district was a large one. In this capacity he would have been able to use his engineering skills to some degree, although his work seemed to be more managerial and logistical in nature rather than technical or "hands on." To keep in touch with all his agents, most of whom were Chinese, he had to cover at least 1,200 miles a month over the rough roads that existed there at that time. On the 16th of March 1912, while in Kuala Lumpur he was initiated into the Read Lodge of Freemasons.[13] When he was reassigned to Ipoh, his responsibilities became even greater as it was a larger district than that in Kuala Lumpur. Following this period abroad in Asia he returned to England via Brindisi in southern Italy.

After a short visit home, probably living with his brother Robert[14] at 36 Carlton Road in Putney, London, he sailed for New York on RMS Mauretania and then proceeded by train to Tampico, Mexico to take up his next assignment.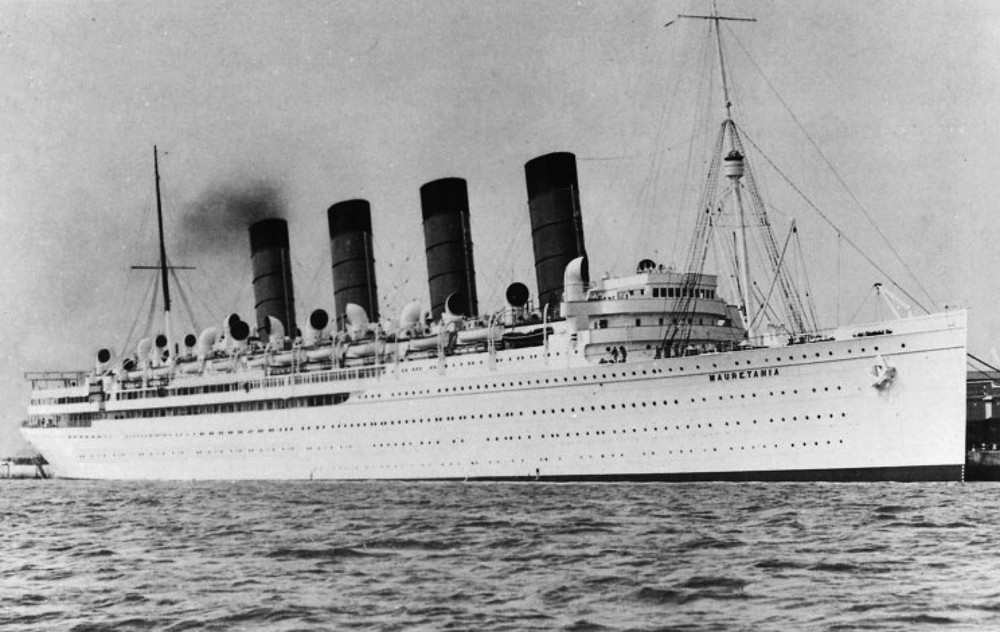 Figure 8. RMS Mauretania.
(Photograph courtesy of Wikipedia)

In Tampico he went to work for the Corona Petroleum Company, a subsidiary of the Shell Oil Company. He would remain in Mexico until July of 1914. He was involved primarily in well drilling operations at Panuco. It appears that in this assignment he was able to put to use so of his engineering skills, as well drilling operations certainly would have required both managerial skills and knowledge of geologic formations and some mechanical engineering. He had a very limited knowledge of Spanish when he arrived in Mexico, so initial communications with workers and government officials were difficult. His ability with Spanish improved considerably during his time there although there is no indication in his biography that he ever became proficient in the language.

Special Reserve Officers were supposed to have a fortnight's training with a regular unit every year. While he was in Singapore he had been able to arrange for this with an R.E. Company that was quartered on the island of Pulau Brani, just outside of Singapore harbor. In Mexico it was more difficult. The nearest R.E. unit was the 44th Company stationed on Jamaica. As transportation to Jamaica was difficult, he was exempted for the first year and missed the second year because he was on leave in England when the training was held.[15] In the middle of the Second Battle of Ypres, about the end of April 1915, somewhere near Poperinghe, he received a bedraggled envelope labeled "Secret and Urgent." Inside the envelope was an official letter from the O.C., 44th Company, R.E. Jamaica to Second Lieutenant S.H. Foot, R.E. which read as follows:

August 4, 1914. Mobilisation

"You are required to proceed immediately to Jamaica and report to O.C. 44th Company, R.E."

The letter had taken nearly eight months to reach him via Vera Cruz, Tampico, New York, The Hague and London.[16] When it did reach him he already was serving with the Second Bridging Train, R.E. in France and Flanders. He probably would have been delighted at that time to "proceed immediately to Jamaica."

Life in Mexico was far from dull for him during his time there. On the 13th of December 1913 Stephen found himself in Tampico during the Villa Revolt and was actually besieged by the rebel army. In April of 1914 he was present in Vera Cruz during the landings of the U.S. Marines in that city, and on the 15th of May 1914 he came under fire in Tampico as that town fell to the rebels.[17] He got out of Mexico by crossing the U.S. border at Laredo, Texas on the 2nd of July 1914.[18]

While in Mexico the Royal Engineers still kept a string attached to him, which they would tug on very gently from time to time. He was assigned to the 44th Company, R.E. in Jamaica during most of his time in Mexico, although he never was able to report for annual training, as explained above. The April 1914 Army List shows him as assigned to Aldershot at about the same time that he was being shot at by rebel forces in Mexico. On the 26th of June 1914 Stephen was promoted Lieutenant and on the 20th of July he landed in England with plans to stop there for a short holiday before proceeding to the company's head office in The Hague. On the 31st of July 1914 he started off for a holiday in Devonshire, a trip which was short-lived. He received his mobilization orders in Devon­shire on the 3rd of August. Lieutenant Foot would soon be off to war.

6. ASSIGNMENTS AND CAMPAIGN SERVICE

Service with the Royal Engineers (1914-1916)

With the 10th (Railway) Company

His first priority after mobilization was to travel to London to purchase some uniforms at Moss Brothers.[19] This he did on the 4th of August. The next day he traveled to Longmoor in Hampshire to join up with sections of his old unit, the 10th (Railway) Company, R.E., which still were in the U.K. The Longmoor establishment consisted of a Commander Royal Engineers, Lieutenant Colonel Dudley Ridout, R.E.,[20] two Captains, an Adjutant and about six or eight subalterns.[21] The officer commanding the 10th (Railway) Company was Captain R.H. Cunnington.[22] Two days after his arrival at Longmoor Foot was sent off with a section of sappers to build a bridge across the Basingstoke Canal.

A few weeks after his arrival at Longmoor, Foot met Major E.D. Swinton,[23] a man who was destined to achieve fame in the British Army. Foot was struck on the occasion of their meeting by the kindness shown to him by Major Swinton. Swinton little thought at the time that he would be responsible for the development of a new weapon of war – The Tank – and Foot did not have the slightest inkling at the time that within a couple of years he would be working intimately with tanks and that seven years later he would be teaching mathematics to Swinton's son. (See Appendix C).[24]

Military training was somewhat neglected during Foot's period at Longmoor, except towards the end of his time there, when he was suddenly fired with the ambition to pass the examination for promotion to Captain. A regular officer could not take this examination until he had become a full Lieutenant, but this restriction did not apply to Special Reserve officers. The examination involved Military History and Military Law, which he did not find difficult. During this period he took and passed the promotion examination for Captain, earning the "q" designation that comes with that distinction and paving the way for a poten­tial career in the Army. [25] This was Stephen Foot's only demonstration of military ambition during his time in the Army. He displayed no further desire to receive awards or accelerated promotions between 1914 and 1920 when he left the Army. He devoted himself entirely to his duties and to the development of the Tank Corps as will be seen in subsequent sections of this research.

The 10th (Railway) Company was a Lines of Communications unit in the British II Corps and part of the company had landed in France in August of 1914 with the original British Expeditionary Force.[26] In addition to the training exercises on the Basingstoke Canal, the company also built a timber bridge at Woking and a Prisoner of War enclosure near Pirbright. Firth Hill Camp, as the POW enclosure was known, was set up in September 1914 to accept those of German nationality living in the British Isles at the outbreak of war and any Germans taken prisoner in Europe. It was situated on open heathland opposite Brompton Hospital, at Frimley, Surrey. Due to the nature of the land the camp was moved three times after heavy rain, closing down each time while the site was moved and eventually there were separate camps for enemy aliens and military prisoners.[27]

On the 27th of November 1914 Lieutenant Foot, along with the remainder of the 10th (Railway) Company, left Longmoor for Le Havre.[28] In 1914 and up to March 1915, stocks of railway material, plant and stores were retained in Ashford, Kent for use in France. In March of 1915 a Railway Stores Depot was opened at Audruicq in France by an officer and 12 other ranks of the 10th (Railway) Company. This was a very modest beginning of a depot that was about to grow to great dimension in the theater of war.[29] With the arrival of Lieutenant Foot and other men of the company at Le Havre on the 28th of November 1914, the entire 10th (Railway) Company began a move to Rouen, arriving there on the 2nd of December under the command of Captain Tyrrel. Lieutenant Foot was immediately sent to Mezidon to commandeer a Belgian locomotive.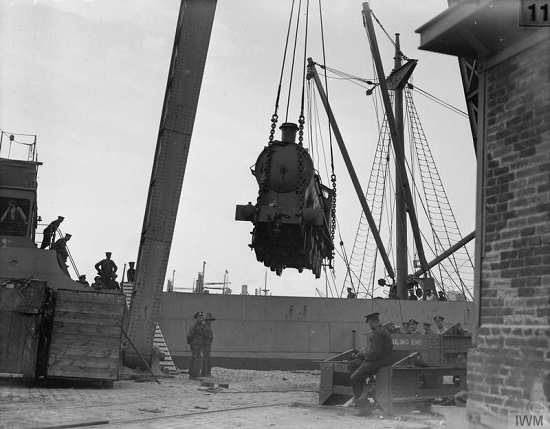 Figure 8a. Royal Engineers Unloading a Locomotive at Le Have.
(Photograph courtesy of The Long, Long Trail Web Site)

Foot then proceeded to Calais, via Paris and then on to St. Omer. He got into some difficulty with this escapade with the Belgian locomotive. The idea of a Belgian locomotive wandering about the French railways on the order of a British Second Lieutenant was too much for any entente cordiale. He had usurped powers which were held by only three men in the whole of France, but he followed orders and his initiative was irreproachable.

The company left Rouen by train on the 13th of December and arrived at Arques the following day. Between the 14th and the 28th of December the men of the 10th (Railway) Company were employed unloading and stacking material for the railway depot to be established there.

The 10th (Railway) Company moved to Blendecques between the 28th and 31st of December 1914, where it appears to have remained for some time. On the 27th of January 1915 the company was sent to Bethune and then to Givenchy for dam building on the La Bassee Canal. For this work the company was attached to the British 1st Division. In his book "Three Lives and Now" Foot wrote the following regarding how this work came about:[30]
"A Railway Company of Royal Engineers without railways to play with is like a fish out of water. The battle-line was stationary; there were no railways for us to construct, repair or demolish, so that we had nothing to do. We kept ourselves fit by route marches round St. Omer and did a certain amount of work fitting up the railway trucks which were to be our future home; but it was a dull time. Suddenly we had some excitement.

It was the Kaiser's birthday, January 27th, 1915. The telegram read as follows:

O.C. 10th Coy. R.E.

Detail two officers and fifty men to report to-night to C.R.E. First Division for work building dam La Bassée Canal aaa[31] Motor buses will be provided aaa Party must be ready five o'clock with picks and shovels message ends.

G.H.Q."
A lieutenant by the name of Reid was placed in charge of the work party with Foot as his Second-in-Command. After arriving at Béthune Foot went off to find the C.R.E. of the 1st Division and located his Adjutant, Captain G.H. Addison, R.E.[32] Addison told Foot to have the party report to the O.C. of a 1st Division field company at Givenchy. As Foot's party got to the canal to do the work bullets began to whistle over the heads of his men. One of his drivers was hit and dropped to the ground beside him. He was dead with a bullet through the forehead. In his biography Foot does not elaborate on his reaction to seeing this man killed so suddenly right beside him, but he must have been shaken by the event as any new soldier in combat would be shaken.
This was the 10th (Railway) Company's baptism of fire. It should be noted here that the company had the men, material and expertise to build structures other than those associated with railways, and as such it would find itself doing other jobs like this during the war, many of them under fire.
With the 2nd Bridging Train, R.E.
On the 16th of February 1915 Lieutenant Foot traveled to Audruicq to work on the construction of sidings for a railway dump. On the 9th of April 1915 he was reassigned from the 10th (Railway) Company to join the 2nd Bridging Train under Second Army control.[33] This unit had the mission of hauling and delivering bridging equipment such as pontoons and decking to sites where floating bridges were needed to cross water obstacles. The Officer Commanding the Bridging Train was Major C.M. Carpenter, R.E.[34]
On April 22, 1915, the Germans launched their first and only offensive of the year. Now referred to as the Second Battle of Ypres, the offensive began with the usual artillery bombardment of the Allied lines. When the shelling died down, the Allied defenders waited for the first wave of German attack troops but instead were thrown into panic when chlorine gas wafted across no-man's land and down into their trenches. The Germans targeted four miles of the front with the wind-blown poison gas, decimating two divisions of French and Algerian colonial troops. The Germans, perhaps as shocked as the Allies by the devastating effects of the poison gas, failed to take full advantage, and the Allies managed to hold most of their positions. Lieutenant Foot was at Poperinghe during this battle. The Ypres situation was saved by the Canadians, who advanced with great gallantry and re-established a line of defence in the face of this new enemy gas attack, against which they were wholly unprotected. When Foot asked about the protection against poison gas he was told "urinate on a handkerchief is the only thing to do at present. If this is held over the mouth and nose the ammonia will neutralize the chlorine." Not a pleasant idea, but the best defense available at the time.
With Entrenching, Labour and Infantry Battalion Work Parties
After the German offensive ended Foot went to Lovie Chateau and then was detached from the 2nd Bridging Train and sent to Nieppe to command Entrenching, Labour and Infantry Battalion work parties on the reserve defense line. Foot found that commanding a disparate group of officer, non-commissioned officers and men on these work parties was rather difficult and that their customary method of doing the work was extremely inefficient. He found that the British Infantryman was a fine soldier, but a poor digger. He set about correct this immediately. When he arrived the amount of trench being dug each day was appallingly small; each man was digging only 12 cubic feet per day. He set about reorganizing the work parties and established a "piece work" system whereby the troops could go back to their billets as soon as they completed digging a specified number of yards of trench no matter what time of day they finished. He set the goal at 36 cubic feet per day per man and they were happy to work harder just to quit earlier. He wrote a memo on how trenching operations could be improved in this manner and sent a copy to his old friend Colonel Sankey who was then at G.H.Q. Sankey sent Foot a note a few days later which read:
"Dear Foot, -

Your memorandum on 'Co-operation between R.E. and Infantry' is going to be printed and issued to all R.E. and Infantry Officers throughout the Army. Please correct enclosed proof, and return by messenger."
Foot went to bed that night very pleased with himself. And pleased with himself he should have been. He had increased the output of each digger by three fold to the satisfaction of all concerned. His ingenuity and initiative were clearer shown in the situation.
Some days later, however, Foot got himself into a bit of trouble by stating a strong opinion on the subject of defence lines. He commented to the R.E. Signals Officer by the name of Captain Thomson of the 4th Division at dinner one night saying:
"What is the good of a strong-point if it is made of mud and sandbags? You can have the most splendidly sited machine-gun posts and excellent trenches, but a few hours' concentrated bombardment with H.E. will blow it all to bits and kill off the garrison."
He then proposed that it would be prudent:
"Simply to make some place in the strong-points to which machine-gunners can retire while the bombardment is on. Then they can hop out with their machine-guns when the Infantry attack is launched. In suitable ground, of course, I would make a dug-out deep enough to stand any shell fire, but I can't do that at Romarin, as we come to water at a depth of about four feet."
NOTE: The Germans had been using this method of protecting their machine gunners for quite some time as the British Infantry found out when they overran German trench lines later in the war.

After further discussion with Captain Thomson about reinforcing these dugouts with concrete and steel roofs, Foot decided to use an imprest fund in Armentieres to purchase concrete and steel for such dugouts in his area. His use of the funds was unauthorized and the Corps commander was furious when he received the bill for steel girders. Foot's initiative was commendable but not well received by higher command, at least not immediately. The following day Brigadier General Furse[35] fell in love with the concrete and steel dugout idea and Foot was exonerated.

On the 1st of June 1915 Stephen's brother Charles arrived in France as a Captain in the Royal Field Artillery. During this same month Stephen was at "Plug Street" where he met with his brother who was with the 12th Division. "Plug Street" was the British Tommie's name for Ploegsteert Wood, the sector of the Western Front in Flanders that was part of the Ypres Salient. It was located around the village of Ploegsteert in the Walloon region of north-western Belgium. After fierce fighting in late 1914 and early 1915, Ploegsteert Wood became a quiet sector where no major action took place. Units were sent there to recuperate and retrain after tougher fighting elsewhere and before returning to take part in more active operations.

Stephen was at Loos in September of 1915, although he took no active part in the battle. Unfortunately, the same could not be said for his twin brother Charles who lost his leg during that battle. Charles was invalided home and for his service during the war he was awarded the 1914-15 Star, British War Medal and Victory Medal.[36]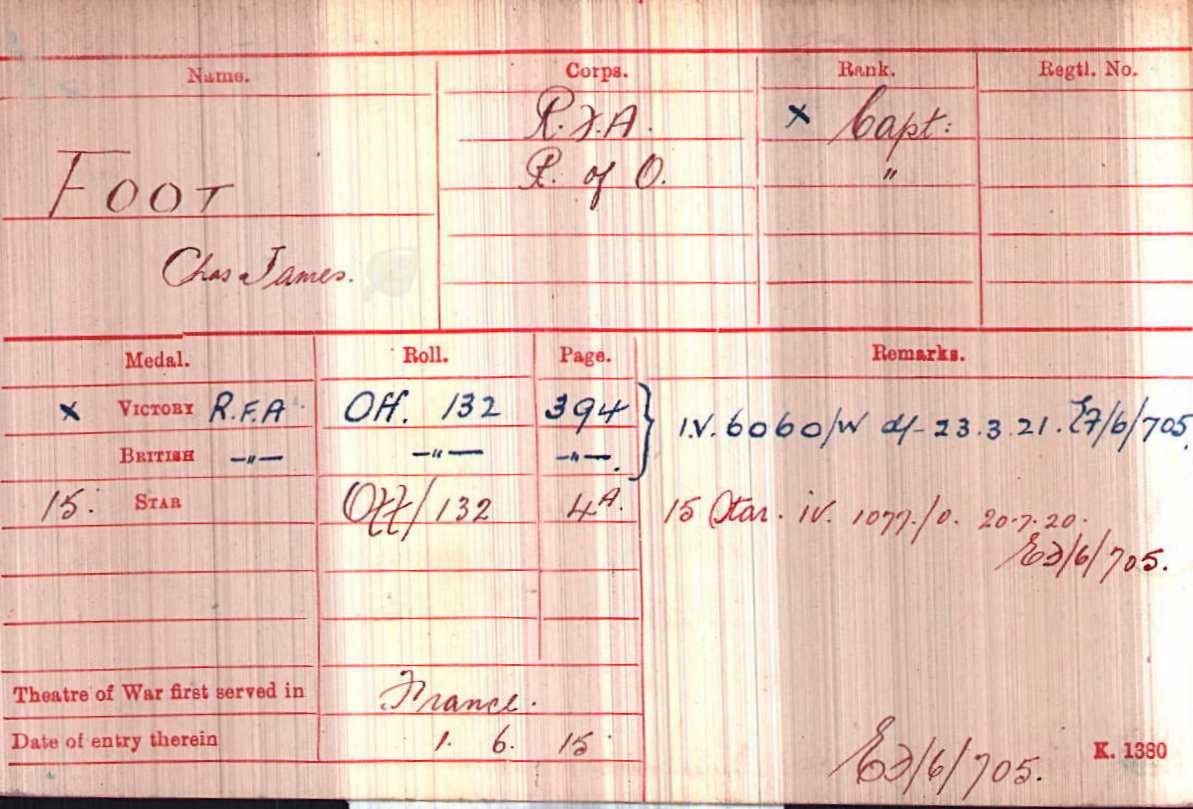 Figure 9. The Medal Index Card of Charles James Foot (Front).
(Image courtesy of Ancestry.com)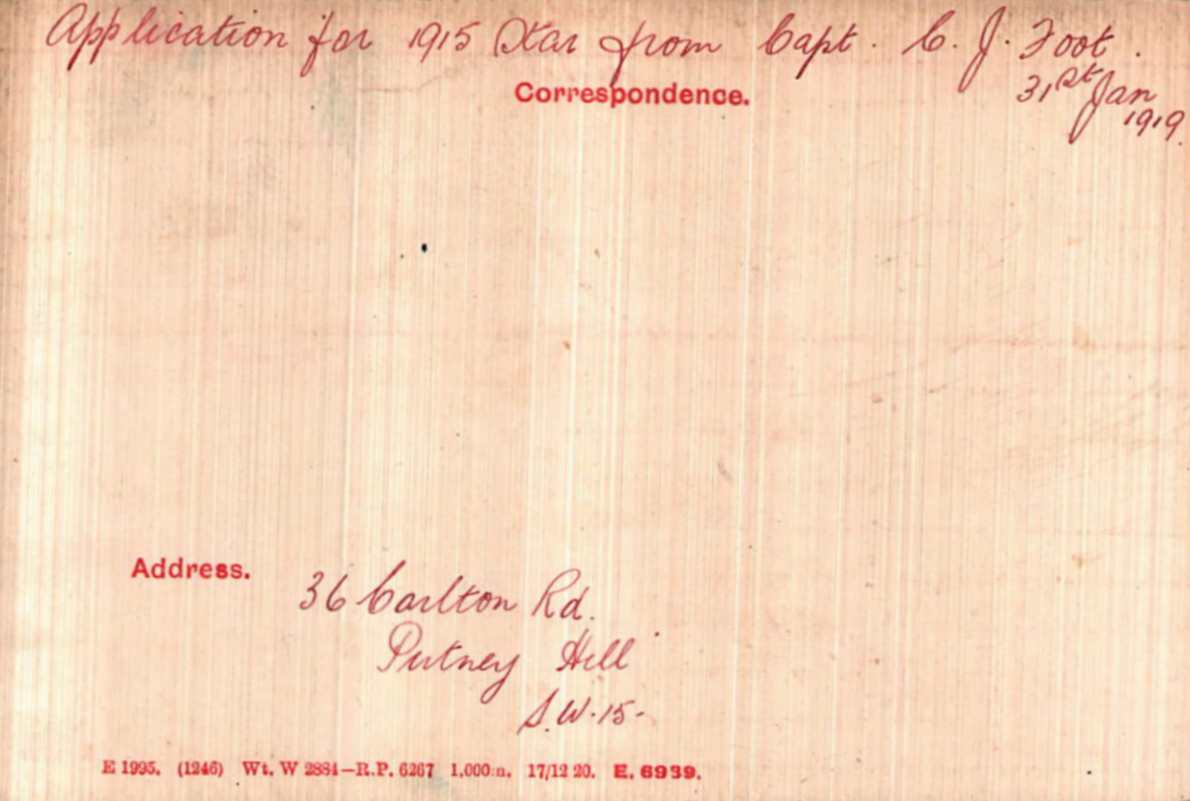 Figure 9a. The Medal Index Card of Charles James Foot (Back).
(Image courtesy of Ancestry.com)
On the 3rd of November 1915 Stephen's younger brother Robert entered the meat grinder that was the Western Front as a 2nd Lieutenant in the 64th Brigade, Royal Field Artillery in the 12th (Eastern) Division.[37]
With the 21st Division, C.R.E.
Stephen Foot continued to take on positions of greater respon­sibility as his skills were recognized at higher levels. In December of 1915, following the Battle of Loos, he was assigned as Adjutant to the Comman­der Royal Engineers (C.R.E.), Lieutenant Colonel Clifford Coffin,[38] of the 21st Division, which was then head­quartered near Armentieres. The division was serving in the Fourth Army, XV Corps. The 21st divisional engineers consisted of the 97th, 98th and 126th Field Companies as well as the 21st Division Signal Company. No doubt Stephen Foot had close contact with the field companies in his capacity as Adjutant to the C.R.E., but he probably had little contact with the signal company, which operated primarily in sections at division headquarters and down at brigade level.
Coffin had been in need of an Adjutant for some time, but enthusiasm for the post was singularly lacking among the R.E. officers of the division. The post was definitely safer than a field company, but the officers were terrified of Coffin. His surname did not inspire confidence either. With a quiet voice, a pleasant smile, and a mild manner, Coffin at first sight appeared to a young subaltern as quite a kindly old gentleman. However, when aroused he was fierce, his voice took on a rasping tone, the smile vanished and the Colonel would proceed to demolish his victim with a storm of invective that was completely shattering. Foot found him to be one of the kindest of men and was able to live in constant companionship with him for a year. (See Appendix D).
When Foot joined the 21st Division it was in the trenches in front of Armentieres and throughout that winter the chief job of the Royal Engineers was getting rid of mud and water in those trenches. Pumps were in great demand and R.E. supervision was required as the infantry occupying one sector of the line were likely to pump water out of their trenches and into the trenches of an adjoining sector. Foot and Coffin spent much of each day splashing through the mud and water of the trenches. Shelling was not too serious, but on one occasion while they were walking together a shell came so close to them that they could actually feel the heat of it as it passed. They both fell to the ground and the shell burst so near that they were on the edge of its crater after it exploded, but although covered with mud they were unhurt.
On another occasion, during the spring of 1916, Foot had even a closer call. While in an observation post a German shell came through the wall behind him, struck a table upon which his arm was resting and passed through the plan on the table that he was examining. The shell was a dud but Foot did receive some minor wounds; a few scratches on the face and hands caused by bits of brick. An hour later Foot's younger brother visited the observation post and Foot showed him where he had been sitting, with the hole in the wall caused by the shell which had only missed his head by about 18 inches.
Foot went to the dressing station for an anti-tetanus injection and iodine for his cuts. He had a sneaking hope that he would be placed on the casualty list, but the medical personal failed to record his name. He did not receive a wound stripe for his injuries.[39]
On yet another occasion while at the front Foot was making a report on the state of wire entanglements in front of the British trenches. German snipers were active in that part of the line and it was almost certain death to put one's head above the parapet. To make his observations he used a periscope. At one point in the trench there was a single sandbag lying on top of the parapet. Foot leaned the periscope against this sandbag confidently thinking that his head was protected by at least three feet of earth, when a sniper's bullet came through the single sandbag and missed his head by about two inches. He fell to the bottom of the trench and wiped the mud from his face. Surely he must have sat there for some time smoking his pipe to regain his composure while talking to a fellow officer who was with him at the time.
Following this episode with the sniper's bullet, Foot went to Corps Headquarters to attend a lecture on the subject of "Lessons of the Battle of Loos." Unable to resist speaking his mind when he saw inefficiency he got into a discussion at the end of the lecture with Lieutenant General Addison. The subject of the discussion was the drainage in the trenches. Foot commented to the General that "if it is necessary to move a quantity of water from one place to another a couple of miles away, we should not employ hundreds of men to carry it in petrol tins." "What would you do?" asked the General. Foot replied "We should employ fifty men for one night in laying a small pipe-line, and then we should push the water through it with a pump."[40] Foot's solution to the problem was typically one that an engineer would come up with, but for some reason such a simple solution eluded high-ranking non-engineer officers. It clearly demonstrated his ingenuity. He does not say in his biography whether this solution for draining trenches was ever adopted on a large scale, but one can surmise that somewhere in France and Flanders during the war an enterprising engineer officer found the wherewithal to do it that way.
Stephen went home on leave after receiving his slight wounds although the injuries had nothing to do with his leave. He re­turned to France in June of 1916. His division went into line at Meaulte and on the 1st of July 1916 it attacked opposite Fricourt during the great battle of The Somme.[41] With XV Corps (7th, 18th and 21st Divisions) the 21st Division made good progress on one of the flanks of the Corps, but in the center Fricourt proved to be too strong, and by evening the Germans were still in the village. The 7th Division, along with the 18th Division on its right, secured Mametz and carried the line forward. The 21st Division had a hard task in the village of Fricourt. The village was not part of XV Corps' first objective, but was to be pinched out by the advances on its east and west before being attacked in the second stage. The consolidation parties of the Royal Engineers were unable to do anything on the night of the 1st of July, but sections of the 98th Field Company did become involved in the fighting and were utilized to strengthen the right flank of the division's 63rd Brigade.
Foot's responsibility during the battle was the formation of a forward dump of R.E. material from which to supply the division's field companies. He took no part in the actual attack. He did visit sections of the German line that had been captured and made a reconnaissance of the old German support trenches. He made arrangements to connect the German trenches with the new British front line. During his reconnaissance he had to climb over the bodies of many German soldiers who had been killed in the trenches. He found it difficult to do this so he scrambled out of the trench and walked along on top of the parapet, foolishly risking the bullets and shells that were flying rather than tread on the dead bodies of the enemy soldiers. Two years later he was much more callous and was quite unaffected by having to step on corpses, whether they were German or British.
For the remainder of that historic battle in 1916 Foot and the 21st Division saw action at Mametz Wood (7-12 July) and at Barentin (14-15 July). On the 15th of July 1916 the 21st Division was withdrawn into reserve and moved to a rear area for rest and refitting. The division had suffered some 8,000 casualties, one brigade being so much under strength that it ceased to be an effective fighting force. When the division went back into line, it took part in battles at Flers-Courcelette (15-22 September), Gueudecourt (25 September), Morval (25-28 September) and Le Transloy (1-18 October). Foot's first work of military writing was undertaken during this period. On the 1st of September he had a memo published entitled "A Page of History as it Might Have Been". This memo was an insightful look into the mistake made by the Germans when they used gas for the first time for only a small tactical advantage. Following the battle Foot had tremendous arguments with fellow officers regarding how the war could be won. The effect of these turbulent discussions among junior officers, displaying their self-confident, untrammeled wisdom of youth was to refine thinking about the problems that faced the Allies during the war. Foot was at the forefront of these discussions, angering some of his brother officers and certainly annoying some of the senior officers.
When the Battle of the Somme ended Foot was still Adjutant to Colonel Coffin and had been mentioned in despatches and recommended for a post as G.S.O.3 of a division. His rank at the time was Acting Captain. But alas, his incurable reforming nature landed him in a terrible mess. He put down in writing some of his suggestions for improving the efficiency of the Army with a view to bringing the war to an end. Then foolishly, without going through the chain of command, he sent these in a letter directly to Mr. Lloyd George, the Secretary of State for war. Two weeks later he received a scathing response from all echelons of command above him describing the iniquity of an Acting Captain writing directly to the Secretary of State for War.[42] As a result his recommendation to become a G.S.O.3 of a division was rescinded. He learned that General Headquarters had agreed with most of the suggestions he had made in his letter, but that going outside of the chain of command necessitated an official reproof.
Service in the Tank Corps (1916-1919)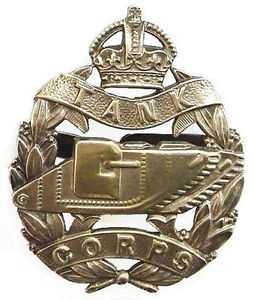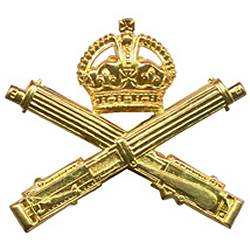 Figure 10. The Badges of the Tank Corps and the Machine Gun Corps.[43]

With "D" Battalion, Heavy Section Machine Gun Corps[44]

In December of 1916 Foot volunteered for and was transferred to the Tank Corps at Bermicourt Chateau. His well-know position that "Tanks will win the war" most certainly had something to do with his transfer. The Tank Corps commanded by Brigadier General Hugh Jamieson Elles had set up its headquarters at the Chateau de Bermicourt, which at the time belonged to Count Jean de Hauteclocque. The headquarters remained there until the end of the war. (See Appendix E).[45]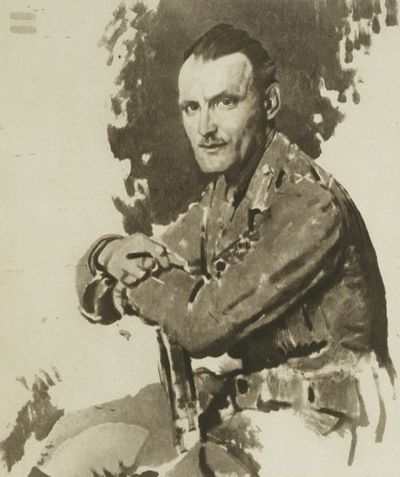 Figure 11. Brigadier Hugh Jamieson Elles, C.B., D.S.O.
(Photograph from An Onlooker in France, 1917-1919, by Sir William Orpen)

Foot initially was assigned to "D" Battalion, Heavy Section Machine Gun Corps at Blangy. He was told that he would probably get command of a company within the battalion, a prospect with which he was well pleased. He was with "D" Battalion for exactly 12 hours when the battalion commander, Colonel Hugh Elles,[46] told Foot that he was to be the Adjutant of the Central Workshops. Foot protested that he had been an Adjutant for a year and that he had come to the Tank Corps in order to have a change of assignment. Elles was adamant, but he promised he would give Foot another assignment as soon as the winter was over and tank operations began again.

Adjutant, 2nd Brigade Central Workshops

Foot begrudgingly took up his new duties as Adjutant of the Central Workshops at Erin, but his dependable and loyal nature would not allow for him to perform his duties in less than the best way possible. In this capacity he de­veloped saw mills at Blangy, Erin, and Tilly-Capelle. He essentially developed the timber trade in the St. Pol area. At the end of three months he was the "Timber King," carrying on trade far beyond the borders of his own kingdom and demonstrating his hard-working nature, initiative and dependability. Before long he satisfied all the needs of the Tank Corps and started to supply R.E. Dumps with timber in exchange for other items needed by the Tank Corps, an example of his ability to cooperate with other command and organizations. The word went down the lines that "If you want any timber, ask Foot." When the newly-formed Forestry Companies of the Royal Engineers came into being, Foot handed off his saw mills to them and went to Colonel Elles to remind him of his promise. However, his work of organizing the Central Workshop had marked him down as the type of officer that definitely was suitable for staff work, so Elles told him that he was going to recommend him for a post as a G.S.O.3. Formal approval for his reassignment came down from G.H.Q., but a Major Brockbank on Elles' staff indicated to higher headquarters that Foot could not be spared from the Central Workshops position. Foot's aggressiveness came out on this occasion when he cornered Brockbank in his office with no other witnesses present and demanded in no uncertain terms that Brockbank take back his statement regarding his not being able to be spared from the Adjutant job. Foot left Brockbank's office with a signed paper in his hand indicating that he could be spared after all. In his book Foot does not disclose what occurred in that office during that meeting, but he does say that had someone else been present he might well have been court-martialed. He further goes on to say that "there were, I regret to say, many occasions during the war when I deserved to be court-martialed." We are given here insight into his personality and temperament and his impolitic way of dealing with individuals who were above him in rank.

Brigade Major, Second Brigade

For his good work during the Battle of the Somme Foot was mention­ed in despatches in the London Gazette on the 4th of January 1917.[47] In April of 1917, instead of receiving a staff position, he was appointed Brigade Major of the Second Brigade of the Tank Corps under Colonel Anthony Courage, M.C. In this position he had the opportunity to deal with living people rather than with objects and was responsible for issuing operation orders in attack or retreat operations. (See Appendix F).

At the end of April 1917, soon after his appointment as Brigade Major, arrangements for the Battle of Messines were being made. Foot went on ahead in the Messines area to carry out all the preparations for the tank attack.[48] He spent a month choosing sites for dumps, finding places where the tanks could be hidden, constructing ramps for unloading tank railway-wagons and attending to numerous other things that needed to be prepared in advance of the battle.

Tanks did not play a very important part in the Battle of Messines and as soon as it was over Foot's brigade moved north for the Third Battle of Ypres (Passchendaele). The story of this battle can be told in two words – Pill-boxes and Mud. These two obstacles were responsible for many thousands of casualties. However, Foot adds that pill-boxes and mud were not solely responsible. In fact he credits the stupidity and lack of imagination at G.H.Q. as the main reasons for the disaster.[49] The tanks were sent into terrain through which they could not possibly operate or maneuver because of the extremely poor ground conditions.

Following the battle Foot's morale had reached a very low ebb, so low that he definitely wanted to get wounded (a slight wound to be sure)[50] in order to escape the madness. He had been out in France for nearly three years, and although his experiences had been very mild compared with those of an infantry officer, yet the strain of the previous four months had been very great. One must assume here that Foot's temperament was the cause of much of the strain. He was an individual who could not tolerate incompetence, which existed in abundance at higher command levels, nor could he tolerate inefficiency or the inability to make and execute a reasonably sound plan. The average infantry officer did not have to worry about such things, at least not during the Great War. He was told what to do and did it to the best of his ability although he might have disagreed with it or thought it to be complete madness; however, he had no time to think about it. In the positions held by Stephen Foot he could see disaster looming just ahead but was powerless to do anything about it; hence, his frustration and low morale.

On the 7th of September 1917 the commander of British XVIII Corps thanked all ranks of the 2nd Tank Brigade for their work at Messines and Passchendaele.

His report reads as follows:[51]

September 7, 1917

"The Corps Commander desires to thank all ranks of the 2nd Brigade Tank Corps for Fine work they performed during recent operations.

The weather and ground were as unfavourable as it was possible to meet with for operations by "The Tanks," but thanks to good reconnaissance, careful study of maps and aeroplane photos, and the great gallantry and devotion to duty shown by all ranks, the 2nd Brigade, Tank Corps, was able to render material assistance to the infantry throughout the operations.

The Corps Commander wishes all rank of the 2nd Brigade Tank Corps every success, and hopes that when the II Corps again come into the line he may be fortunate enough to have the 2nd Brigade to assist in the operations."

STANHOPE, Major, for B.-G., G.S.

On the 19th of Novem­ber 1917 Foot again saw action Cambrai with "H" Battalion, 2nd Bri­gade from Dessart Wood to Beauchamp and Villers-Plouich, and then in the follow-up attack to Marcoing. This time the ground over which the attack was to be made was not a swamp as it had been at Passchendaele, but gently undulating country that provided good ground for the tanks. This time there was to be no preliminary bombardment to give the Germans time to go into their deep dug outs (the very kind that Foot had suggested when he was with the 21st Division). The key to the operation would be surprise. This time the tanks would lead the way crushing down barbed-wire entanglements into pathways for the advancing infantry. This time the tanks would be employed under conditions for which they had been designed and in accordance with the tactics put forward by Colonel Swinton in February of 1916 in his memorandum entitled "Notes on the Employment of Tanks."

The Tank Corps commander's Special Order prior to the attack at Cambrai, issued on the 19th of November 1917, read as shown below. It was not actually an order having to deal with the conduct of the battle, but rather an order to boost the morale of the officers and men of the Tank Corps.

Special Order No. 6

1. To-morrow the Tank Corps will have the chance for which it has been waiting for many months – to operate on good going in the van of the battle

2. All that hard work and ingenuity can achieve has been done in the way of preparation.

3. It remains for Unit Commanders and for Tank crews to complete the work by judgment and pluck in the battle itself.

4. In the light of past experience I leave the good name of the Corps with great confidence in their hands.

5. I propose leading the attack of the centre division

(Sgd) Hugh Elles

Brigadier-General

Commanding Tank Corps

19th November, 1917.

The 2nd Brigade occupied the central position in the attacking line with B and H Battalions and was supporting the 6th Infantry Division. Foot decided to go with H Battalion on its approach march from Dessart Wood to its jumping-off position in front of Beaucamp and Viller-Plouich.

At 0605 hours the tank engines were started and at 0610 hours the tanks began to creep over No-Man's-Land toward the German front line. At 0620 a thousand British guns opened fire forming a curtain of fine in front of the advancing tanks. An hour later the whole of the German main positions were in British hands while tanks and infantry were streaming along towards their second objectives.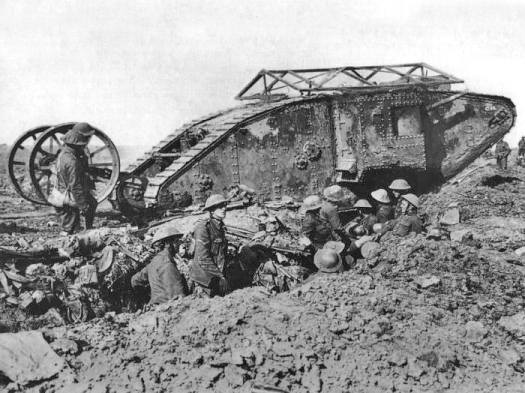 Figure 12. Tanks and Infantry in No-Man's-Land.
(Photograph courtesy of Wikipedia)

Foot's job during and after the battle was to follow up the tank attack and get from the infantry their impressions of this new form of warfare. He moved forward and questioned everyone that he met and their comments ranged from "just right" to "magnificent."

For his good work during this period he was again mentioned in despatches in the London Gazette on the 11th of December 1917.[52] Following these operations he returned home to England for a month's leave.

With the War Office, G.S.O.2

For the last year of the war Stephen Foot was not to see much more action in France or Flanders. On the 1st of January 1918 he was awarded the Distinguished Service Order and later in that month he was transferred to the Home Esta­blishment with the post of G.S.O.2 at the War Office, under the Director-General of the Tank Corps, Major-General Sir John Capper. In this position he was to work on proposals for future policy in mechanization of the Tank Corps. This posting undoubtedly came about because Foot had been recognized by his superiors as a staunch advocate of the use of tanks on the battlefield. (See Appendix G).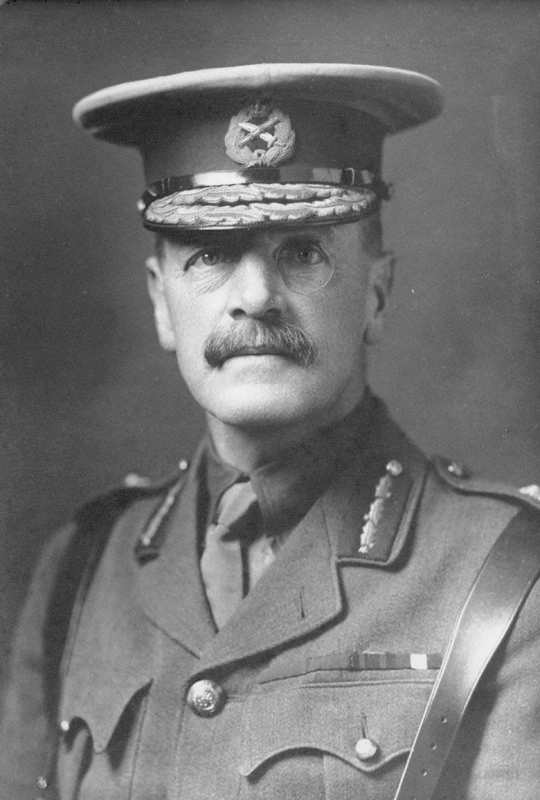 Figure 13. Major General Sir John Edward Capper, K.C.B., K.C.V.O.
(Photograph from "This Day In Aviation.")
In order to carry out his new duties, Foot found it necessary to return to the front. In March of 1918 he visi­ted France shortly after the large German offensive began and served temporarily with Tank Corps Headquarters. By April he was back in London having seen what he needed to see in France. He then wrote the first of many of his important memos on tank warfare entitled "A Mobile Army." By this time his knowledge of tanks and tank warfare really was beginning to impress some important people. On the 1st of July 1918 he was assigned to the new S.D.7 Branch, War Office General Staff, as G.S.O.2 to General John Frederick Charles Fuller himself.[53] (See Appendix H). General Fuller made Foot the editor of his "Weekly Tank Notes" and he carried on in this assignment until the end of the war. This publication came about when Fuller and Foot met at the War Office on the 1st of August of 1918. Foot explained to Fuller that there was no policy, no plan, no coordination and no control in the S.D.7 office and that absolute dogmas, ways, means and methods choked every department and that all things new were automatically pinched out by so many old things because what had been could easily be discovered in book, manuals and files, while new things meant taking one's coat off and actually having to work.[54] Foot went on to say "Boney,[55] you know, that there might just as well be no war on; nobody knows what is happening, and the worst of it is they are too busy to find out." Then after a pause he added: "As regards tanks, they know nothing at all – very few have seen one." These things passed through Fuller's mind as Foot was talking and when Foot paused in his discourse Fuller answered: "If these people know nothing, we must teach them. What do you think of the idea of bringing out a weekly tank paper? Shall we call it Weekly Tank Notes? You can edit it, and we will circulate it to the General Staff and others. It will probably be read by a few; anyhow, it will show that we are alive." Thus was born Weekly Tank Notes with Captain Stephen Henry Foot as editor.[56]
The first edition of Weekly Tank Notes appeared on the 10th of August 1918 and the last edition was published on the 14th of February 1920. His Majesty King George V was most interested in Weekly Tank Notes and requested a personal copy. Many other copies were requested by War Office Departments, the Admiralty, the Air Ministry, Empire and Dominion Forces, military schools, the Royal Military College, the Royal Military Academy, and G.H.Q.s from many other locations. Winston Churchill, then Secretary of State for War advocated wider distribution – thus Stephen Foot was at the epicenter of a movement to promote the Tank Corps throughout the British Empire.
In addition to "Weekly Tank Notes" Foot also assisted General Fuller in his development of Plan 1919. This plan consisted of developing tank tactics to be used in 1919 should the war go on that long. Foot also worked on the concept of cross-country mechanical supply to support tanks in the field using tractors to bring the supplies to the tanks and on a scheme for gun-towing vehicles.[57]
In October of 1918 Foot was again to become embroiled with a senior staff officer. On the 17th of that month the King had become the Colonel-in-Chief of the Tank Corps, which was a helpful development for its future. It was then agreed on the 21st of October at a War Office conference that the Tank Corps would receive 30,000 additional men. On the 28th, in General Fuller's absence, Foot went to see a very senior officer to arrange for the necessary drafts to be sent for training to the Tank Training Centre at Wool in Dorset. He was told that the Prime Minister had decided at a Paris Conference the previous week that there would be no expansion of the Tank Corps. Foot did not believe that this was the truth and became very angry. He immediately sent a note of the conversation to the Deputy Commander of the Imperial General Staff and the drafts did go to Wool the next day. It is interesting to note here that Foot was quick to anger, but at the same time he could be very persuasive. In this case Foot came close to nearly perpetrating murder. To quote in his own words:
"Some of the senior officers at the War Office seemed almost demonical in the bitterness of their opposition to tanks. Cavalry officers were particularly fierce in their hostility to the new weapon, a very queer thing in view of the fact that many of the best Tank Corps officers had come from the Cavalry. Possibly this was the reason, and the defection of some of their number was responsible for the fury of the rest."
The fact that the Imperial General Staff reacted so quickly to his note indicates that his concepts regarding the Tank Corps, and Foot himself, must have been held in considerable esteem. Although this might be true it could also have been the depth of Foot's anger that made the I.G.S. take action. To illustrate this it would be useful to reproduce what Foot also wrote about this incident.
"I saw red. He was lying (referring to the colonel and the alleged decision by the Prime Minister), for what purpose I cannot imagine, but it was almost too much for me. I had a heavy file in my hands, his head was bald – I actually began to make the motions for beating him over the head. What would have been the result I shudder to think – certainly a court martial. In the actual moment of striking him I realized that there was another officer in the room, and by a supreme effort I controlled myself; but it was a very near thing. 'That is not the truth, sir,' I exclaimed, then I rushed from the room. Back in the safety of my own office, I summoned a shorthand typist and immediately dictated to him the substance of the conversation which had just taken place. As soon as it was typed I signed it and sent it directly to the D.C.I.G.S., who was then General Harrington. I don't know what happened that afternoon, but the drafts of reinforcements left for Wool on the following day."
General Fuller quotes this incident in his book "Memoirs of an Unconventional Soldier" because it was typical of the obstacles that the Tank Corps men and that he and Food were faced with and had to break through. Fuller states that: "Although Foot could not imagine for what purpose this wretched little man was prevaricating, I knew perfectly well. He was hand-in-glove with the G.H.Q. Cavalry Ring." The Cavalry Ring obviously was a cabal of cavalry officers who could not tolerate replacing the horse with a mechanical monster on the battlefield.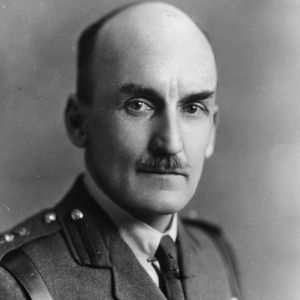 Figure 14. Major General John Frederick Charles Fuller, C.B., C.B.E., D.S.O.
(Photograph courtesy of Wikipedia)

On the 30th of December 1918 Stephen Foot made formal application for the service medals that he had earned during the war. His application was endorsed and forwarded to the War Office by General Fuller. (See Appendices I and J). On the 30th of January 1919 the Camp Commandant, I Corps submitted a similar request for the medals of Stephen's brother Robert.

Foot appeared to have a promising career in the Army. On the 31st of January 1919 he was promoted Major. With general officers like Swinton, Coffin, Elles, Capper and Fuller pulling for him he could have risen to some prominence within the Officer Corps, perhaps not to general officer rank, but certainly to Colonel. However, at the end of Great War Stephen Henry Foot chose to leave the Army much to the chagrin of the senior officers for whom he had worked so diligently. General Fuller, in his book Tanks in the Great War, 1914-1918, wrote in the Introduction an acknowledging Foot's help in writing the book, stating:
"Major S. H. Foot, D.S.O., G.S.O.2, War Office, my close friend and fearless assistant, for suggestions generally, and particularly in Chapter XVI."
The use of the words "close friend" here by General Fuller would certainly explain why Foot felt that he could address Fuller by his nickname "Boney."

Chapter XVI in Fuller's book is titled "Tank Mechanical Engineering." The opening sentence in the chapter reads as follows:
"THE organization of the " mechanical engineering " side of the Tank Corps constituted the backbone of the whole formation, for on its efficiency depended the efficiency of the lighting units in as high a degree as the fighting efficiency of a cavalry regiment depends on its horse-mastership."
Fuller then goes on to discuss in some detail the excellent work done by the Central Workshop and Stores, both of which were under the control of Stephen Foot when they first were organized. Fuller's use of the terms "close friend and fearless assistant" also indicate how closely they worked together and what the General thought of Foot's courage in the field and in his fight against the obstinacy of officers on the General Staff with regard to the expansion of the Tank Corps, the forerunner of the Royal Tank Regiment and the Royal Armoured Corps, which exist in the British Army today.

This essentially completes what might be considered to be Part I of the life of Stephen Henry Foot in that it covers his early life and his military service in some depth. In the following sections details of Major Foot's military service will be presented in tabular form to summarize his promotions, appointments, training, qualifications, medals and awards and his total service. Although this information is presented above in the narrative of his life and military service, the author believes that summarizing it below for the reader will have some merit. Following the tabulation of the information mentioned above, a detailed account will be presented in Section 12 regarding Foot's life after leaving the Army.

7. PROMOTIONS AND APPOINTMENTS

Promotions: Stephen Henry Foot received the following promotions during his time in service:
| | |
| --- | --- |
| Date of Promotion or Appointment | Rank or Position |
| 26 June 1909 | Commissioned a 2nd Lieutenant in the Royal Engineers Special Reserve. |
| 26 June 1914 | Promoted Lieutenant in the Royal Engineers. |
| 30 September 1916 | Appointed Acting Captain in the Tank Corps. |
| 31 January 1919 | Promoted Major in the Tank Corps. |
Appointments: Stephen Henry Foot received the following appointments during his time in service:
| | |
| --- | --- |
| Date of Appointment | Position |
| May 1910 | Posted to the 10th (Railway) Company, Royal Engineers. |
| 9 April 1915 | Posted to the 2nd Bridging Train, Royal Engineers. |
| December 1915 | Posted as Adjutant to the Commander Royal Engineers, 21st Division. |
| 30 September 1916 | Posted to "D" Battalion, Heavy Section, Machine Gun Corps with further assignment as Adjutant, Central Workshops, Tank Corps. |
| April 1917 | Appointed Brigade Major, 2nd Brigade, Tank Corps. |
| 1 January 1918 | Posted to the War Office GSO 2. |
| 1 July 1918 | Posted to S.D.7 Branch, War Office, as GSO 2. |
8. MILITARY TRAINING AND QUALIFICATIONS
Military Training: Stephen Henry Foot received the following military training during his time in service:
| | |
| --- | --- |
| Dates | Course of Training |
| 1901 - 1906 | Eastbourne College Cadet Corps, attached to the 1st Cinque Ports Rifles Volunteers. |
| August 1909 – May 1910 | Young Officers Course at the School of Military Engineering. |
| June 1910 | Pontooning training. |
| August 1914 | Trestle bridge construction training. |
Qualifications: Stephen Henry Foot earned the following qualifications during his time in service.
| | |
| --- | --- |
| Date | Qualification |
| May 1910 | Company Officer, Railway Company, Royal Engineers |
| April 1915 | Commander, Entrenching, Labour and Infantry Labour Detachments. |
| 3 November 1915 | Division Staff Officer (Adjutant to Commander Royal Engineers). |
| 30 September 1916 | Commander, Tank Corps Central Workshops. |
| April 1917 | Brigade Major, Tank Brigade. |
| 1 January 1918 | Staff Officer, GSO 2, War Office. |
| 1 Jul 1918 | Staff Officer, S.D.7 Branch, War Office General Staff. |
9. MEDALS, AWARDS AND DECORATIONS

Major Stephen Henry Foot received the following medals, awards and decorations during his time in service:[58]
| | |
| --- | --- |
| Date | Medal or Award |
| 4 January 1917 | Mention in the Despatches of Sir Douglas Haig, G.C.B. |
| 11 December 1917 | Mention in the Despatches of Sir Douglas Haig, G.C.B. |
| 1 January 1918 | Awarded the Distinguished Service Order. |
| 23 December 1918 | Awarded the 1914-15 Star. |
| 11 May 1921 | Awarded the British War Medal and Victory Medal. |
NOTE: See Appendices I and J for Major Foot's Medal Index Cards.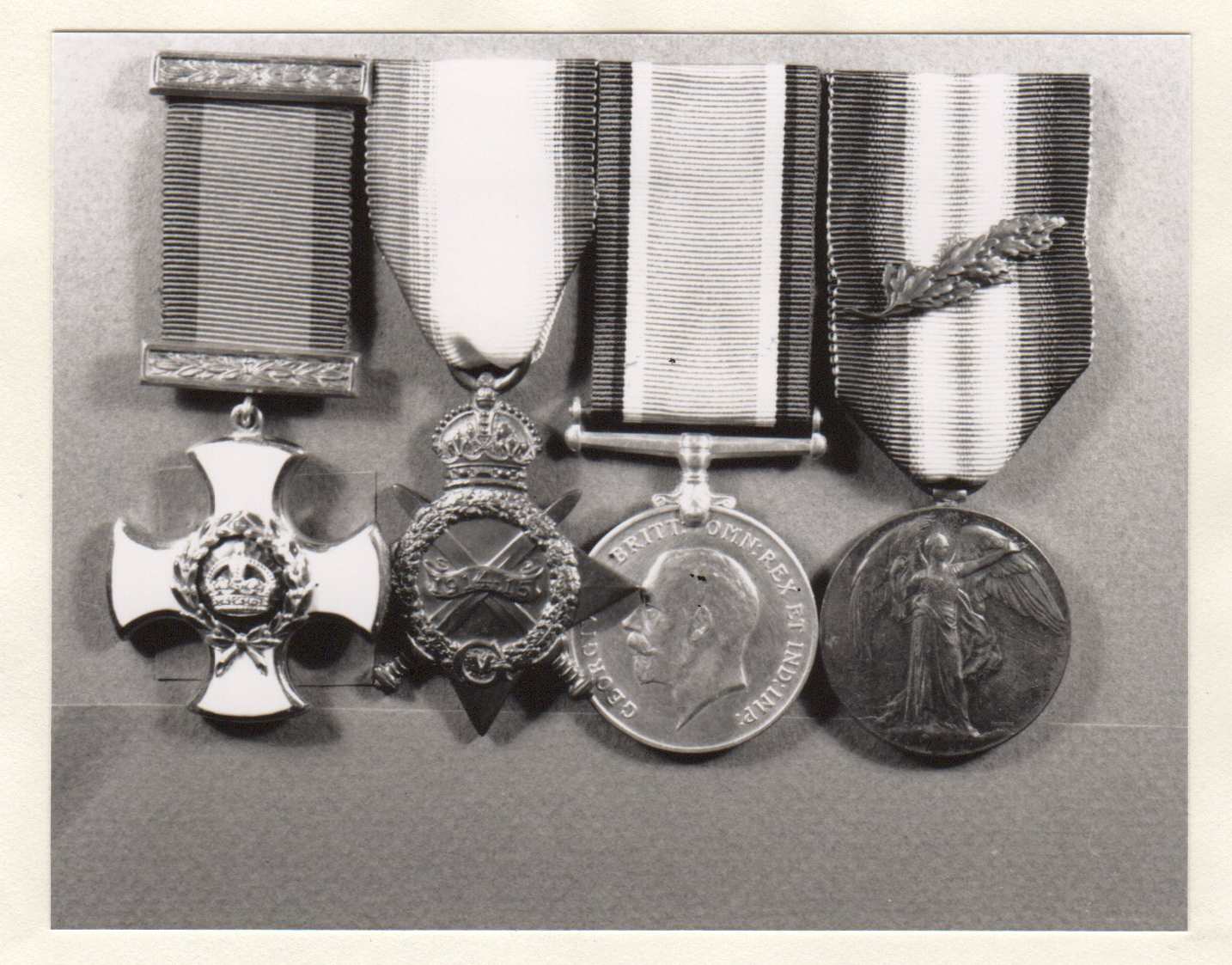 Figure 15. The Medals of Major Stephen Henry Foot, Royal Engineer
and Tank Corps.
(Photograph from the Author's Collection)

The medals are, from left to right, the Distinguished Service Order, 1914-15 Star, British War Medal and Victory Medal with Mention in Despatches Oak Leaf.

10. MARRIAGE AND PERSONAL INFORMATION

Major Stephen Henry Foot never married and this may have been the result of his personality and his character traits, which will be discussed below. The discussion below is based on the evaluations by the author of Foot's actions and behavior while in the Army and should not be considered to be an accurate psychological evaluation by any means.

With regard to personal information, some comments about his personal qualities and traits seem appropriate since so many of them were revealed through his writings and through the writings of others. Probably his least admirable trait was his tact, which was close to non-existent. He did not suffer fools at all, and would speak his mind in no uncertain terms when he believed that he was in the right. The incident with the War Office colonel and the cut in Tank Corps personnel is a prime example. However, given the circumstances under which he had to work in the Army and his desire to see the Tank Corps thrive as a means to winning the war, perhaps he cannot be faulted too much for his aggressiveness and forceful personality.

His commanders certainly would have been thankful for his dependability, enthusiasm, ingenuity and initiative, all traits that make a fine officer. Certainly his loyalty and moral courage could never be questioned, at least by the men for whom he worked. Generals Fuller and Elles were well aware of these qualities in Foot and they expressed them in their writings.

Foot's sociability, self-discipline and cooperation with others might have been questionable at times, but he was adaptable to changing conditions. He was not an ambitious man, at least in the sense of rising to higher rank in the Army. He did take the examination for Captain early in his military career, but ultimately he chose to leave the Army when the war was over although he most certainly could have risen to a much higher rank than Major.

11. RELEASE FROM SERVICE

Major Stephen Henry Foot was released from service on the 24th of March 1919. His total service was reckoned as shown in the tables below:
| | |
| --- | --- |
| Location | Period of Service |
| 10th (Railway) Company at Longmoor | 26 June - 31 July 1910 (1) |
| Royal Engineers Special Reserve (unemployed)(2) | 1 August 1910 – 2 August 1914 |
| 10th (Railway) Company at Longmoor | 3 August – 27 November 1914 |
| 10th (Railway) Company, France and Flanders | 28 November 1914 – 8 April 1915 |
| 2nd Bridging Train, R.E., France and Flanders | 9 April – December 1915 |
| 21st Division, France and Flanders | December 1915 – 29 September 1916 |
| Tank Corps, France and Flanders | 30 September – 31 December 1917 |
| War Office, London | 1 January – March 1918 |
| Tank Corps, France and Flanders | March – April 1918 |
| War Office, London | April 1918 – 23 March 1919 |
| | |
| --- | --- |
| Location | Period of Service(3) |
| Home Service | 1 year and 89 days |
| Service Abroad | 2 years and 77 days |
| Total Service | 3 years and 156 days |
NOTES:
(1) Served with the company as an officer in the Royal Engineers Special Reserve while still studying at Cambridge for part of the period.
(2) During this period he was working abroad for the Shell Oil Company, but he retained his commission in the R.E. Special Reserve.
(3) Periods of Home Service and Service Abroad are approximate due to the lack of actual dates of assignment and reassignment. Unemployed service is not included in the totals.
12. POST SERVICE LIFE
On the 24th of March 1919 Stephen Foot was demobilized and he returned to England to live for a short time with his brother Charles at 36 Carlton Road, Putney Hill, London S.W. 15. See Figure 17 below.
Within a very short time after arriving in England he left for Venezuela aboard RMS Olympic,[59] with a stopover in Halifax, Nova Scotia to become the "Oil Manager"[60] of the Colon Development Company, another subsidiary of his pre-war employer, Shell Oil. During his short stay in Venezuela he resided in Caracas and became the London correspon­dent for El Universal, a local newspaper.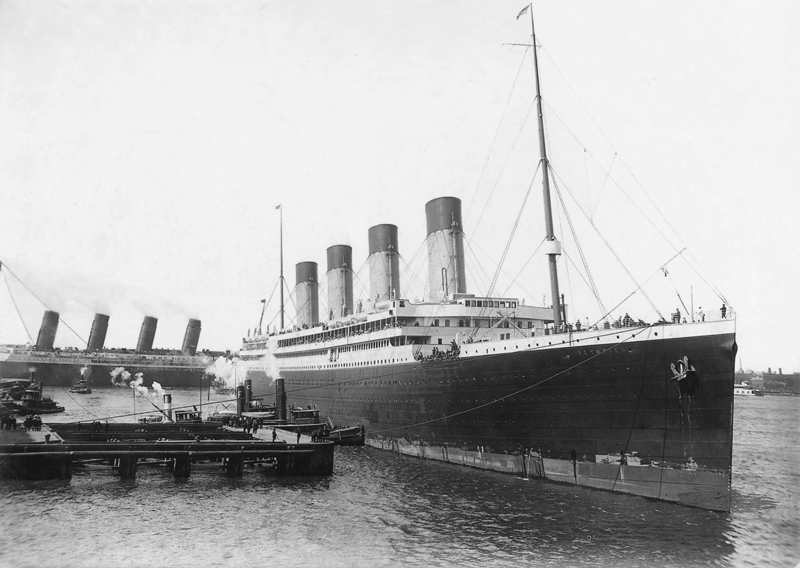 Figure 16. RMS Olympic.
(Photograph courtesy of Wikipedia)

Before the year 1919 ended, Stephen was back in England. His first book, entitled "Tank Tales" was published during this year. "Tank Tales" was a 213-page book written by Stephen Foot under the pseudonym of TANK MAJOR. The book was written in cooperation with Eric Wood and was published by Funk & Wagnalls Company in New York. Foot dedicated the book as follows:

Dedicated

by permission to the

Right Honourable WINSTON S. CHURCHILL, M.P.

who championed the Tanks at a time

when they had but few

supporters

Foot's co-author, Eric Wood, Eric Wood was a well-known author of military and historical books such as Thrilling Deeds of British Airmen (1917) and Famous Voyages of the Greek Discoverers (1920).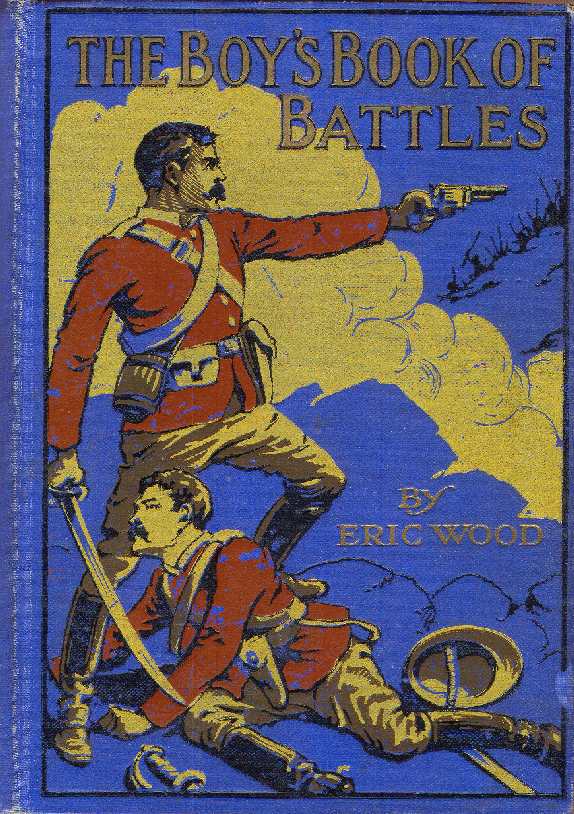 Figure 16a. The Boy's Book of Battles by Eric Wood.
(Photograph courtesy of Wikipedia)
He was also the author of a series of books for boys in the early twentieth-century, with titles including: The Boy's Book of Adventure (1912), The Boy's Workshop (1912), The Boy's Book of Battles (1913), The Boy Scouts' Roll of Honour (1914), The Boy's Book of the Sea (1915), The Boy's Book of Heroes (c1915), The Boy's Book of Buccaneers (1917), The British Boy's Annual (1921), The Outdoor Boy (1923) and The Boy's Book of the Open Air (1924). Wood was probably a good choice as co-author for "Tank Tales" as he had a knack for writing fiction and although Foot was producing a non-fiction narrative of the development of the tank and its use in the Great War, Eric Wood's style gave some life to the narrative and certainly made it more interesting to read.
"Tank Tales" consists of 23 chapters dealing with people, places, battles and of course with tanks. It is still available in the used book market today and the author was fortunate in being able to obtain an eBook copy.
After the war Stephen Foot wrote a tribute to General Fuller to emphasize that Fuller had been the driving intellectual force behind the development of the tactics and organization of the Heavy Branch and the Tank Corps in France in 1917 and 1918, often in the face of strong military opposition. Foot wrote the following:
"At the Staff College before the war, Fuller was nicknamed 'Boney'; the events of 1914 to 1918 justified the title. To General Swinton and Mr Winston Churchill must be attributed the credit for the fact that the new weapon, the Tank, ever came into existence; to General Elles and his power of picking men was due the inspiration that made Tank Corps such a splendid fighting force; to Colonel Uzielli[61] we owe recognition of great organizing ability that enabled the Tank Corps to function effectively; but the brains behind it all were Fuller's. A flash of inspiration combined with faith may be responsible for initiating an invention, skill hands may forge it into a weapon, gallant-hearted men may be ready to use it, careful arrangements may bring the man and weapon to the scene of action --- all this is useless without the brains that direct the weapon's use and that was Fuller's contribution.

For their success Tanks require tactics no less than petrol; Fuller devised them. Before an attack can be launched there must be a plan; Fuller made it. After an attack, lessons must be learnt both from success and failure; Fuller absorbed them. And, sad to relate, in the case of the Tanks a constant war had to be waged against apathy, incredulity and shortsightedness of GHQ; Fuller fought that war and won."[62]
On the 29th of August 1919 Stephen's eldest brother John Pearson Foot was appointed a Lieutenant in the Inns of Court Officer Training Corps. John's address at the time was 36 Carlton Road, Putney, London, SW. It appears that all the brothers, Stephen, Charles and John, lived at this address at least for a short while.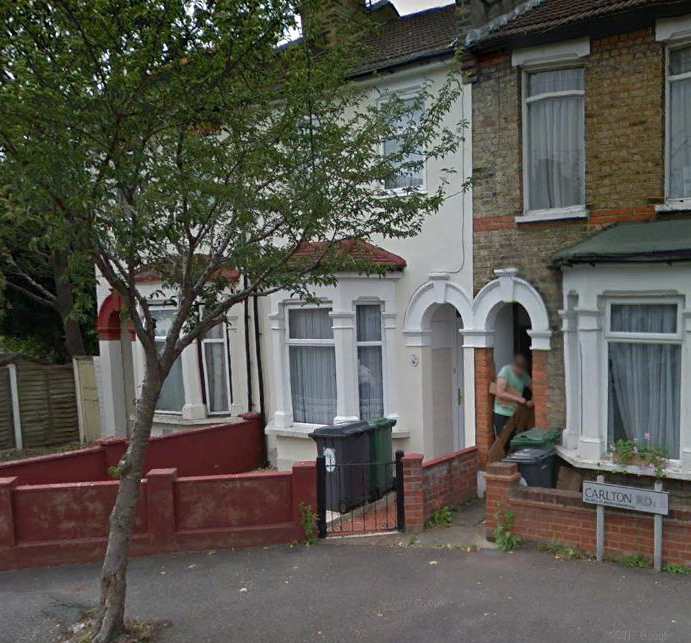 Figure 17. 36 Carlton Road, Putney, London. The house is the white building in the center of the photograph.
(Image courtesy of Google Earth).

Precisely what John Foot did during the Great War is not known. He was born in 1885, so he would have been 29 years old when the war started. Other than a Medal Index Card for him (the medal is not identified) showing that he was a Lieutenant with the Inns of Court O.T.C., nothing more could be found regarding his military service. It is possible that he may have been training young men to become officers during the war, but then to have such a position he would have had to have some military training and experience himself. No record has been uncovered to indicate that he had been a serving soldier during the war.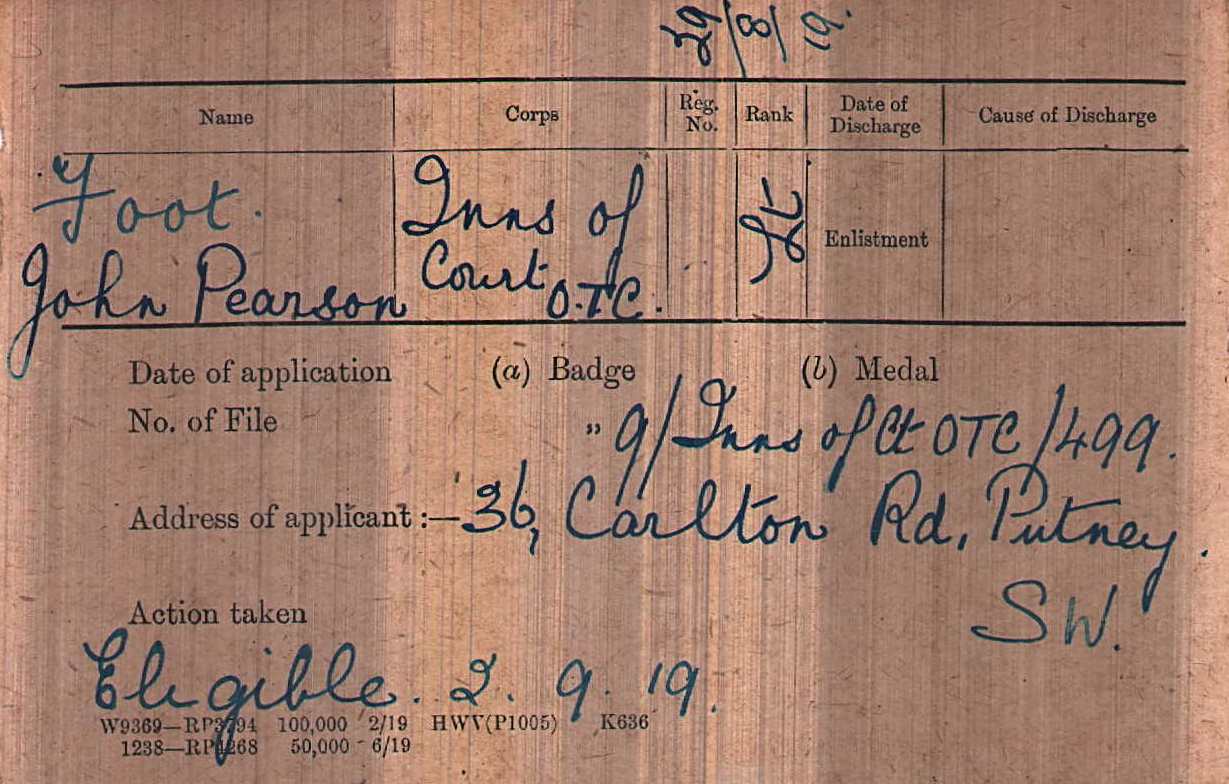 Figure 18. The Medal Index Card of John Pearson Foot.
(Image courtesy of Ancestry.com)

In May of 1920 Stephen returned to his alma mater and became a House Tutor at Eastbourne College. He must certainly have given up a higher paying job in the oil industry by returning to teaching, but this decision surely was prompted by the intellectual part of his personality rather than the pecuniary segment of his psyche.

By September of 1920 he became an Assistant Master and also was appointed Bursar of the college and Careers Master. On the 14th of October 1921 Stephen was initiated into the Hartington Lodge of Freemasons in Eastbourne. He appears to have remained very active in the Freemason and joined numerous lodges over the years in the many places that he lived.

Stephen's brother Robert received his Great War medals on the 22nd of February 1923 while he was residing at 14 Chester House, Eccleston Place, London SW. Robert ended the war as a Captain and for his service had been made an Officer of the Most Excellent Order of the British Empire (OBE) and had received the Military Cross (MC).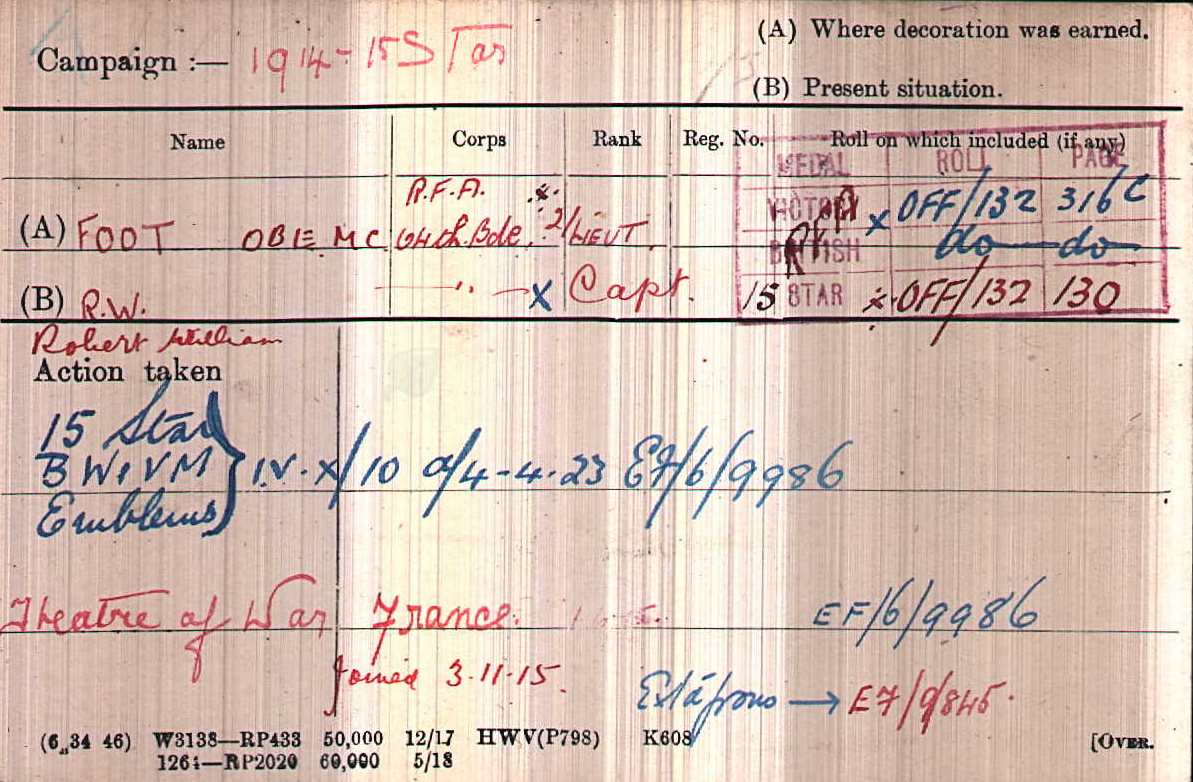 Figure 19. The Medal Index Card of Robert William Foot (Front).
(Image courtesy of Ancestry.com)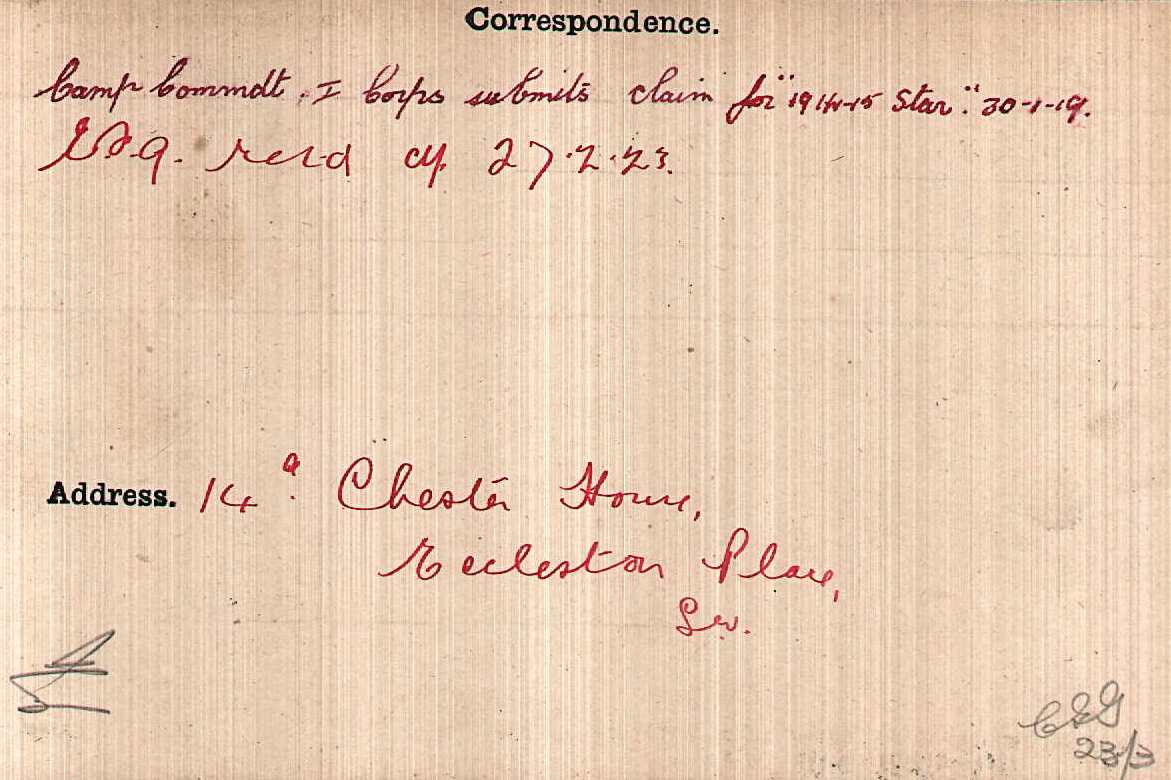 Figure 19a. The Medal Index Card of Robert William Foot (Back).
(Image courtesy of Ancestry.com)

In September of 1924 Stephen Foot became a House Master and Eastbourne college and on the 1st of April 1926 he departed from London aboard SS Rajputan to visit Gibraltar. The purpose of his visit is not known but due to its short duration it well may have been a holiday for him. SS Rajputan had an interesting history and carried a number of famous people aboard at various times after Stephen Foot sailed on her. On the 12th of January 1929 Lawrence of Arabia boarded the ship in Karachi, arriving in Plymouth in February 1929. On the 29th of August 1931 Mahatma Gandhi sailed on the ship from Bombay to London.

During World War 2 SS Rajputan was classified as an armed merchant cruiser. On the 13th of April 1941 she was torpedoed by U-108 in the Denmark Strait west of Reykjavík, Iceland. She sank over an hour later with the loss of 42 men.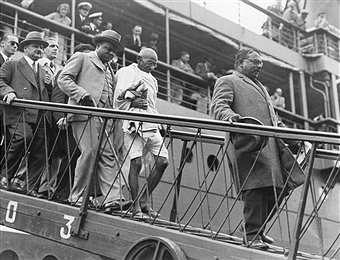 Figure 20. Mahatma Gandhi on SS Rajputana at Marseilles, France in 1931.
(Photograph from the Mahatma Gandhi Photo Gallery Internet Web Site)

Stephen Foot's stay in Gibraltar was a short one. He returned to London on the 22nd of April 1926 aboard RMS Naldera. On both voyages he indicated on the ships' manifests that he was a "Schoolmaster" and that his residence was the "School House, Eastbourne College."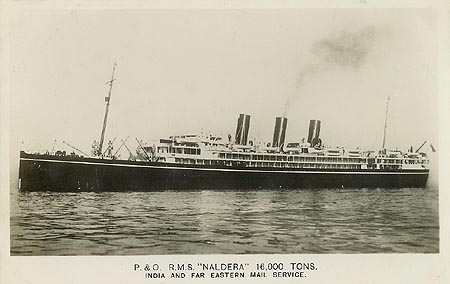 Figure 21. RMS Naldera.
(Photograph courtesy of Wikipedia)

In 1928 Stephen Foot had his second book published, "A Housemaster and his Boys," in which he chronicled his experiences at Eastbourne. He also was active in church affairs during this period of his life. In 1930 he became a member of the Chichester Diocesan Finance Committee and Chairman of the Sussex Church-Builders Finance Committee. He retained both these positions until 1934.

In 1934 he left Eastbourne College and had his auto­biography, "Three Lives," published. At this point he began a life of traveling and writing. He sailed from Southampton aboard SS Europa bound for the United States on the 31st of March 1934. This probably was another holiday voyage as his stay in the U.S. was a short one. He arrived back in Southampton from New York aboard SS Bremen on the 27th of April 1934. The manifests of Europa and Bremen list his occupation as "Teacher" at Eastbourne College.

Figures 22 and 22a. SS Europa and SS Bremen.
(Photographs courtesy of Wikipedia)

Foot left England in March of 1935 and traveled with the Oxford Group in Canada, the United States, and a number of countries in Europe.[63] This same year he had his book "Life Began Yesterday" published. This book would ultimately be translated into French, Ger­man, Swedish, Dutch, Danish, Japanese, Italian, Yugoslavian, Bulgarian, and Braille. During his world travels, over a period of about four years, he also became involved with the Moral Re-Armament movement.[64]

Stephen returned to England in 1937 where he resided at Brown's Hotel, London Wl. He rewrote his autobiography un­der the title "Three Lives and Now". On the 27th of September 1941 edition of The Children's Newspaper Foot had an anti-war fairy tale published entitled The Pollogy Bird, which is reproduced in Appendix L. He also published "Wisdom from the Desert, Wisdom from the Sea" in 1943. Be­tween the years 1946 and 1958 he traveled extensively in the U.S. and Africa (Kenya, Uganda, West Africa, Northern and Southern Rhodesia). During those years he published "Life Begins Today" (1951), "Choice for a Continent" (1954), and "African Tale" (1955) which was later made into a film.[65]

During this period of extensive travel he returned to England twice, the first time he arrived at Southampton on the 20th of June 1952 aboard RMMV[66] Capetown Castle from Durban, South Africa. He listed his occupation as "Author" on the ship's manifest and stated that his residence was 4 Hays Mews, Berkley Square, London W1. His second return home was aboard SS Braemar Castle, again from South Africa, on the 24th of June 1954. His occupation and residence on the ship's manifest were again listed as they had been in 1952. His final returned to England was in 1958.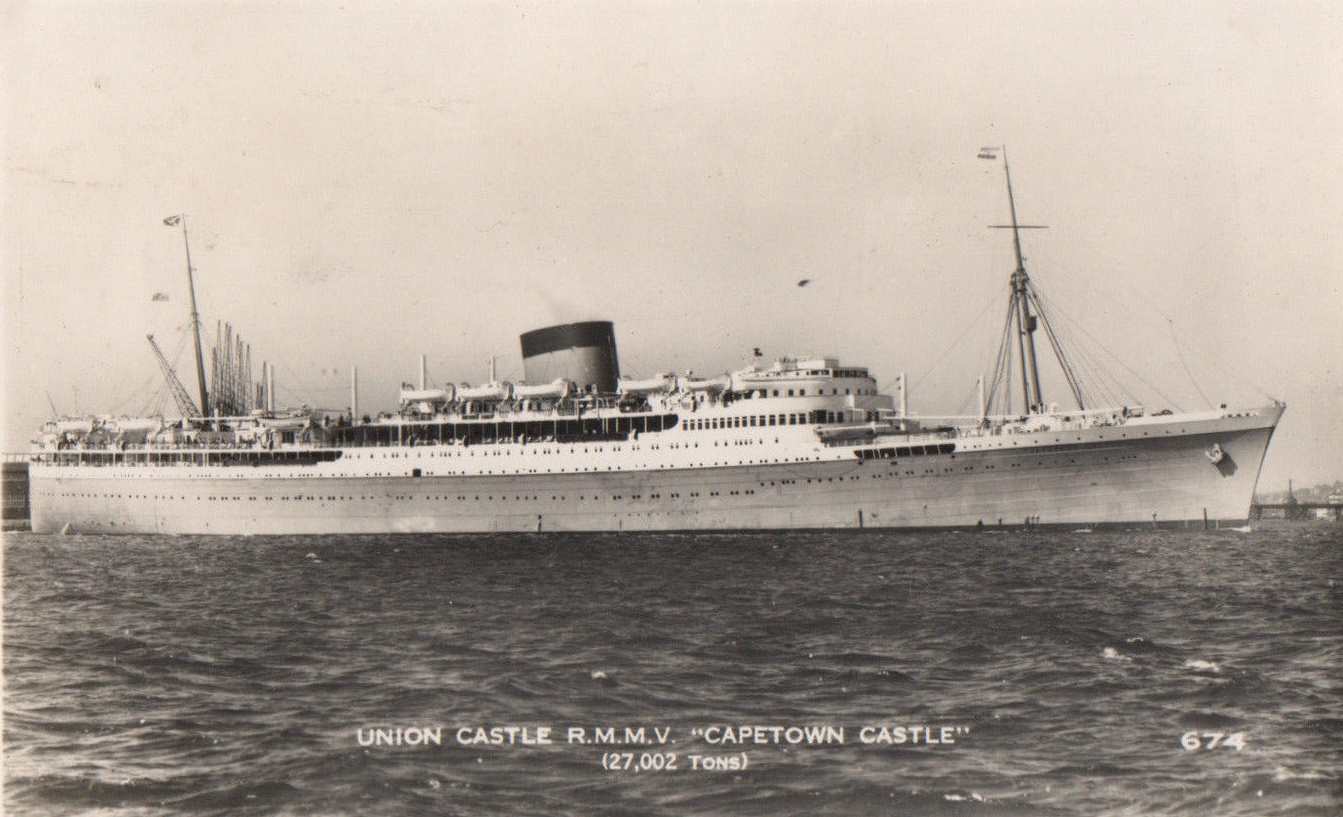 Figures 23. RMMV Capetown Castle.
(Photographs courtesy of Wikipedia)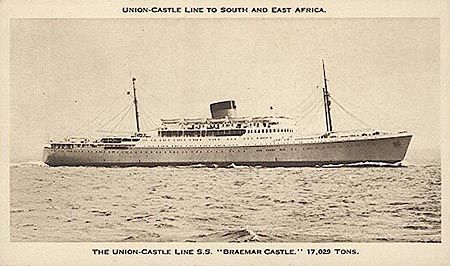 Figures 23a. SS Braemar Castle.
(Photographs courtesy of Wikipedia)
In 1959 Stephen Foot maintained two residences; one at 4 Hays Mews in Berkeley Square and the other in Johannesburg, South Africa. He was a mem­ber of the Civil Service Club in Capetown. In his final years Stephen Foot took up residence at 5 St. Georges Square, near the River Thames, in the Pimlico area of Westminster, London. He had a flat in the rather prestigious looking building shown in Figure 24 below.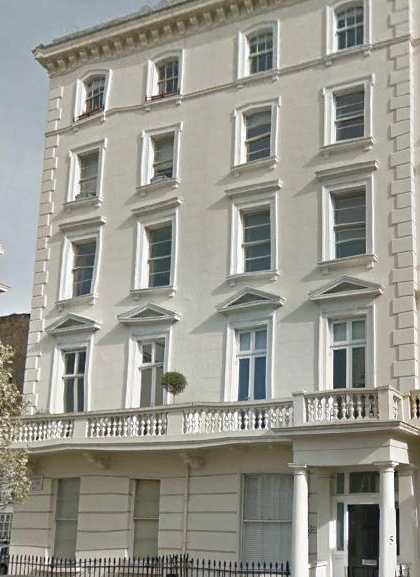 Figure 24. 5 St. Georges Square, Westminster.
(Photograph courtesy of Google Earth)

While living in London he was a member of the Author's, and Naval and Military Clubs, and the English Speaking Union. The Authors Club was founded by the novelist and critic Walter Besant in 1891 as a place where writers could meet and talk. The club welcomed publishers, editors, agents, journalists, academics and anyone professionally involved with literature. The English Speaking Union was and still is a unique educational charity and membership organization dedicated to helping people realize their potential through giving them the skills and confidence in communication to articulate their ideas and share them with others. As an author his membership in this organization seems most logical. What probably is most surprising is Foot's membership in the Naval and Military Club. Although he served with distinction in the Great War and was an ardent supporter of the formation of the Tank Corps, he chose to leave the Army after the war, seemingly breaking all contact with things military. Yet, in later years he chose to join a club dedicated to social events involving officers of the armed forces.

Stephen Henry Foot died on the 24th of June 1966 in a nursing home at Twyford Abbey,[67] Ealing, aged 79 years. The buildings at Twyford Abbey still exist today, but the property is derelict and no longer in use as a nursing home.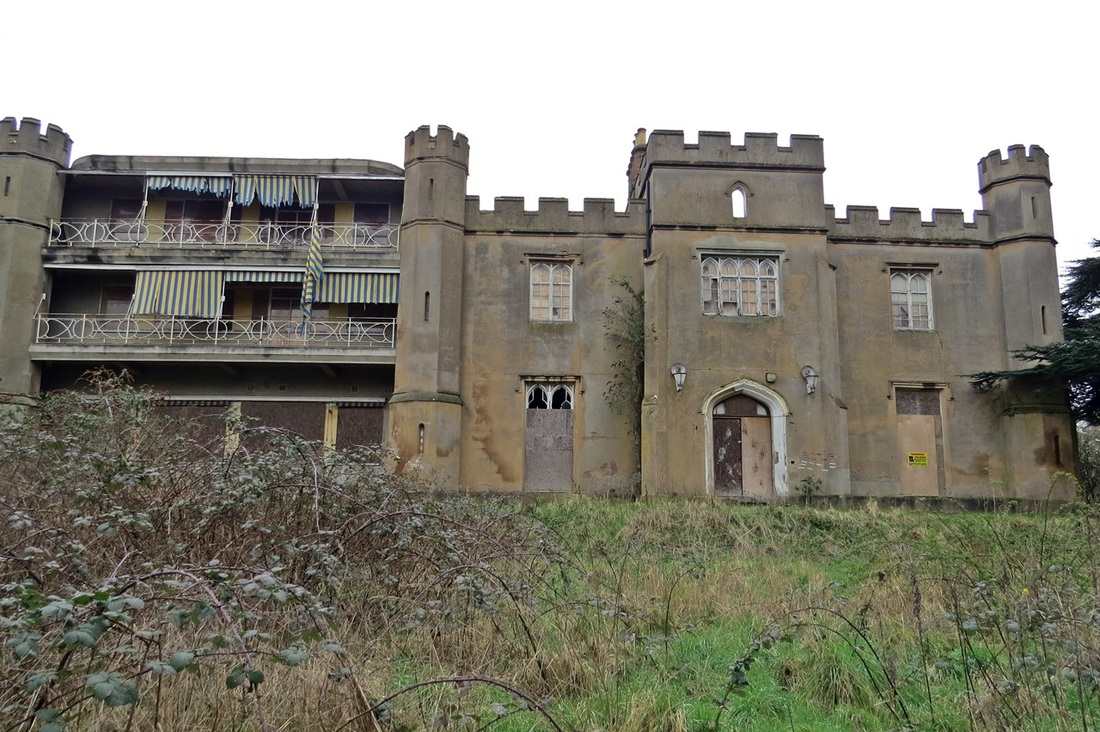 Figure 25. Derelict Twyford Abbey (c. 2017), the Nursing Home where Foot Died.
(Photograph courtesy of derelictlondon.com web site)

Stephen Foot's death certificate indicates that his residence was still 5 St. Georges Square in Westminster when he died, so it appears that he might have been at Twyford Abbey for only a short period of time before his death. The causes of death listed on the certificate included Ia) cerebral thrombosis, Ib) cerebro vascular degeneration and II) Parkinsonism.[68]

Foot's will was probated on the 22nd of September 1966. His effects amounted to £1,921. Not a large amount of money considering the plush location where he lived. The executors of his will were Roland Whitewell Wilson (See Appendix M), a congregational minister, and Garth Dickinson Lean (See Appendix N), an author and journalist. Each man received £50. Each of Foot's godchildren also received £50. Those named in his will were:

Barbara Southam of 14 Darley Avenue, West Didsbury, Manchester;

Michael Foot of 21 North End House, Fulham, London, W.14;

Michael Hannon of "Rathmore," Greenisland, Northern Ireland; and

Nigel Smith of Bank Top House, West Lane, Bailton, Yorkshire.

The residue of his effects was willed to the Oxford Group or Moral Rearmament or M.R.A. of 4 Phyllis Road, Claremont Cape, South Africa.

Stephen Foot's youngest brother, Arthur Edward Foot, died in December 1968 in Gosport, Hampshire. His brother, Robert William Foot, died on the 2nd of April 1973 at age 83 in Whitehanger Nursing Home, Haslemere, Surrey. Robert was married, with two sons and one daughter. His wife's name was Eveline Ridge Foot and his daughter's name was Sally Roberta French. Sally and her husband had a son, James Justin French. Robert and Eveline had a stepson, Michael Foot, probably the godchild, Michael Foot, mentioned in the will of Stephen.

Robert had a distinguished career after leaving the Army. He became the Director-General of the BBC, first jointly with Cecil Graves from the 26th of January 1942 to the 6th of September 1943 and then solely until he resigned on the 31st of March 1944. Before joining the BBC, Foot was a general manager at the Gas, Light and Coke Company. After being succeeded by William Haley, he became Chairman of the Mining Association. He also later served as president of the British Coal Utilization Research Association. During his tenure at the Mining Association he visited many mines personally to better understand miners' issues. In 1945, he published A Plan for Coal. In 1947 he was promoted to President of the Mining Association, a position he held until 1952. He also served as the chairman for Powell Duffryn Technical Services and Wankie Colliery Company, and director of Barclays and the Australia and New Zealand Banking Group. After a short time in South Africa, Robert Foot retired in England. He was a member of the court of assistance of the Worshipful Company of Haberdashers.

Stephen Henry Foot's sister, Mary Winifred Foot, died in June 1977 in Worthing Sussex, aged 89 years and apparently unmarried. His sister-in-law, Eveline Ridge Foot, died on the 30th of December 1978. Her residence at the time was Berkeley Hotel, Marine Parade, Worthing, Sussex. Eveline's estate was left to her daughter Sally, or part thereof to her grandson James, if Sally should die, with the residue on trust for her stepson Michael in Salisbury, Rhodesia, or to Michael's children.

REFERENCES

Books
FOOT, S. Three Lives and Now.

William Heinemann Ltd., London and Toronto, 1934, revised 1937.
FULLER, J.F.C.

Memoirs of an Unconventional Soldier.
McNAB, C.

Battle Story: Cambrai 1917.
ORPEN, Sir William.

An Onlooker in France, 1917-1917.

Williams and Norgate, London, 1921.
REID, B.H.

J.F.C. Fuller, Military Thinker.
TRYTHALL, A.J.

Boney Fuller, The Intellectual General.
Field Service Manual 1910.

Royal Engineers - Bridging Train (Expeditionary Force).
The History of the Corps of Royal Engineers, Volume V.
The Tank Corps Book of Honour, p. 74.
The War List of the University of Cambridge, 1914-1918, Emmanuel College, p. 94.
Who Was Who, 1961-1970, p. 387.
Census Data

1891 Census of England.

1901 Census of England

1911 Census of England.
Documents
Certified Copy of an Entry of Birth, GRO Number BXB 255448, dated 28 January 1987, Re: Stephen Henry Foot.
Certified Copy of an Entry of Death, GRO Number DX 370090, dated 27 January 1987, Re: Stephen Henry Foot.
Membership List of the Isaac Newton Lodge of Freemasons, Cambridge.
Membership List of the Read Lodge of Freemasons, Kuala Lumpur.
Membership List of the Hartington Lodge of Freemasons, Eastbourne.

War Diary of the 10th (Railway) Company, Royal Engineers.

Despatches of Sir Douglas Haig, G.C.B., dated 13 November 1916.

Despatches of Sir Douglas Haig, G.C.B., dated 7 November 1917.
Family Trees
Wiggins Family Tree 2017, qed1236, https://www.ancestry.com/family-tree/person/tree/59306421/person/32108681502/facts
Internet Web Sites
1. The Tampico Affair. https://en.wikipedia.org/wiki/Tampico_Affair
2. Frith Hill Internment and Prisoner of War Camp by Graham Webster. https://sites.google.com/site/frimleyandcamberley/frith-hill-p-o-w-camp-at-frimley
3. This Day in Aviation. https://www.thisdayinaviation.com/tag/british-army-dirigible-no-1/
4. Initiatives of Change U.K. web site. http://uk.iofc.org/man-who-built-peace-frank-buchman-story-oxford
5. St. Dionis Church. https://en.wikipedia.org/wiki/St_Dionis,_Parsons_Green
6. Bear Alley Books. https://bearalley.blogspot.com/2008/08/stephen-foot.html
7. British Base Depots in France. http://www.longlongtrail.co.uk/army/other-aspects- of-order-of-battle/british-base-depots-in-france-1914-1918/
London Gazette
The London Gazette, 4 January 1917, p 214.
The London Gazette, 11 December 1917, p. 12913.
The London Gazette, 1 January 1918, p. 20.
Medal Rolls
Medal Index Card of Stephen Henry Foot, Royal Engineers.
Medal Index Card of Captain Robert William Foot, Royal Artillery.
Medal Index Card of Charles James Foot, Royal Artillery.

Medal Index Card of John Pearson Foot, Inns of Court O.T.C.
Passenger Lists
Ship's Manifest, S.S. Europa, 31 March 1934.
Ship's Manifest, SS Olympic, 16(?) March 1919 and Canadian Passenger List, 24 June 1919.
Ship's Manifest. SS Braemar Castle, 24 June 1954.
Ship's Manifest, SS Bremen, 27 April 1934.
Ship's Manifest, RMMV Capetown Castle, 20 June 1952.
Ship's Manifest, SS Naldera, 22 April 1926.
Ship's Manifest, SS Rajputan, 1 April 1926.
Registers
Birth Register, 3rd Quarter, 1887.
Baptism Register, 2 July 1887.
Death Register, 2nd Quarter, 1966.
Probate Register, 1966.

Probate Registry, Somerset House, 1966-1985.
ENDNOTES
---
APPENDIX A.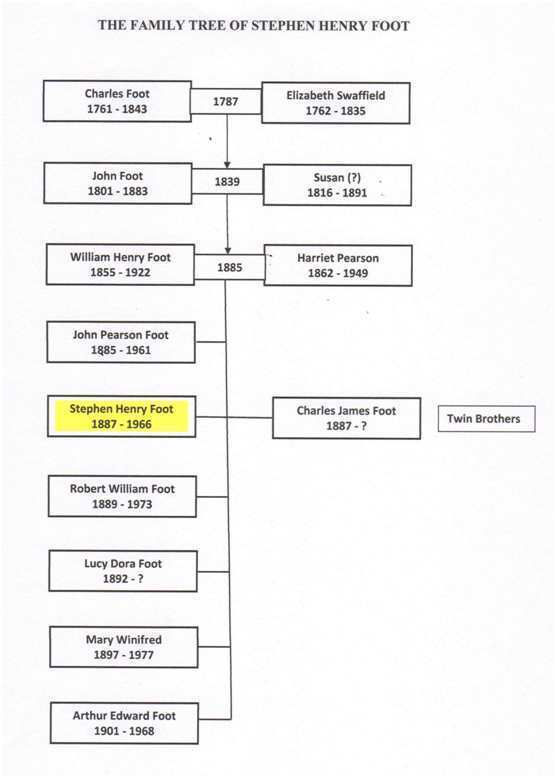 ---
APPENDIX B. SIR CHARLES EDWARD INGLIS
Sir Charles Edward Inglis
(Photograph and text courtesy of Wikipedia)
Sir Charles Edward Inglis, OBE, FRS, 31 July 1875 – 19 April 1952) was a British civil engineer. The son of a doctor, he was educated at Cheltenham College and won a scholarship to King's College, Cambridge, where he would later forge a career as an academic. Inglis spent a two-year period with the engineering firm run by John Wolfe-Barry before he returned to King's College as a lecturer. Working with Professors James Alfred Ewing and Bertram Hopkinson, he made several important studies into the effects of vibration on structures and defects on the strength of plate steel.
Inglis served in the Royal Engineers during the First World War and invented the Inglis Bridge, a reusable steel bridging system – the precursor to the more famous Bailey bridge of the Second World War. In 1916 he was placed in charge of bridge design and supply at the War Office and, with Giffard Le Quesne Martel, pioneered the use of temporary bridges with tanks. Inglis retired from military service in 1919 and was appointed an Officer of the Order of the British Empire. He returned to Cambridge University after the war as a professor and head of the Engineering Department. Under his leadership, the department became the largest in the university and one of the best regarded engineering schools in the world. Inglis retired from the department in 1943.
Inglis was associated with the Institution of Naval Architects, Institution of Civil Engineers, Institution of Mechanical Engineers, Institution of Structural Engineers, Institution of Waterworks Engineers and British Waterworks Association; he sat on several of their councils and was elected the Institution of Civil Engineers' president for the 1941–42 session. He was also a fellow of the Royal Society. Inglis sat on the board of inquiry investigating the loss of the airship R101 and was chair of a Ministry of War Transport railway modernization committee in 1946. Knighted in 1945, he spent his later years developing his theories on the education of engineers and wrote a textbook on applied mechanics. He has been described as the greatest teacher of engineering of his time and has a building named in his honour at Cambridge University.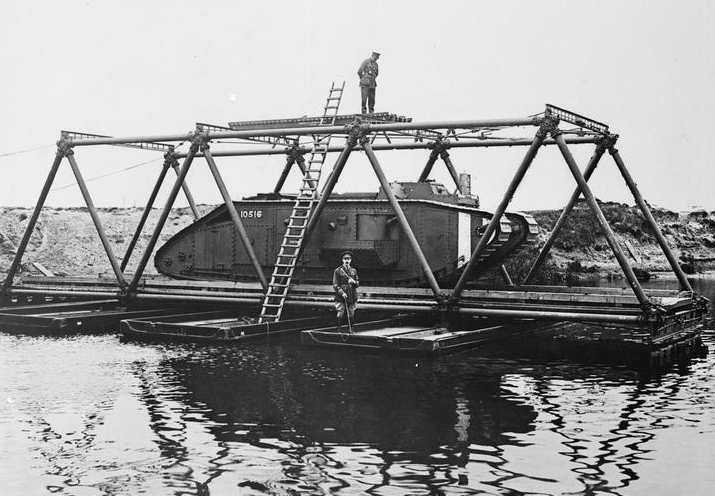 An Inglis Bridge Used as a Raft to Carry a Tank during the Great War.
(Photograph courtesy of Wikipedia)
---
APPENDIX C. Major-General Sir Ernest Dunlop Swinton,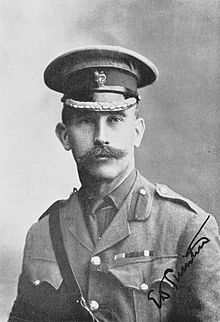 (Photograph and text courtesy of Wikipedia)
Major-General Sir Ernest Dunlop Swinton, K.B.E., C.B., D.S.O. (21 October 1868 – 15 January 1951) was a British Army officer who was active in the development and adoption of the tank during the First World War. He was also a war correspondent and author of several allegorical works of fiction on military themes, including a lastingly influential book on tactics and good practice. He is credited with having coined the word "tank" as a code-name for the first tracked, armoured fighting vehicles.
Early life and career
Swinton was born in Bangalore, India, in 1868. His father worked for the Madras Civil Service. Swinton was educated at University College School, Rugby School, Cheltenham College, Blackheath Proprietary School, and the Royal Military Academy, Woolwich. He became an officer in the Corps of Royal Engineers in 1888, serving in India and becoming Lieutenant in 1891.
He served as a Captain during the Second Boer War (1899–1901), and received the Distinguished Service Order (DSO) in November 1900. Although principally concerned with railway construction, he took a keen interest in tactics, fortifications, and the effectiveness of modern weaponry, especially the recently introduced machine-gun. After the war, he wrote his book on small unit tactics, The Defence of Duffer's Drift, a military classic on minor tactics that has been used by the Canadian and British Armies to train their NCOs and officers and US military to train its officers. In the years leading up to the First World War, he served as a staff officer and as an official historian of the Russo-Japanese War.
First World War
The War Minister, Lord Kitchener, appointed Swinton as the official British war correspondent on the Western Front. Journalists were not allowed at the front, and Swinton's reports were censored leading to an effectively uncontroversial although even-handed reporting.
Development of tanks
Swinton recounts in his book Eyewitness how he first got the sudden idea to build a tank on 19 October 1914, while driving a car in France. It is known that in July 1914 he received a letter from a friend, a mining engineer named Hugh F. Marriott whom he had met while in South Africa. Marriott occasionally sent Swinton news of technical developments that might have a military application, and his letter described a machine he had seen in Antwerp, an American-made Holt Caterpillar Tractor. He suggested that the machine might be useful for transport, and Swinton passed the information on to several military and political figures he thought it might interest. At the time, with no apparent prospect of war, the idea seemed to be a matter only of transport efficiency, and Swinton forgot about the matter. The idea of a caterpillar track as the basis for a fighting vehicle occurred to him only as he drove from St. Omer to Calais on the morning of 19 October.
In Britain, David Roberts of Richard Hornsby & Sons had attempted starting in 1911 to interest British military officials in a tracked vehicle, but failed. Benjamin Holt of the Holt Manufacturing Company bought the patents related to the "chain track" track-type tractor from Richard Hornsby & Sons in 1914 for £4,000. When World War I broke out, with the problem of trench warfare and the difficulty of transporting supplies to the front, the pulling power of crawling-type tractors drew the attention of the military.
The British War Office conducted trials with Holt tractors at Aldershot but saw them only as suitable for towing heavy artillery. Major Swinton was sent to France as an army war correspondent. In November 1914 he suggested to Sir Maurice Hankey, Secretary of the Committee of Imperial Defence, the construction of a bullet-proof, tracked vehicle that could destroy enemy machine guns.
In 1916 Swinton was promoted to Lieutenant Colonel and given responsibility for training the first tank units. He created the first tactical instructions for armoured warfare. The Royal Commission on Awards to Inventors decided after the war that the inventors of the tank were Sir William Tritton, managing director of Fosters and Major Walter Gordon Wilson. By 1918, the War Office had received 2,100 Holt tractors.
Swinton and Benjamin Holt in Stockton, California on 22 April 1918, with a Holt caterpillar tractor (right) and a model of a British tank (left).
In April 1918, while on a tour of the US, Swinton visited Stockton, California to publicly honour Benjamin Holt and the company for their contribution to the war effort and to relay Britain's gratitude to the inventor. Benjamin Holt was recognized by the General at a public meeting held in Stockton.
Post-war
In 1919 Swinton retired as a Major General. He subsequently served in the Civil Aviation department at the Air Ministry. He thereafter joined Citroën in 1922 as a director. He was Chichele Professor of Military History at Oxford University and a Fellow of All Souls College, Oxford from 1925 to 1939; he was also Colonel Commandant of the Royal Tank Corps from 1934 to 1938. In 1938, he edited Twenty Years After: the Battlefields of 1914–18: then and Now a publication of George Newnes Limited which was planned for issue in 20 parts and which ultimately amounted to 42. The magazine-style publication contained wartime and present-day (ca. 1938) images of France.
Family life
Swinton married Grace Louise Clayton in 1897 and they had two sons and a daughter. His daughter died in a road accident during the Second World War. Swinton died in Oxford on 15 January 1951.
Honours and awards
---
APPENDIX D. Major General Clifford Coffin, V.C., C.B., D.S.O. & Bar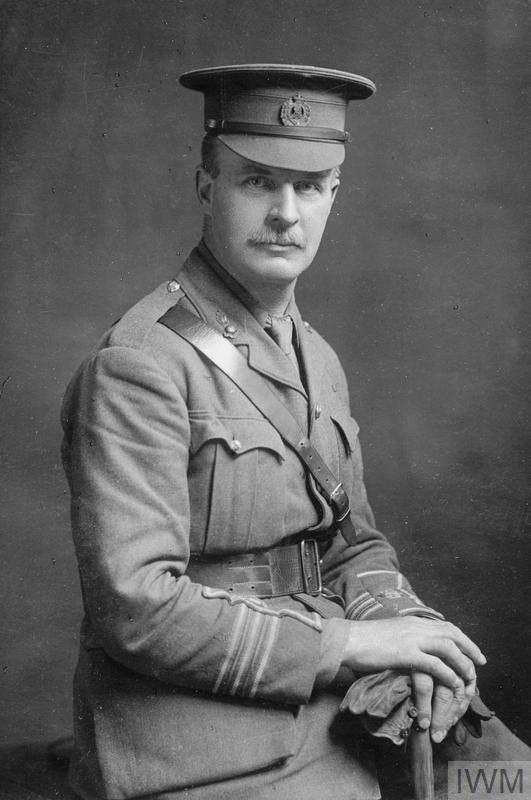 (Photograph and text courtesy of Wikipedia)
Major General Clifford Coffin VC, CB, DSO & Bar (10 February 1870 – 4 February 1959) was an officer in the British Army and was a recipient of the Victoria Cross, the highest and most prestigious award for gallantry in the face of the enemy that can be awarded to British and Commonwealth forces.
Born in Blackheath, the son of Lieutenant General Sir Isaac Coffin, he was educated at Haileybury and Imperial Service College and the Royal Military Academy, Woolwich. He was commissioned as a Second Lieutenant in the Corps of Royal Engineers. He served in the Second Boer War and was mentioned in dispatches.
He was 47 years old, and a temporary brigadier general, Commanding the 25th Infantry Brigade during the First World War when the following deed took place for which he was awarded the VC.
On 31 July 1917 in Westhoek, Belgium, when his command was held up in attack owing to heavy machine-gun and rifle fire, Brigadier-General Coffin went forward and made an inspection of his front posts. Although under the heaviest fire from both machine-guns and rifles and in full view of the enemy, he showed an utter disregard of personal danger, walking quietly from shell-hole to shell-hole, giving advice and cheering his men by his presence. His gallant conduct had the greatest effect on all ranks and it was largely owing to his personal courage and example that the shell-hole line was held. He served as Commander-in-Chief, Ceylon and ADC to King George V. He later achieved the rank of major general and was Colonel Commandant Royal Engineers. During World War II he was the chairman of the executive council of the British Empire Service League and Temporary Major General with the 36th Ulster Division.
He died in February 1959 and is buried at Holy Trinity Churchyard, Colemans Hatch, East Sussex. His Victoria Cross is displayed at the Royal Engineers Museum in Chatham, Kent. In 2012, his grave was renovated by the Victoria Cross Trust.
---
APPENDIX E. Lieutenant General Sir Hugh Jamieson Elles,
K.C.B., K.C.M.G., K.C.V.O., D.S.O.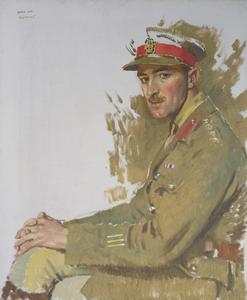 (Photograph and text courtesy of Wikipedia)
Lieutenant General Sir Hugh Jamieson Elles, K.C.B., K.C.M.G., K.C.V.O., D.S.O. (27 May 1880 – 11 July 1945) was a British officer and the first commander of the newly formed Tank Corps during World War I.
Early life
Born in British India on 27 May 1880, Hugh Jamieson Elles was the younger son of Sir Edmond Alles. Returning to England, he was educated at Clifton College, and the Royal Military Academy, Woolwich, after which he was commissioned as a second lieutenant into the Royal Engineers in June 1899. He served in South Africa during the latter part of the Second Boer War and then undertook regimental duty in Aldershot. In 1913 he attended the Staff College, Camberley.
World War I
On the outbreak of World War I in August 1914, he was posted to the staff of the 4th Division and departed for France soon afterwards. He served at Le Cateau, then took part in the Retreat to the Seine and the battle of the Aisne, where the German Army was halted. He then moved north with the British Expeditionary Force (BEF) to Flanders, taking part in the Battle of Armentières in October 1914. In February 1915, he was promoted to brevet major and served as the brigade major of the 10th Brigade. He was wounded during the brigades' counterattack, on 25 April 1915, during the Second Battle of Ypres.
In August 1915, after recovering from his injuries, Elles was one of three officers specially selected by General Sir William Robertson, soon to be Chief of the Imperial General Staff (CIGS), the professional head of the British Army, to liaise with troops at the front and pass the information directly to the British General Headquarters (GHQ). In January 1916, as a General Staff Officer (GSO), Elles was sent by General Sir Douglas Haig, the Commander-in-Chief (C-in-C) of the BEF on the Western Front, to investigate the first tanks or "caterpillars" being built in England. He attended the first trials of "Mother" and reported back to Haig on its success. During the summer of 1916, he was tasked to report back from the Somme, where the tanks were first used. Elles was appointed to head the Heavy Branch (the first tank units) of the Machine Gun Corps in France on 29 September 1916, with the temporary rank of colonel. His responsibilities included its advanced training and tactical employment. He also commanded the large central depot and workshops established near Bermicourt.
Having seen the tanks achieve little success during the Battle of Passchendaele because of the exceptionally wet ground conditions of the autumn 1917, he pressed Haig to use massed tanks on the drier, open ground at Cambrai. On 20 November 1917 he personally led 350 tanks into battle at Cambrai in a Mark IV tank called Hilda, named after a favorite aunt. He designed the Corps flag of brown, red and green silk, which he flew from his tank.
Elles continued to command the Tank Corps until Germany's surrender in November 1918.
Later career
After the war, he commanded the Tank Corps Training Centre at Bovington from 1919–1923 and was Inspector of Tank Corps at the War Office. He then commanded the 9th Infantry Brigade being posted to HQ Eastern Command as Chief of Staff in August 1926. In 1930 he was appointed Director of Military Training at the War Office and then, in 1933, became General Officer Commanding (GOC) of the 42nd (East Lancashire) Infantry Division, a Territorial Army formation, for a few months. In April 1934, he was appointed Master-General of the Ordnance in the rank of lieutenant general; he was also the head of the Mechanization Branch for which his previous service made him particularly suitable. He retired in 1938 and in the early years of World War II, was chief of Civil Defence operational staff (June 1940). Later he was appointed South West Regional Commissioner based in Bristol and would have taken regional command of the resistance in the event of a German invasion and occupation of Britain.
Elles was married three times, his first two wives dying before him. He died in London on 11 July 1945.
Honours
Elles accumulated 21 medals during his distinguished military career:
Knight Commander of the Most Honourable Order of the Bath - Military Division

Knight Commander of the Most Distinguished Order of St. Michael & St. George

Knight Commander of the Royal Victorian Order

Distinguished Service Order

1914 Star with bar (Mons Star)

British War Medal 1914-18 (silver)

Victory Medal

Queen's South Africa Medal (Silver)

Medal Ribbon Group

Medal Ribbon Group

Miniature Medal Group

King George V Coronation 1911 (Silver)

King George V Jubilee 1935

King George VI Coronation 1937

Croix de Guerre (Belgium)

Croix de Guerre with Palms

Legion of Honour, Third Republic, Third Class; France

Order of the Crown, Fourth Class; Belgium

Order of the Crown, Third Class; Belgium
---

APPENDIX F. Colonel Anthony Courage, Tank Corps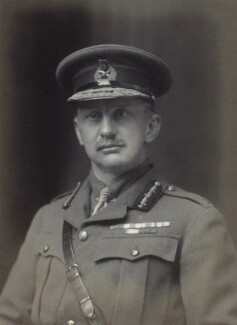 (Photograph courtesy of Wikipedia)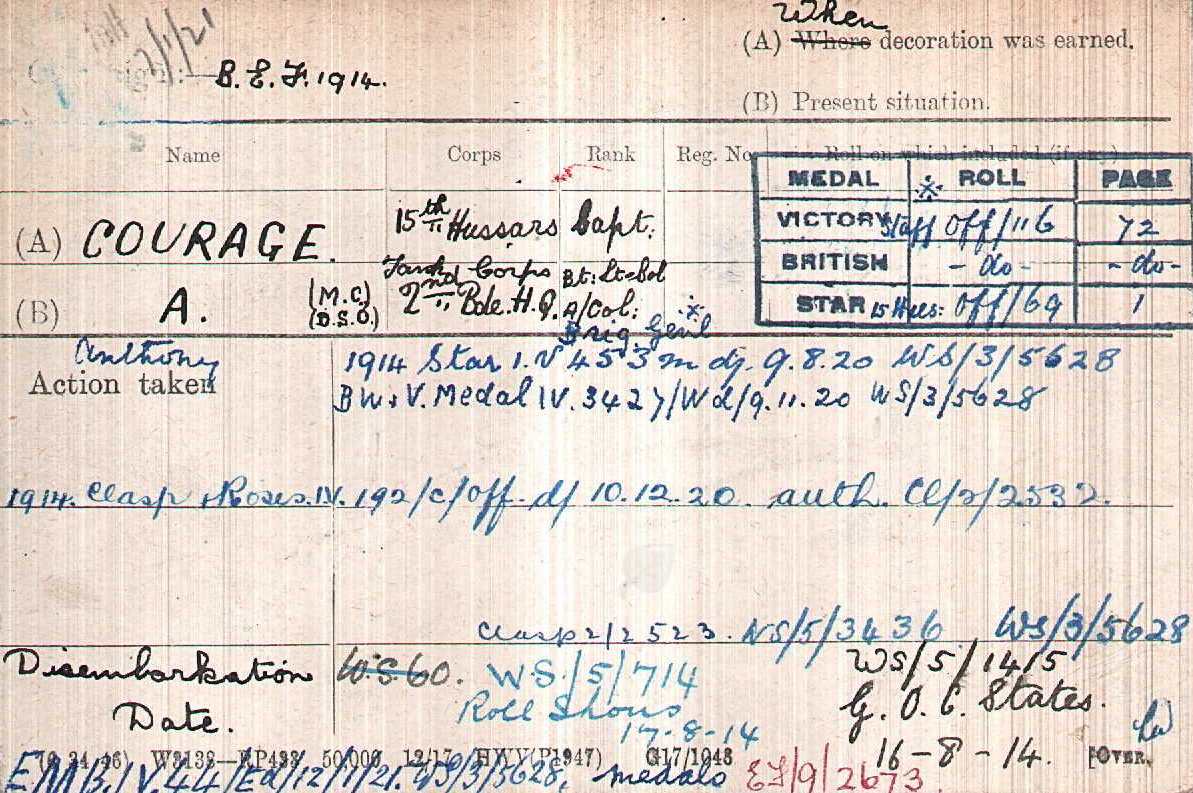 (I
mages courtesy of Ancestry.com)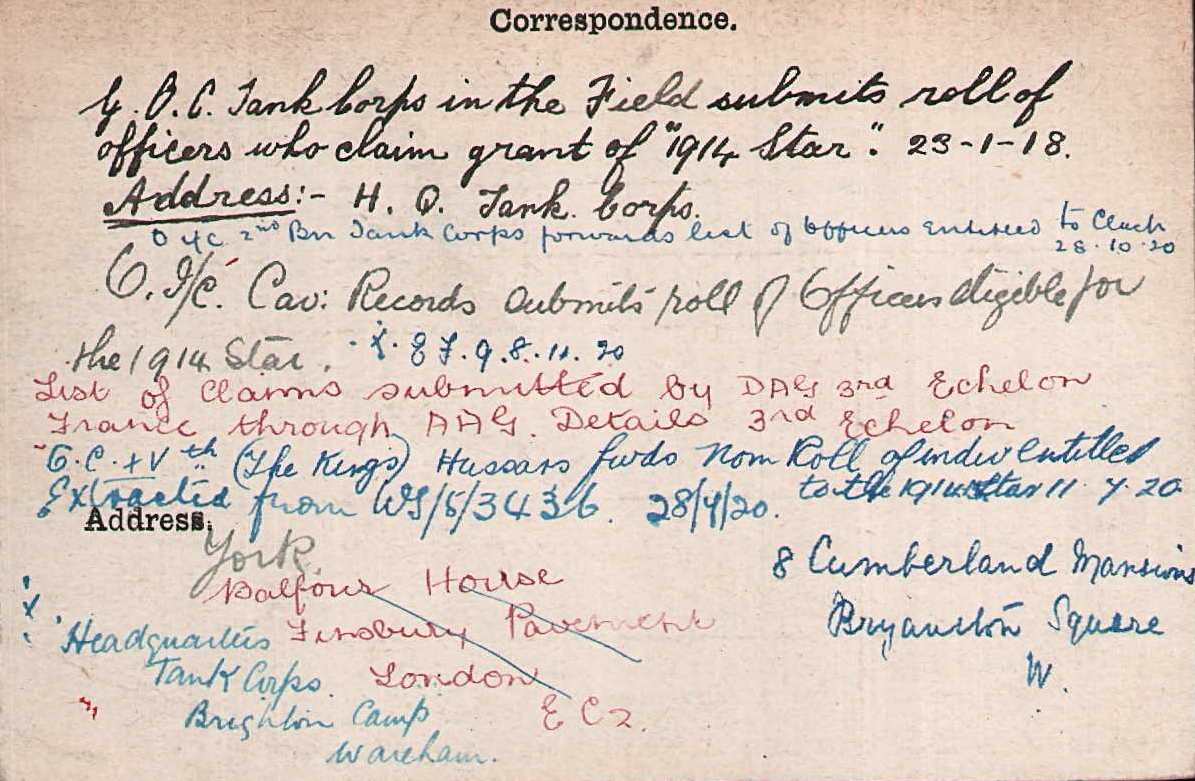 ---
APPENDIX G. Major-General Sir John Edward Capper, K.C.B., K.C.V.O.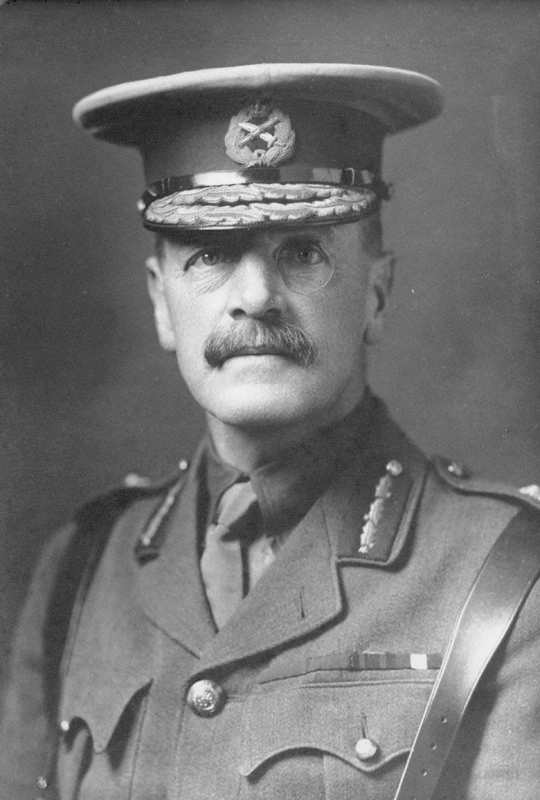 (Photograph and text courtesy of Wikipedia)
Major-General Sir John Edward Capper, K.C.B., K.C.V.O. (7 December 1861 – 24 May 1955) was a senior officer of the British Army during the late nineteenth and early twentieth century who served on the North-West Frontier of British India, in South Africa and during the First World War, where he was instrumental in the development of the tank.
An experienced engineer, Capper was involved in numerous building projects during his years in India and pioneered the development of airships in Britain. He helped establish and command several military training establishments in Britain, was involved in large-scale military planning during 1918 and 1919 and was pivotal in establishing the tank as an important feature of the British Army. Although Capper was sometimes described as pompous and possessing poor communication skills, earning the nickname Stone Age for his attitude towards the ideas of junior officers in the Royal Tank Corps, he nevertheless played a vital role in the development and deployment of armoured vehicles in the British Army.
India, Burma and South Africa
John Capper was born in Lucknow, India to civil servant William Copeland Capper and his wife Sarah in December 1861. Returning to England at an early age for education, Capper attended Wellington College and upon leaving in 1880 enrolled in the Royal Military Academy, Woolwich from where he went on to study at the School of Military Engineering at Chatham, before subsequently being commissioned into the Royal Engineers as a lieutenant. A capable engineering officer, Capper served in India and Burma for most of the first 17 years of his career, principally employed on military and public construction projects. He performed well in this position, being promoted to captain in 1889.
In 1897, Capper was attached to the force dispatched to the Tirah Campaign on the North-West Frontier of British India. One of his tasks there was to supervise the construction of the first road for wheeled vehicles across the Khyber pass. At the campaign's successful conclusion, he was promoted to major and transferred to South Africa while his wife Edith Mary (née Beausire) and their son John Beausire Copeland Capper returned to England. Arriving in South Africa at the outbreak of the Second Boer War, Capper became deputy assistant director of railways, a vital job given the lengthy and dangerous supply routes along which the war was fought. In 1900, he received the brevet rank of lieutenant colonel and commanded several locally raised units, eventually becoming the commandant at Johannesburg. He returned to England in June 1902, following the end of hostilities the previous month, and on 31 October 1902 was appointed a Companion of the Order of the Bath (CB).
Aeronautics
In 1903 he settled with his family at Bramdean House in Alresford, and was appointed Commander of the Balloon Sections, based at Aldershot under the command of Col James Templer. In 1906, having briefly become the Balloon Companies, the organisation became the School of Ballooning with Capper as its Commandant. At about the same time the Balloon Factory was split off and moved to a new site nearby at Farnborough and, on Templer's retirement, Capper also became its Superintendent and was given the brevet rank of full colonel. Templer was retained at the factory under Capper to complete the development Britain's first military airship, the Nulli Secundus ("second to none") in a purpose-built airship shed.
Capper not only supervised the British Army's ballooning and airship activities, but took a wider interest in aeronautics. In anticipation of the new airship, he took up the civilian sport of ballooning, flying in competitions initially as assistant to the Hon. C.S. Rolls and later with his own balloon "Pegasus" and his wife as assistant. These included the man-lifting "war kites" developed by Samuel Franklin Cody and the early work on airplanes by both Cody and J. W. Dunne. He also conducted fact-finding visits to the USA, where he and his wife befriended the Wright brothers and became involved in protracted but ultimately futile negotiations for the War Office to buy a Wright machine.
Capper and Cody undertook the first successful flight of a British airship, the Nulli Secundus, over London in 1907.
Capper went on to modify the airship as Nulli Secundus II, parodied by Punch as "second to none the second", and a smaller experimental airship called Baby. Neither was an immediate success, although Baby would later be modified and have a long and successful career.
Capper oversaw the first Army airplanes. He briefly flew Dunne's first glider, the D.1, during secret trials at Blair Atholl in Scotland in 1907. The flight had lasted only a few seconds when the glider crashed into a wall, with Capper sustaining a cut to the head. The next year, Cody flew the first British-built aeroplane at Farnborough, which earned it the title British Army Aeroplane No.1. This was an ironic achievement for Capper's command, as he had pinned his personal hopes on Dunne, whose D.4 achieved no more than a few hops.
That Autumn the government conducted a formal Inquiry into military aviation. Capper had to return early from Blair Atholl in order to present his evidence. He argued strongly for a promising future of all forms of aeronautics and especially the aeroplane. However his Army superiors on the committee were against aeronautics in any form. It was decided that only small-scale airship experiments should continue and that aeroplane work should be stopped. It formally ceased when Dunne and Cody's contracts ran out at the end of March 1909.
Soon afterwards the Balloon Factory was removed from the command of the Army and a new civilian superintendent, Mervyn O'Gorman, appointed. Capper remained in command of the Army Balloon School.
When Dunne left Farnborough, Capper was one of several friends who offered support for his efforts. In 1911, one of Dunne's new airplanes was exhibited at the Olympia Aero Show, with a placard stating it was "Built to the order of Col. J. E. Capper, R.E."
In 1910 Capper was transferred to command of the Royal School of Military Engineering at Chatham, marking the end of his aeronautical career.
First World War
Capper remained at Chatham until September 1914 when the lack of experienced officers forced his transfer to France in the early months of the First World War.
As a brigadier-general, Capper was first made deputy inspector of the lines of communication before being given the post of Chief Engineer to the Third Corps. In July 1915 he was promoted to major-general and made chief engineer of the British Third Army. In October, following the deaths of several senior officers at the Battle of Loos, including Capper's younger brother Major-General Sir Thompson Capper, he was promoted to overall command of the 24th Division. Capper remained in command of the division for the next 18 months, including periods of heavy fighting at the Battle of the Somme, in which his son John was killed in action serving with the Royal Artillery. The division also spent extensive periods of time in other sections of the line and gained extensive battle experience at the cost of high casualties. As a reward for his service in command of the division, he was presented with the Commander's Cross of the Légion d'honneur by the French government.
In May 1917, he was recalled to England, initially to run the Machine-Gun Corps training centre and from 28 July hold the position of Director-General of the newly formed Tank Corps at the War Office. Operational command of tanks at the frontlines was in the hands of Hugh Elles, the first commander of the Heavy Branch. Although tanks had first been introduced on the Somme the year before, their design and manufacture were both inadequate and the tactics of their deployment almost non-existent. Capper's job at the Tank Corps was to shape the organisation of the unit into an efficient battlefield force, improve mechanical reliability and develop effective tactics. It was in this role that Capper was given the nickname Stone Age, as his subordinates considered him to be unwilling to accept new innovations in tank tactics. In fact, Capper was an able tactician who worked with General J. F. C. Fuller to develop a plan for a large scale armoured assault on German lines in 1919 (known as Plan 1919): his subordinates' prejudices were based on Capper's rigid adherence to the military hierarchy and his consequent failure to communicate his ideas to those below his rank. For his services as Director General of the Tank Corps, Capper was made a Knight Commander of the Order of the Bath.
Retirement
In July 1918, Capper left the War Office and commanded the 64th Division in England until May 1919, when he took over command of Number 1 Area in France and Flanders. In September 1919, Capper became Lieutenant-Governor of Guernsey and took over command of the island's military installations. He held the post for five years and during that time was made Colonel-Commandant of the Royal Tank Corps. On 11 July 1921, he was made a Knight Commander of the Royal Victorian Order. Retiring in 1925, Capper remained associated with the Tank Corps and also became a governor of Wellington College, associations he retained until 1946.
During the Second World War, Capper joined the Hampshire Home Guard and remained on duty with the unit until 1943. Post-War he retired fully to Bramdean House and remained there until shortly before his death. He was widowed in 1953 and died at Esperance Nursing Home in Eastbourne in May 1955, leaving a daughter. In 1971, his collected papers, and those of his brother Thompson, who had been an instructor at the Staff College, Camberley, were donated to the Liddell Hart Centre for Military Archives at King's College London where they are still available to researchers.
---

APPENDIX H. Major General John Frederick Fuller, C.B., C.B.E., D.S.O.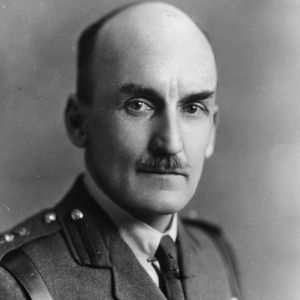 (Photograph and text courtesy of Wikipedia)
Major-General John Frederick Charles "Boney" Fuller, C.B., C.B.E., D.S.O. (1 September 1878 – 10 February 1966) was a senior British Army officer, military historian, and strategist, notable as an early theorist of modern armoured warfare, including categorizing principles of warfare. With 45 books and many articles, he was a highly prolific author whose ideas reached army officers and the interested public. He explored the business of fighting, in terms of the relationship between warfare and social, political, and economic factors in the civilian sector. Fuller emphasized the potential of new weapons, especially tanks and aircraft, to stun a surprised enemy psychologically.
Fuller was highly controversial in British politics because of his support for the organized fascist movement. He was also an occultist and Thelemite who wrote a number of works on esotericism and mysticism.
Early life
Fuller was born in Chichester, West Sussex and is the son of an Anglican clergyman. After moving to Lausanne with his parents as a boy, he returned to England at the age of 11 without them; three years later, at "the somewhat advanced age of 14", he began attending Malvern College and, later trained for an army career at the Royal Military College, Sandhurst, from 1897 to 1898. His nickname of "Boney", which he was to retain, is said to have come either from an admiration for Napoleon Bonaparte, or from an imperious manner combined with military brilliance which resembled Napoleon's.
Career
Fuller was commissioned into the 1st Battalion of the Oxfordshire Light Infantry (the old 43rd Foot), and served in South Africa from 1899 to 1902. In the spring of 1904 Fuller was sent with his unit to India, where he contracted typhoid fever in autumn of 1905; he returned to England the next year on sick-leave, where he met the woman he married in December 1906. Instead of returning to India, he was reassigned to units in England, serving as an adjutant to the 2nd South Middlesex Volunteers (amalgamated into the 7th Middlesex during the Haldane Reforms) and helping form the 10th Middlesex, until he was accepted into the Staff College at Camberley in 1913, starting work there in January 1914.
During the First World War, Fuller was a staff officer with the Home Forces and with 7 Corps in France, and from 1916 in the Headquarters of the Machine-Gun Corps' Heavy Branch which was later to become the Tank Corps. He helped plan the tank attack at the 20 November 1917 Battle of Cambrai and the tank operations for the Autumn offensives of 1918. His Plan 1919 for a fully mechanized offensive against the German army was never implemented. After 1918 he held various leading positions, notably as a commander of an experimental brigade at Aldershot.
After the war Fuller collaborated with his junior B. H. Liddell Hart in developing new ideas for the mechanization of armies, launching a crusade for the mechanization and modernization of the British Army. Chief instructor of Camberley Staff College from 1923, he became military assistant to the chief of the Imperial General Staff in 1926. In what came to be known as the "Tidworth Incident", Fuller turned down the command of the Experimental Mechanized Force, which was formed on August 27, 1927. The appointment also carried responsibility for a regular infantry brigade and the garrison of Tidworth Camp on Salisbury Plain. Fuller believed he would be unable to devote himself to the Experimental Mechanized Force and the development of mechanized warfare techniques without extra staff to assist him with the additional extraneous duties, which the War Office refused to allocate. He was promoted to Major-General in 1930 and retired three years later to devote himself entirely to writing.
Retirement and Fascism
After retirement, Fuller served as a reporter during the Italian invasion of Ethiopia (1935) and the Spanish Civil War (1936–39). On his retirement in 1933, impatient with what he considered the inability of democracy to adopt military reforms, Fuller became involved with Sir Oswald Mosley and the British Fascist movement. As a member of the British Union of Fascists he sat on the party's Policy Directorate and was considered one of Mosley's closest allies. He was also a member of the clandestine far right group the Nordic League.
Fuller's ideas on mechanized warfare continued to be influential in the lead-up to the Second World War, ironically less with his countrymen than with the Nazis, notably Heinz Guderian who spent his own money to have Fuller's Provisional Instructions for Tank and Armoured Car Training translated. In the 1930s the German Army implemented tactics similar in many ways to Fuller's analysis, which became known as Blitzkrieg. Like Fuller, theorists of Blitzkrieg partly based their approach on the theory that areas of large enemy activity should be bypassed to be eventually surrounded and destroyed. Blitzkrieg-style tactics were used by several nations throughout the Second World War, predominantly by the Germans in the invasion of Poland (1939), Western Europe (1940), and the Soviet Union (1941). While Germany and to some degree the Western Allies adopted Blitzkrieg ideas, they were not much used by the Red Army, which developed its armored warfare doctrine based on deep operations, which were developed by Soviet military theorists Marshal M. N. Tukhachevsky et al. in the 1920s based on their experiences in the First World War and the Russian Civil War.
Fuller was the only foreigner present at Nazi Germany's first armed maneuvers in 1935. Fuller frequently praised Adolf Hitler in his speeches and articles, once describing him as "that realistic idealist who has awakened the common sense of the British people by setting out to create a new Germany". On April 20, 1939 Fuller was an honored guest at Hitler's 50th birthday parade, watching as "for three hours a completely mechanized and motorized army roared past the Führer." Afterwards Hitler asked, "I hope you were pleased with your children?" Fuller replied, "Your Excellency, they have grown up so quickly that I no longer recognise them."
During the Second World War, 1939-45, Fuller was under suspicion for his Nazi sympathies. He continued to speak out in favor of a peaceful settlement with Germany. Alan Brooke (in his war diaries, p. 201) comments that "the Director of Security called on him to discuss Boney Fuller and his Nazi activities", though Alan Brooke commented that he did not think Fuller "had any unpatriotic intentions". Although he was not interned or arrested, he was the only officer of his rank not invited to return to service during the war. There was some suspicion that he was not incarcerated in May 1940 along with other leading officials of the BUF because of his association with General Edmund Ironside and other senior officers. Mosley himself admitted to "a little puzzlement" as to why Fuller had not been imprisoned.
Fuller spent his last years a deeply embittered man feeling that the wrong side had won the Second World War, a thesis most fully announced in the 1961 edition of The Reformation of War where he announced his belief that Hitler was the savior of the West against the Soviet Union, and denounced Churchill and Roosevelt for being too stupid to see this. Fuller died in Falmouth, Cornwall in 1966.
Military theories
Fuller was a vigorous, expressive, and opinionated writer of military history and of controversial predictions of the future of war, publishing On Future Warfare in 1928. Seeing his teachings largely vindicated by the Second World War, he published Machine Warfare: An Enquiry into the Influence of Mechanics on the Art of War in 1942.
The Foundations of the Science of War (1926)
Fuller is perhaps best known today for his "Nine Principles of War" which have formed the foundation of much of modern military theory since the 1930s, and which were originally derived from a convergence of Fuller's mystical and military interests. The Nine Principles went through several iterations; Fuller stated that ...the system evolved from six principles in 1912, rose to eight in 1915, to, virtually, nineteen in 1923, and then descended to nine in 1925... For example, notice how his analysis of General Ulysses S. Grant was presented in 1929.
The United States Army modified Fuller's list and issued its first list of the principles of war in 1921, making it the basis of advanced training for officers into the 1990s, when it finally reconceptualized its training.
The Nine Principles of War
The Nine Principles involve the uses of Force (combat power). They have been expressed in various ways, but Fuller's 1925 arrangement is as follows:
Direction:

What is the overall aim? Which objectives must be met to achieve the aim?

Concentration:

Where will the commander focus the most effort?

Distribution:

Where and how will the commander position their force?

Determination:

The will to fight, the will to persevere, and the will to win must be maintained.

Surprise (Demoralization of Force):

The commander's ability to veil their intentions while discovering those of their enemy. Properly executed Surprise unbalances the enemy - causing Demoralization of Force.

Endurance:

The force's resistance to pressure. This is measured by the force's ability to anticipate complications and threats. This is enhanced by planning on how best to avoid, overcome, or negate them and then properly educating and training the force in these methods.

Mobility:

The commander's ability to maneuver their force while outmaneuvering the enemy's forces.

Offensive Action (Disorganization of Force):

The ability to gain and maintain the initiative in combat. Properly executed Offensive Action disrupts the enemy - causing Disorganization of Force.

Security:

The ability to protect the force from threats.
Triads and Trichotomies
Cabalistic influences on his theories can be evidenced by his use of the "Law of Threes" throughout his work. Fuller didn't believe the Principles stood alone as is thought today, but that they complemented and overlapped each other as part of a whole, forming the Law of Economy of Force.
Organization of Force
These Principles were further grouped into the categories of Control (command / co-operation), Pressure (attack / activity) and Resistance (protection / stability). The Principles of Control guides the dual Principles of Pressure and of Resistance, which in turn create the Principles of Control.
Principles of Control (1, 4, & 7):

Direction, Determination, & Mobility.

Principles of Pressure (2, 5, & 8):

Concentration, Surprise, & Offensive Action.

Principles of Resistance (3, 6, & 9):

Distribution, Endurance, & Security.
The Unity of the Principles of War
They were also grouped into Cosmic (Spiritual), Mental (Mind / Thought / Reason), Moral (Soul / Sensations / Emotions), and Physical (Body / Musculature / Action) Spheres, in which two Principles (like the double-edged point of an arrowhead) combine to create or manifest a third, which in turn guides the first and second Principles (like the fletches on an arrow's tail). Each Sphere leads to the creation of the next until it returns to the beginning and repeats the circular cycle with reassessments of the Object and Objective to redefine the uses of Force. The Cosmic Sphere is seen as outside the other three Spheres, like the Heavens are outside the Realm of Man. They influence it indirectly in ways that cannot be controlled by the commander, but they are a factor in the use of Force. Force resides in the center of the pattern, as all of these elements revolve around it.
Cosmic Sphere:

Goal (Object) & Desire (Objective) = Method (Economy of Force)

Goal

is the overall purpose or aim of the mission (what Goals must the mission complete or achieve?).

Desire

concerns the priority of the achievement or acquisition of the Goal (how important and essential is the Goal to the overall mission effort?).

Method

is how the forces available will carry out the mission (How much of the mission's force will be assigned - or are available - to accomplish the Goal?).

Mental Sphere (1, 2, & 3):

Reason (Direction) & Imagination (Concentration) = Will (Distribution)

Moral Sphere (4, 5, & 6):

Fear (Determination) & Morale (Surprise) = Courage (Endurance)

Physical Sphere (7, 8, & 9):

Attack (Offensive Action) & Protection (Security) = Movement (Mobility)
These Principles of War have been adopted and further refined by the military forces of several nations, most notably within NATO, and continue to be applied widely to modern strategic thinking. Recently they have also been applied to business tactics and hobby wargaming.
Armament and History (1945)
Fuller also developed the idea of the Constant Tactical Factor. This states that every improvement in warfare is checked by a counter-improvement, causing the advantage to shift back and forth between the offensive and the defensive. Fuller's firsthand experience in the First World War saw a shift from the defensive power of the machine gun to the offensive power of the tank.
Magic and mysticism
Fuller had an occultist side that oddly mixed with his military side. He was an early disciple of English poet and magician Aleister Crowley, and was very familiar with his and other forms of magic and mysticism. While serving in the First Oxfordshire Light Infantry he had entered and won a contest to write the best review of Crowley's poetic works, after which it turned out that he was the only entrant. This essay was later published in book form in 1907 as The Star in the West. After this he became an enthusiastic supporter of Crowley, joining his magical order, the A∴A∴., within which he became a leading member, editing order documents and its journal, The Equinox. During this period he wrote The Treasure House of Images, edited early sections of Crowley's magical autobiography The Temple of Solomon the King and produced highly regarded paintings dealing with A∴A∴ teachings: these paintings have been used in recent years as the covers
of the journal's revival, The Equinox, Volume IV.
After the Jones vs. The Looking Glass case, in which a great deal was made of Aleister Crowley's bisexuality (although Crowley himself was not a party to the case), Fuller became worried that his association with Crowley might be a hindrance to his career. Crowley writes in chapter 67 of his book, The Confessions of Aleister Crowley:
...to my breathless amazement he fired pointblank at my head a document in which he agreed to continue his co-operation on condition that I refrain from mentioning his name in public or private under penalty of paying him a hundred pounds for each such offence. I sat down and poured in a broadside at close quarters.
"My dear man," I said in effect, "do recover your sense of proportion, to say nothing of your sense of humor. Your contribution, indeed! I can do in two days what takes you six months, and my real reason for ever printing your work at all is my friendship for you. I wanted to give you a leg up the literary ladder. I have taken endless pain to teach you the first principles of writing. When I met you, you were not so much as a fifth-rate journalist, and now you can write quite good prose with no more than my blue pencil through two out of every three adjectives, and five out of every six commas. Another three years with me and I will make you a master, but please don't think that either I or the Work depend on you, any more than J.P. Morgan depends on his favorite clerk."
After this, contact between the two men faded rapidly. The front pages of the 1913 issues of the Equinox (Volume 1, nos. 9 and 10), which gave general directions to A∴A∴ members, included a notice on the subject of Fuller, who was described as a "former Probationer"; the notice disparaged Fuller's magical accomplishments and warned A∴A∴ members to accept no magical training from him. However, Fuller continued to be fascinated with occult subjects and in later years
he would write about topics such as the Qabalah and yoga.
Works
Fuller was a prolific writer and published 45+ books.
The Star in The West: A Critical Essay Upon the Works of

Aleister Crowley

(London: Walter Scott Publishing Co., 1907)

read online

Tanks in the Great War: 1914-1918

(New York:

E.P. Dutton and Company

, 1920)

read online

The Reformation of War

(London: Hutchinson and Company, 1923)

read online

Yoga

: A Study of the Mystical Philosophy of the

Brahmins

and

Buddhists

(London: W. Rider, 1925)

read online

Atlantis

, America and the Future

. (London: Kegan Paul, 1925)

read online

The Foundations of the Science of War

. (London: Hutchinson and Company, 1926)

read online

Pegasus

(New York: E.P. Dutton and Company, 1926)

read online

On Future Warfare

(London: Sifton, Praed & Company, 1928)

The Generalship of

Ulysses S. Grant

(London: J. Murray, 1929)

read online

The Dragon's Teeth: A Study of War and Peace

(London: Constable and Company, 1932)

read online

Lectures on Field Service Regulations III

(1932)

analysis

Grant

&

Lee

: A Study in Personality and Generalship

(London: Eyre & Spottiswoode, 1933)

read online

Memoirs of an Unconventional Soldier

(London: Nicholson & Watson, 1936)

read online

The First of the

League

Wars: A Study of the

Abyssinian War

, Its Lessons and Omens

(London: Eyre and Spottiswoode, 1936)

read online

Generalship: Its Diseases and Their Cure: A Study of the Personal Factor in Command

(Harrisburg, Pennsylvania: Military Service Publishing Company, 1936)

read online

The Secret Wisdom of the

Qabalah

: A Study in Jewish Mystical Thought

(London: W. Rider & Co., 1937)

read online

Machine Warfare: An Enquiry into the Influence of Mechanics on the Art of War

(London: Hutchinson, 1942)

Warfare Today; How Modern Battles are Planned and Fought on Land, at Sea, and in the Air

(Joint editors: J.F.C. Fuller, Admiral Sir

Reginald Bacon

, and Air Marshal Sir

Patrick Playfair

) (London: Oldham's Press Ltd., 1944)

read online

Armament and History: The Influence of Armament on History from the Dawn of Classical Warfare to the End of the Second World War

(London: Charles Scribner's Sons, 1945)

read online

The Second World War, 1939-1945: A Strategical and Tactical History

(Eyre & Spottiswoode, London, 1948)

read online

The Decisive Battles of the Western World and Their Influence upon History

(3 vols.) (London: Eyre & Spottiswoode, 1954-1956). A 2-volume edition, abridged by

John Terraine

to omit battles outside the European continent, was published in 1970 by Picador; not to be confused with the original edition of 1939-40, also in two volumes, of which the 3-volume edition is a substantial revision, as described in its preface. The U.S. ed. is A Military History of the Western World (3 vols.) (New York: Funk and Wagnalls, New York, 1954-1957); Republished by Da Capo Press, New York, 1987-8.

search online

The Generalship of Alexander the Great

(London: Eyre & Spottiswoode, 1958).

read online

The Conduct of War, 1789-1961: A Study of the Impact of the French, Industrial, and Russian Revolutions on War and Its Conduct

(

Rutgers University Press

, 1961)

read online

Julius Caesar

: Man, Soldier and Tyrant

(Eyre & Spottiswoode, London, 1965)

read online

Fuller, J. F. C.; Aleister Crowley (1994). The Pathworkings of Aleister Crowley: The Treasure House of Images. James Wasserman (ed.). New Falcon Publications, U.S.

ISBN

1-56184-074-2

.
---
APPENDIX I. Medal Index Cards of Major Stephen Henry Foot.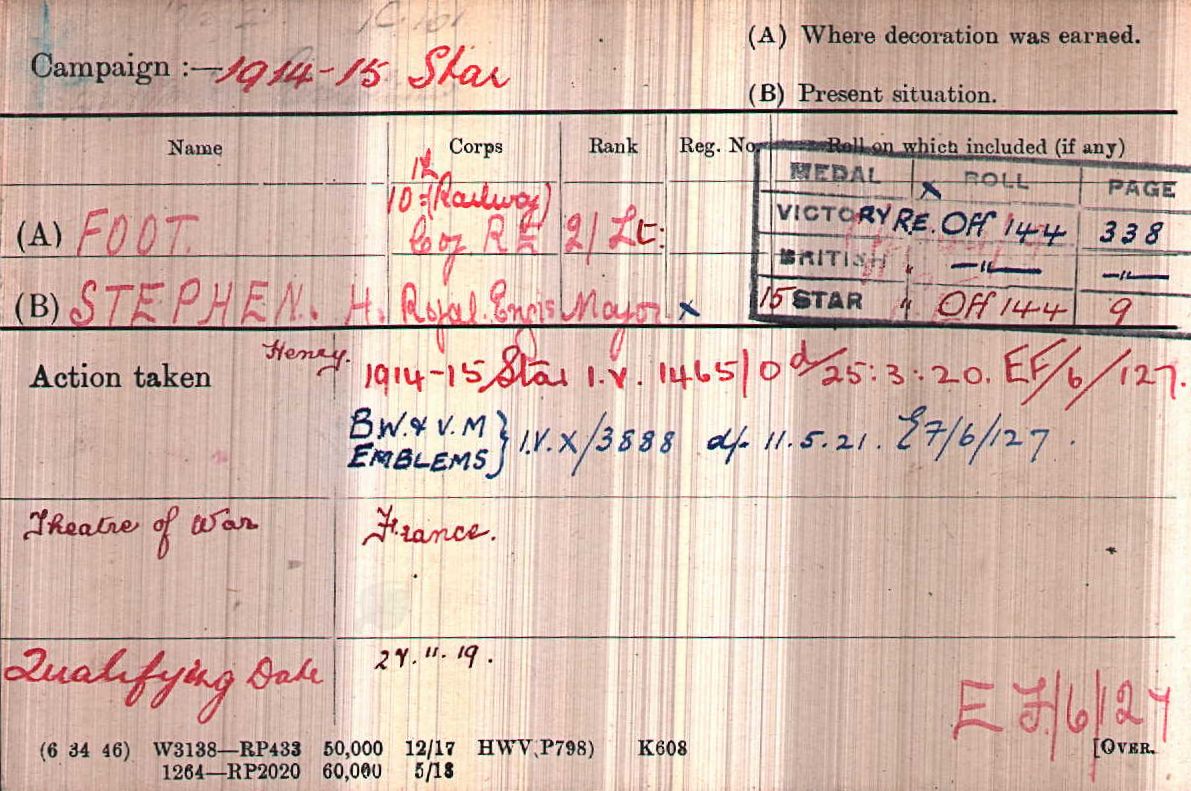 (Image courtesy of Ancestry.com)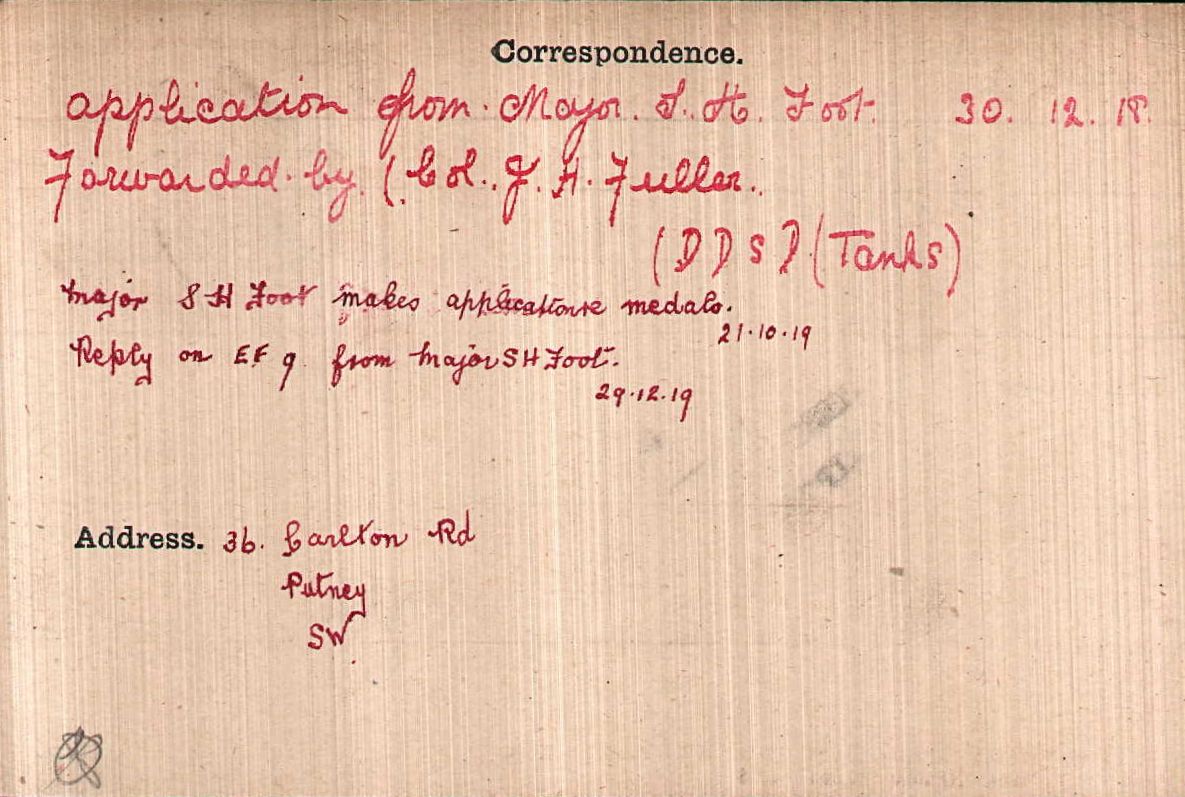 (Image courtesy of Ancestry.com)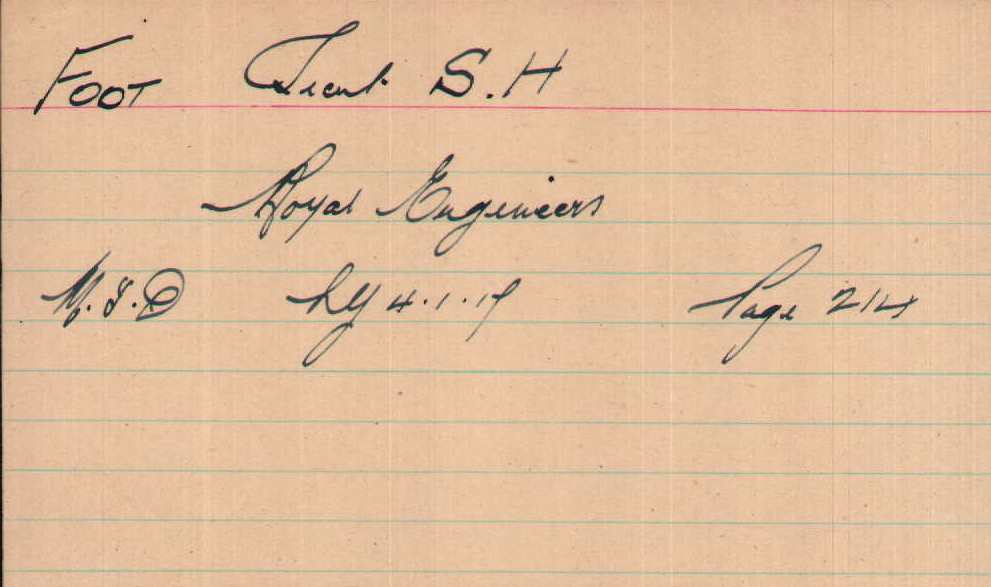 (Image courtesy of Ancestry.com)
---
APPENDIX J. Medal Roll Pages for Major Stephen Henry Foot.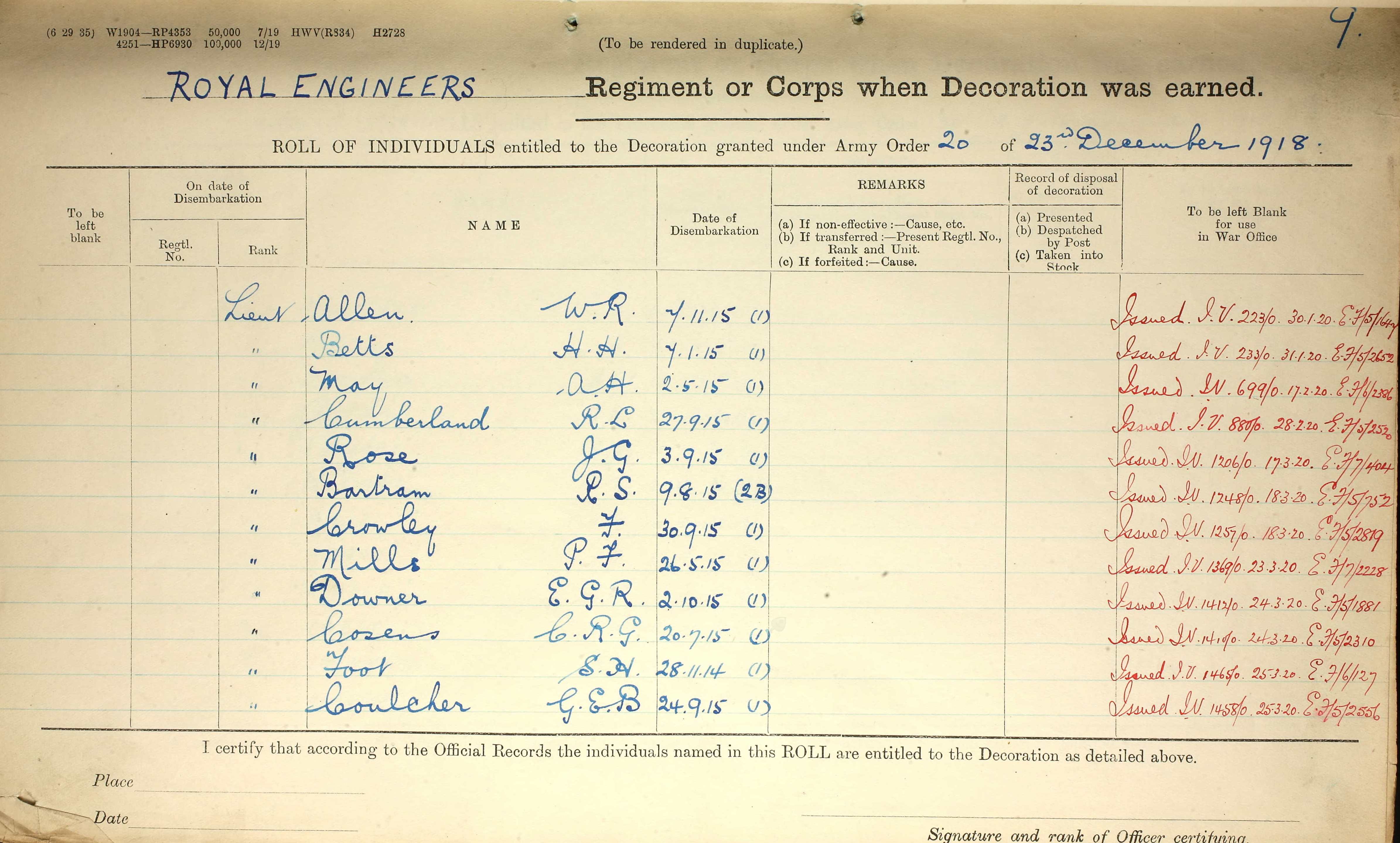 1914-15 Star Medal Roll Page.
(Image courtesy of Ancestry.com)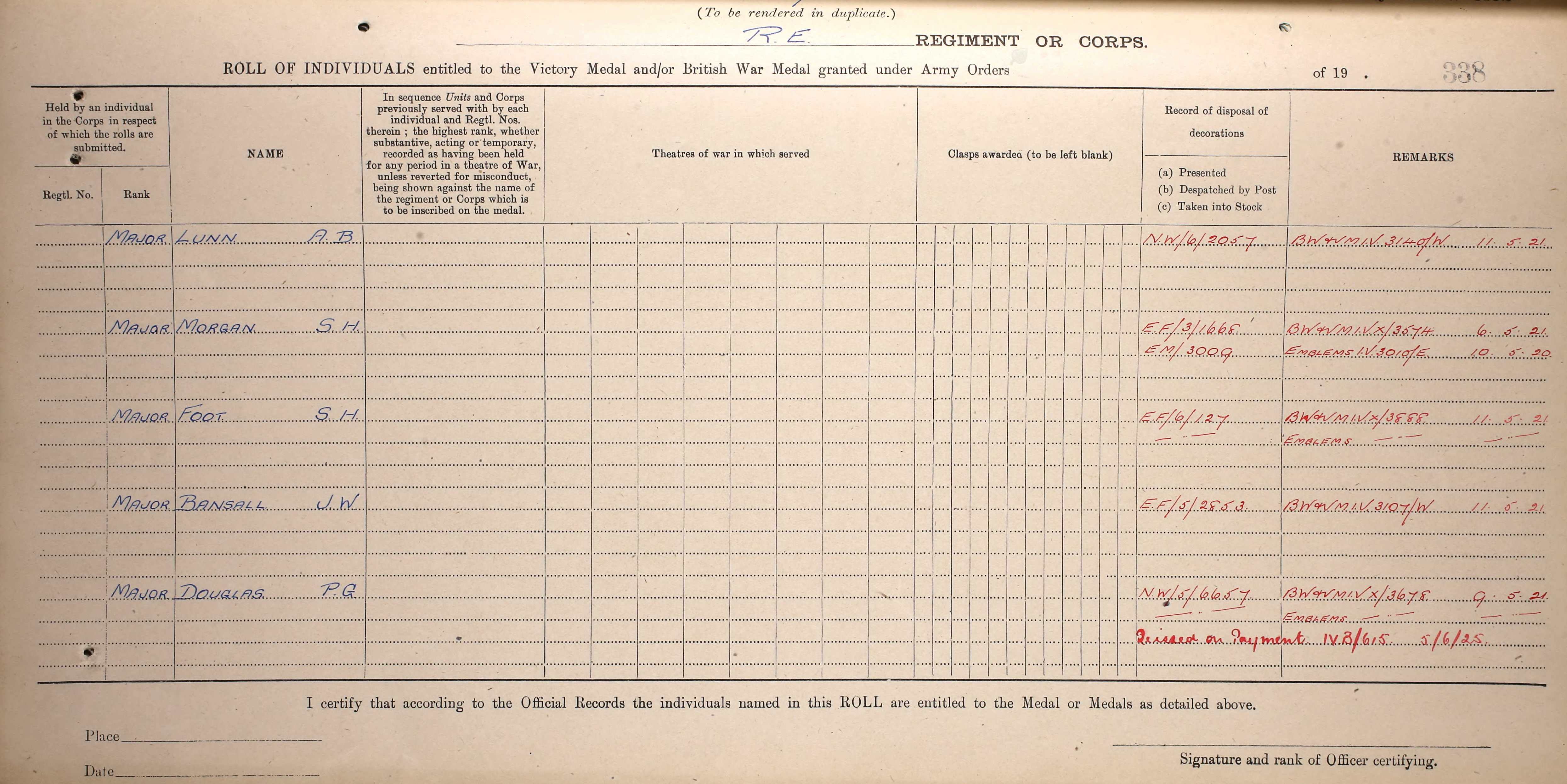 British War Medal and Victory Medal Roll Page

(Image courtesy of Ancestry.com)
---
APPENDIX K. Medal Index Cards of Robert William Foot, R.A.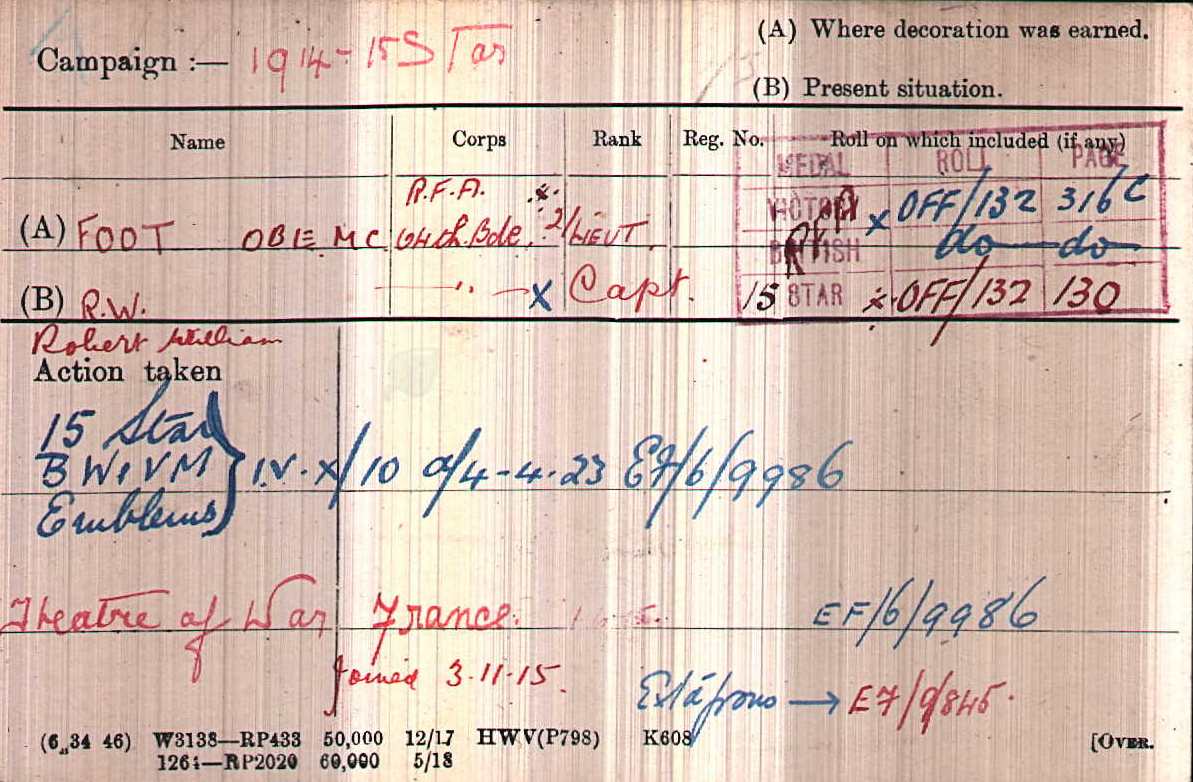 (Image courtesy of Ancestry.com)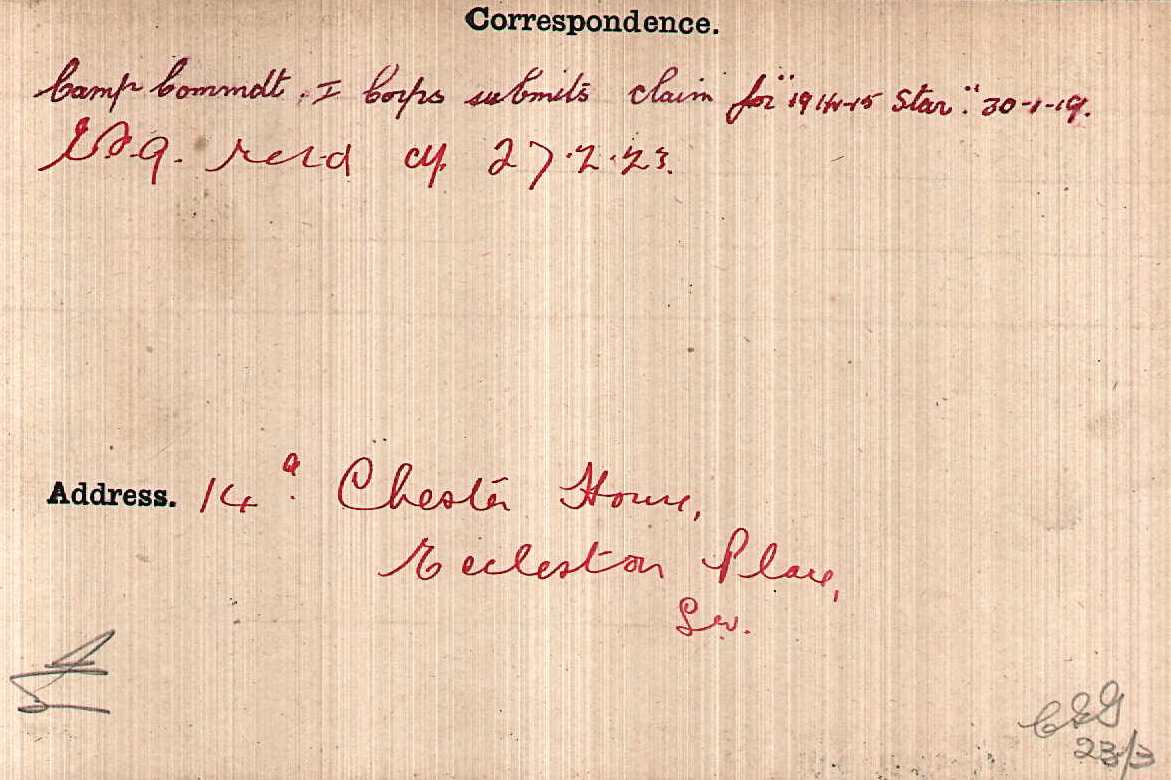 (Image courtesy of Ancestry.com)
---
APPENDIX L. The Children's Newspaper, 27 September 1941.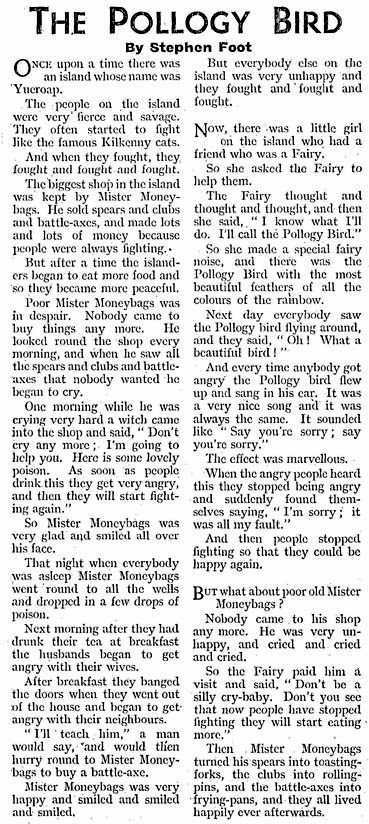 (Image courtesy of Bear Alley Books)
---
APPENDIX M. Roland Whitewell Wilson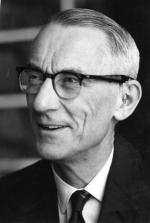 (Image and text courtesy of Wikipedia)
Roland Whitwell Wilson, activist, born 1907, Secretary Oxford Group 1939-71, died 1991.
Roland Wilson achieved a world-wide reputation as the first Secretary of the Oxford Group, the British body devoted to Moral Re-Armament, a position he held for 30 years.
Wilson was born in 1907, and was educated at Dulwich College and Oriel College, Oxford. He read theology at Mansfield College and was an ordained Congregational minister. A meeting at Oxford with Frank Buchman in the 1920s led Wilson to his life's work.
Buchman, a Pennsylvanian of Swiss descent, had built up a network of people around the world committed to a programme of personal change which could issue in family and social change. He was the friend of Sun Yat Sen in China and Mahatma Gandhi in India. He aimed to enlist people in the universities of Britain and America. His work met with considerable response in Oxford in the Twenties and Thirties and Oxford men and women provided much of the leadership of the Group world-wide. By 1933 it was at work in 50 countries. Every summer, conferences in Oxford brought 5,000 or more over several weeks. In 1938, on the eve of war, Buchman made his call for moral and spiritual re-armament. His work became known as Moral Re-Armament (MRA).
When the Oxford Group was incorporated in 1939 Wilson's outstanding abilities and dedication marked him out as the natural choice as Secretary. He had an able mind and a deep sense of responsibility. He piloted the Group through the war years, when its work was not always understood. Any active Christian group runs into opposition—from people who do not wish to be disturbed, from those whose morals or mode of life are challenged, or whose materialist ideology runs counter to active faith. In wartime it is easy to attack people. The word was put around that MRA was pacifist—which it never was—and therefore against the war effort, at a time when every man of military age in MRA, including its younger whole-time workers, was in the forces, where many gave their lives and many were decorated for gallantry.
Ernest Brown as Minister of Labour had made lay Christian ministers a reserved occupation. This included 29 essential MRA workers. Ernest Bevan, who was anti-God, de-reserved them. This aroused considerable opposition in the churches and in parliament, on the grounds that their work was vital both for the nation at war and for post-war reconstruction. It finally went against us, and the work was carried by older volunteers and others unfit for call-up, when its adherents were giving their lives on the war fronts, and they campaigned to strengthen morale. Through all this time Wilson piloted the group with tenacity.
On the home front MRA underlined that true morale is based on faith and moral standards. Early in the war a poster proclamation on these lines, 'A Call To Our Citizens', was issued by 600 local authorities. Later the leaflet Morale—How To Play Your Part went eventually to over 20 million people, issued by civic authorities either as leaflets door to door, or as full pages in local papers.
MRA began to use theatre productions and, when it was no longer possible to tour them, turned part of its London headquarters into a small theatre. The review Battle Together For Britain ran there night after night, with people coming off duty from the services taking part in it. We had 60 miners' leaders there one night, in London for urgent discussions with Churchill. The booklet of the same name sold over a million copies.
At the end of the war the Swiss, at immense sacrifice, established the conference centre in Caux. A major question was how to bring about the changes which could ensure a democratic future for Germany. With the aid of the allied authorities a large number of the emerging leadership of Germany came to Caux in the next few years, including Dr Adenauer [post-war Chancellor of Germany] and many of the Ministers-President and other ministers from the regional parliaments, as well as industrial and trade union leaders, editors, clergy and many others who helped save post-war Germany. It was all based on the need for change, not on sentiment. The season of conferences at Caux lasted from June till October, and Wilson attended all of them, playing a leading role in their day-to-day planning.
Profound reconciliation took place with the French and others who were at Caux. Both the French and German governments decorated Buchman for what his work had done in this field.
MRA was invited to work in the Ruhr where the works councils were dominated by the Communists. In the next few years so many Communists' lives were changed that the party forbade its members even to speak to anyone in MRA. Similar actions were going on at the same time in the industries of Northern France and Northern Italy.
Further afield the first large group to visit Europe from Japan, 76-strong, came in order to be at Caux. They included political and industrial figures, and the Mayors of Hiroshima and Nagasaki. They went on to London and then Washington, where they were given standing ovations by both Houses of Congress. Changes of attitude and reconciliation in Caux also affected the peaceful transfer of independence in Morocco and later in Nigeria and Kenya, as well as in Cyprus.
It is not that Moral Re-Armament did it all—many other people were working for similar ends—but that they were sometimes able to make a vital contribution at key points through people who had adopted a new attitude.
Wilson was a quiet but forceful character, always resilient in the face of difficulty. He could show deep understanding of people as well as being tough where needed. He was a real man of faith. He was very musical, as befitted a nephew of Walford Davies, and cared deeply for all his family.
---
APPENDIX N. Garth Dickinson Lean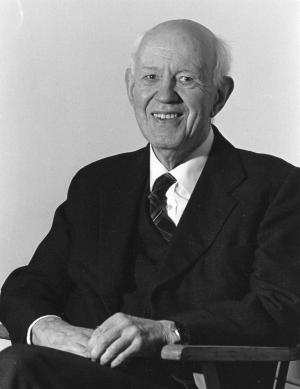 (Image and text courtesy of Wikipedia)
Garth Dickinson Lean, writer and religious worker: born Cardiff 26 December 1912, died Oxford 17 October 1993.
Garth Lean was, by his own description, a fisher of men. The Glasgow Hunger Marchers of 1932, camped overnight in Oxford where Lean was a student, were the springboard for his own conversion but the world of journalism was initially his chosen hunting ground. He believed the media would be more likely to be objective if their practitioners themselves attempted to live by high moral standards.
Drawn early in manhood into the Oxford Group, later known as Moral Re-Armament or MRA, Lean made his biggest 'catch' with Peter Howard, the Fleet Street journalist and England rugby player who succeeded MRA's founder, the American minister Frank Buchman, as world leader of the group.
By far the greatest part of Lean's life was devoted to working for MRA as administrator, conference leader, speechmaker and conciliator but he was also a biographer and author of considerable ability. He had that rare gift of being able to write flowing prose in an unpretentious style and so hold the reader's attention. Had he been a thriller-writer he would have been described as a 'page-turner'. His style was ideal for getting across to large numbers of people the relevance to their everyday lives the moral standards in which he believed so strongly.
Although much of his writing skill was devoted to works of witness, most successfully in Good God, It Works! (1974) and three topical books on the New Morality, which he co-authored with Arnold Lunn, Lean was also the author of two popular biographies of well-known public figures, John Wesley and William Wilberforce, figures who had themselves stood up for their beliefs in initially unsympathetic circumstances.
But his greatest writing achievement was undoubtedly his definitive biography of the MRA founder, Frank Buchman: a life (1985). Though not his last, this book occupied many years of his later life, including his final visit to the United States to help launch the American edition. It ranks with the best post-war biographies and is particularly commendable, given that Lean was so close to his subject for most of his life, for its detachment and objectivity even about the occasionally controversial affairs of MRA.
To an extent this detachment reflected his own standing with Frank Buchman. Although Lean did travel widely for MRA to most continents, spending up to a year in both India and Scandinavia for example, and was a regular visitor to summer conferences at Caux, in Switzerland, his health after a heart attack at the age of 44 prevented him from accompanying Buchman on many of MRA's overseas missions. He was also one of the few of MRA's inner circle who stood up to Buchman's forceful personality. Buchman probably respected this, once even forecasting that Lean would indeed be his biographer.
Writing was not the whole of Lean's life, however; he set out to touch the lives of as many people as possible, making his home for the last 35 years in Oxford, where he opened his doors to generations of students. He participated in many attempts, often successful and thus material for his books, to bring opposing sides together in disputes by appealing to their sense of honesty. He was successful during the Second World War in helping to improve working relations in the docks in his native Cardiff, with consequent implications for the war effort, and in the 1950s he helped to settle the long-running Schleswig-Holstein dispute between Denmark and Germany. As late as 1979 he was organizing working breakfasts between management and union representatives in the 11-month lay-off at Times Newspapers.
Just after the war, Lean married Margot Appleyard, who had also been working for MRA for some years. Thereafter, they were inseparable both in their work and at home, where they entertained simply but generously. Despite his firm independence of mind, Lean was modest and had a twinkling sense of humor that endeared him to a wide circle of people around the world. His Christianity was a matter of faith rather than easy certainty but even his last few weeks of painful illness he spoke of learning from it about Jesus.