Lieutenant Colonel (QM) R.D. Ferguson
Royal Engineers
by
Lieutenant Colonel Edward De Santis ©2008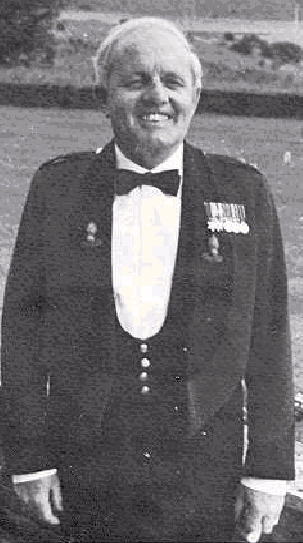 After 51 years service, Bob Ferguson finally retired on 26 October last year. He first enlisted in December 1931 as a boy soldier at the Army Technical School, Chepstow.

This was followed by sapper training at the Training Battalion in Chatham in 199 Party, the first all ex-boy party. At the end of training, the whole party were posted, in 1935, to 54 Field Company at Bulford and it was with that unit that he first visited the RE Bridging Camp, Wyke Regis, for bridging training. It was, therefore, appropriate that some 47 years later, when he retired as the Assistant Commandant RETC, 54 Squadron JLRRE presented him with one of his most treasured mementos, a picture depicting the activities of the Junior Leaders. It is worth recording that the method of transport from Bulford to Wyke Regis in 1935 was Shank's pony; 54 Company marched the 56 miles in two days and were fed en route from horse drawn kitchens. After training at Wyke, 54 Company moved to Palestine and Lance Corporal Ferguson was posted to Chatham, as a junior instructor in the E & M School.

World War II came in 1939 and, as a Staff Sergeant, he was attached to an RA Searchlight Regiment and went to France, returning to England six months later via Dunkirk. After a short spell in a Chemical Warfare Battalion in 1940, he joined 570 Corps Field Park Squadron in Ottery-St-Mary, where he met his wife and where he has now retired. With this unit, he saw service in North Africa in the early battles under General Wavell and, finally, at Alamein in the 8th Army. It was at Benghazi that he was mentioned in despatches for distinguished service.

After the fall of Tunis in 1943, he returned to Ismailia, on the Suez Canal, to the OCTU. On commissioning as a lieutenant, he was posted to 871 Mech Equipment Regiment as a troop commander and worked on the reconstruction of the runways of Benghazi and Tripoli aerodromes.
Then to India, as the Adjutant E & M Depot, before returning home in 1945 and, with a Mech Equipment Troop, helping to clear beach mines from around the coast of southern England.
In 1946, he moved to Germany and served in various units, including the Engineer Training Establishment at Hameln, Staff Capt Transportation at Rhine Army Headquarters and, finally, as OC German Plant Unit in Hamburg. Returning to the UK in 1952, he commanded Southern Command Plant Troop before being promoted to major, in 1955, as the DAQMG and BM at the RE Transportation Centre at Longmoor. He then did a spell in RE Work Services, as the SOII RE at HQ Aldershot District, before returning to Chatham where, as the Senior Plant Instructor from 1958 to 1962, he introduced the grade of Military Plant Foreman into the Corps.
After a second posting with the Chief Engineer Southern Command, he spent a short while in the Persian Gulf at the time of the evacuation of Aden. In 1969, he was promoted to lieutenant colonel and returned to Germany to command the German Engineer Group at Krefeld. His final posting was with the CRE HQ of 3 Division at Bulford. On his retirement from active service in 1972, he became the Assistant Commandant RETC, where he remained for the next 10 years.

After this long and varied career, he has now retired to Devon. But he is not content to just grow roses and has recently been appointed as Home Defence Advisor Ottery-St- Mary, Secretary to the British Handball Commission and, in May, he stood as a candidate for the Ottery Town Council.
SOURCE:
The Sapper, June 1983, p. 116.