350445 Pioneer
SIDNEY WILLIAM BAZALGETTE
Royal Engineers
by
Lieutenant Colonel Edward De Santis
Ó 2004. All Rights Reserved.
1. INTRODUCTION
a. Research Sources
Unless otherwise noted, the details supplied in this narrative were extracted from the soldier's service papers housed in the National Archives at Kew, Richmond, Surrey. The documents found at Kew consisted of only nine badly water- and fire-damaged pages from Pioneer Bazalgette's records. Because of the poor quality of the documents, some place names, dates and other entries dealing with Pioneer Bazalgette's service were not decipherable. A description of these pages may be found in the References section at the end of this narrative.
b. Author's Foreword
This research was undertaken when the author obtained a photograph postcard of Bazalgette produced following the end of the Great War of 1914-1918. An inscription in ink on the reverse of the postcard reads as follows:
With best wishes from Pioneer (Revd) S.W. Bazalgette (RE Signals)
37 Stanley Road
Wakefield, Yorks
Photo taken
Dec: 9th, 1918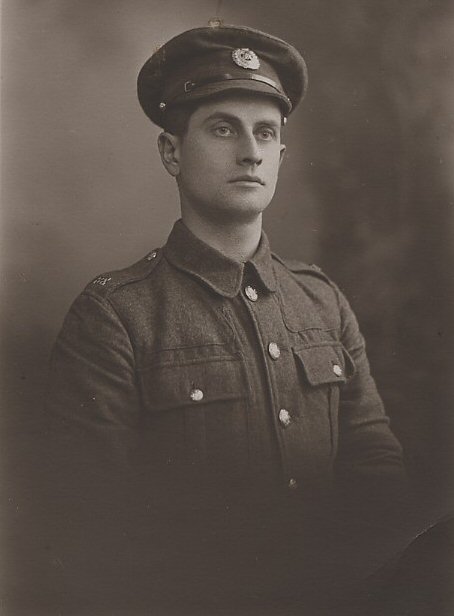 The interesting aspect of Sidney Bazalgette's military service is the fact that he was a Clerk in Holy Orders at the time he enlisted in the Corps of Royal Engineers.
2. EARLY LIFE AND FAMILY INFORMATION
Sidney William Bazalgette was born in Calcutta, India on the 10th of January 1889. Nothing is known of his parents, although it is assumed that they may have been missionaries spreading the word of Christianity in India. Sidney appears in the 1901 British Census as a boarder at Stanley House School, a private preparatory school for boys, at 24 Clarendon Road in Margate, Kent.[1] At the time that Sidney attended the school, the Headmaster was Mr. Albert E. Cozens. There were a total of 59 pupils in the school in 1901.[2]
The census return for 1901 gives no indication of the whereabouts of his parents. Presumably they were still in India at the time and young Sidney had been sent home to be educated.
At some point prior to enlisting in the Army to serve in the Great War, Sidney became an ordained minister. His residence at the time of his enlistment was 37 Stanley Road in Wakefield, (West) Yorkshire. Wakefield is a county town located approximately eight miles due south of Leeds on the River Calder. It is a textile-manufacturing town with a cathedral with a tall tower and spire, created in 1888. The cathedral was formerly a large 15th century parish church. Wakefield also is renowned for its restored 14th century Bridge Chapel, the finest of five still in existence in England.[3]
3. PHYSICAL DESCRIPTION
The following is a description of Sidney William Bazalgette at the time he enlisted in the Army in 1918:
| | |
| --- | --- |
| Age: | 29 years and 6 months. |
| Height: | 5 feet 4¾ inches. |
| Weight: | 127 pounds. |
| Chest (expanded): | 35½ inches. |
| Chest (normal): | 32½ inches. |
| Hair: | Black. |
| Complexion: | Pale. |
| Physical Development: | Good. |
| Vaccinated: | In infancy. |
4. ENLISTMENT AND TRAINING
a. Enlistment
On the 6th of May 1918, Reverend Bazalgette requested enlistment into the Royal Engineers Signal Service. The war was about to enter its fourth year and although Sidney was not aware of it, only a little over 6 months remained before the Armistice would be signed. In May of 1918 he was already serving in Holy Orders, he was married, and he had a young son almost 2 years old. In addition, he was a small man, standing only 5 feet 4¾ inches tall and weighing only 129 pounds. Surely all of these factors combined would have made him ineligible for wartime service. However, Sidney was determined to serve and oddly enough he chose not to serve as a Chaplain to the forces.
The War Office informed him that to process his request he would have to complete and submit Ministry of National Service Form (R) 203 for "special enlistment of a man not liable to military service." This form was required for any man wishing to enlist;
whose posting to the Corps of his choice required special sanction from the War Office; or
who could be enlisted until notification was received that there was a vacancy in the Corps desired.
It would appear that Bazalgette fell into category (a) based on his desire to serve specifically in the Royal Engineers Signal Service. Considering his diminutive size, the Signal Service would be a reasonable choice for him. He certainly did not possess the physical requirements for a Sapper in a field company or other front-line unit of the Corps of Royal Engineers where heavy lifting, digging, bridge construction or similar physically demanding tasks would be required.
On the 2nd of July 1918, Bazalgette was directed to report to Pontefract, West Yorkshire for a preliminary medical examination.[4] Following this examination, the Recruiting Officer of the 51st Recruiting Area pronounced him suitable for service in the Royal Engineers Signal Service as a Pioneer. On the 4th of July 1918 the Director of Organization at the War Office, after reviewing Bazalgette's application for enlistment and preliminary medical examination results, indicated that he would be acceptable for the RE Signal Service.
Sidney was so informed of the War Office decision that he could be enlisted, and on the 9th of July 1918 he was ordered to return to Pontefract for a final medical examination. This examination placed him in Medical Category "A" indicating that he was fit for general service. On the day following the final medical examination, Bazalgette was called up for service at Pontefract as a Reservist. He indicated to the recruiting officer that he was a British subject, that he was married, and that he was a Clerk in Holy Orders. He also indicated that he had never previously served in any branch of His Majesty's Forces, naval or military. His enlistment was approved by the Officer Commanding the Reception Depot, King's Own Yorkshire Light Infantry (K.O.Y.L.I.). Captain O.W. Chalker, Adjutant and Posting Officer of the K.O.Y.L.I signed the Certificate of Approving Officer for his enlistment.[5] 350445 Pioneer Sidney William Bazalgette was then immediately posted to the Royal Engineers Signal Service Depot at Bedford.
b. Recruit Training
It does not appear that Pioneer Bazalgette was required to undergo recruit training in the usual manner prescribed for men enlisted into the Royal Engineers. Because of the special circumstances surrounding his enlistment and the fact that he was being directly assigned to the RE Signal Service, he received all his training at Bedford rather than at the School of Military Engineering in Chatham, Kent.
5. PROMOTIONS AND CONDUCT
a. Promotions
Pioneer Bazalgette did not receive any promotions during his time in service.
b. Conduct
There are no entries in Pioneer Bazalgette's service papers regarding his conduct during his time in service.
6. EDUCATION AND QUALIFICATIONS
a. Education
There are no specific references to Pioneer Bazalgette's educational achievements while serving in the Army.
b. Qualifications
Pioneer Bazalgette earned the qualification of Field Linesman during his time in service.
7. POSTINGS AND CAMPAIGN SERVICE
Following his training period at the Royal Engineers Signal Service Depot at Bedford, Pioneer Bazalgette was posted to the R.E. Signal Depot at Biggleswade, Bedfordshire. Biggleswade is a town located approximately nine miles east southeast of Bedford and appears to have been a sub-depot of the major RE Signal Service Depot at Bedford.
When the armistice was signed on the 11th of November 1918, Pioneer Bazalgette was still serving at Biggleswade. He had not served overseas and therefore his record does not contain any notations regarding war service during his time in the Army. By virtue of his war time service he would have been entitled to receive the British War Medal, as this medal was issued singly without the Victory Medal to certain regular and mobilized personnel who did not see any fighting.[6] A search was made in the National Archives at Kew, but no record of Pioneer Bazalgette's Medal Index Card could be found. Therefore, it is not known whether the Medal Index Card simply was missing from the files or whether, in fact, Bazalgette did not receive any medal for his service during the Great War.
Bazalgette remained in the Army for six months following the armistice. On the 15th of May 1919 his Protection Certificate and Certificate of Identity was issued in preparation for his demobilization. The certificate showed that he had served in the Eastern Command and that his record and pay office was located at Chatham, Kent, the regimental depot of the Royal Engineers. In the event of an emergency and his recall to the Colours, he was to rejoin the Army at Newark in Nottinghamshire.
8. MEDICAL INFORMATION
The following information was taken from Pioneer Sidney William Bazalgette's medical records during his time in service:
Location

Date of
Admission

Ailment or Medical
Procedure

Period of Hospitalization
or Treatment

Pontefract, West Yorkshire

2 July 1918

Preliminary medical examination

Found fit for service in the RE Signals Service.

Pontefract, West Yorkshire

9 July 1918

Final medical examination

Placed in Medical Category "A" - fit for general service.

Bedford, Bedfordshire

15 August 1918

First TAB inoculation

None.

Bedford, Bedfordshire

22 August 1918

Smallpox vaccination

None.

Bedford, Bedfordshire

26 August 1918

Second TAB inoculation
None.

Biggleswade, Bedfordshire

15 May 1919

Medical examination

Examined prior to demobiliza-tion. No claim made for disability due to military service. Classified Medical Category A(2).
9. MARRIAGE AND PERSONAL INFORMATION
Sidney William Bazalgette married Daisy Hart at Kimberley, Nottinghamshire on the 20th of June 1916. Following their marriage they lived at 37 Stanley Road in Wakefield, Yorkshire where Sidney presumably was the Vicar of the local parish church. Wakefield was located in the archdiocese and diocese of York and was comprised of two parishes; All Saints (established in 1613) and St. Johns (established in 1795). This West Riding of Yorkshire town also encompassed the chapelries of Horbury and Stanley and the townships of Alverthorpe with Thorne and Wrenthorpe. The religious denominations found in Wakefield included Independents, Wesleyan Methodists, Society of Friends (or Quakers), Primitive Methodists, Unitarians and Roman Catholics.[7] Unfortunately, Reverend Bazalgette's denomination is not indicated in his military service papers.
On the 19th of May 1917 Daisy gave birth to their son, Frederick Sidney, in the town of Derby. Frederick's birth is shown on Pioneer Bazalgette's military service papers. It is not known whether the Bazalgettes had any additional children after Sidney left the Army.
10. DISCHARGE
Sidney William Bazalgette was transferred to the Class "Z" Army Reserve on the 11th of June 1919 upon his demobilization from the m the Army at Chatham, Kent. His total service between the 10th of July 1918 and the 11th of June 1919 amounted to 11 months, all of which were spent in the United Kingdom. Upon his demobilization, Bazalgette returned to his wife and young son at 37 Stanley Road in Wakefield, Yorkshire.
11. POST SERVICE LIFE
Sidney returned to his ecclesiastical duties in Wakefield upon leaving the Army. His son Frederick entered Barker College in Hornsby, Lancashire and graduated in 1932.[8] At some time prior to the start of the Second World War, the Reverend Sidney Bazalgette and his wife moved to Botus Fleming in Cornwall, three miles northwest of Saltash, where he assumed his duties in the local parish church. The parish of Botus Fleming was formed in 1548 as part of the diocese of Exeter in the archdiocese of Cornwall.[9]
At the start of World War II, young Frederick Bazalgette joined the Royal Air Force and received training as a bomber pilot. Following his training he was posted to No. 218 (Gold Coast) Squadron, Royal Flying Corps.[10]
No. 218 Squadron was formed near the end of the Great War and was disbanded in June of 1919. It was reformed on the 16th of March 1936 when it was recreated from 'A' Flight of No. 57 (B) Squadron then based at R.A.F. Upper Heyford in Oxfordshire. On reforming, the squadron was equipped with the Rolls Royce Kestrel-powered Hawker Hind 2-seat light bomber, which was later superceded by the single-engine Fairey Battle light bomber. The Fairey Battle was an elegant looking, single engine monoplane designed in 1937 as a bomber. The Battle Mk. I had a crew of three; a pilot, navigator/wireless operator and rear gunner. The aircraft was powered by a single 768k W Rolls-Royce Merlin I engine with a maximum speed of 250 mile per hour. The Battle had a ceiling of 25,000 feet and a range of 1,180 miles. Its armament consisted of two 0.303 machineguns in the rear for the gunner. Its bomb load was 1,000 pounds. Although it was elegant in appearance it was a very unsatisfactory aircraft that certainly did not live up to its name. The aircraft was too heavy for its single Merlin engine. It was slow, insufficiently armed and was easily shot down by the faster more agile fighters of the Luftwaffe because of its extreme vulnerability. The rear gunner could only fire to the rear and sides of the aircraft. It had no way to defend itself against a head-on attack or an attack from below.
On the 5th of December 1938 No. 218 Squadron was presented with its official badge, which had been approved and signed by His Majesty The King. The badge consisted of the typical Royal Air Force squadron insignia with 218 Bomber Squadron Royal Air Force in a circle around an hourglass. The circle, surrounded by laurel leaves, rested on a scroll containing the words IN TIME. The significance of the hourglass was that the squadron was formed "in time" to take part in the Great War. No. 218 Squadron received orders on the 24th of August 1939 to mobilize as part of No. 75 Wing, Advanced Air Striking Force (A.A.S.F.). The R.A.F. wings of the A.A.S.F. were based on aerodromes to be taken over from the French, mostly in Champagne and were given the mission of acting independently of the British Expeditionary Force.
The day before war was officially declared on the 3rd of September 1939, the squadron flew to France. During the early days of the "Phoney War" the squadron carried out a limited number of reconnaissance flights and leaflet dropping raids. The squadron was, however, involved in the frantic aerial campaign to stem the German Blitzkrieg during May of 1940. It was during this campaign that 70790 Pilot Officer Frederick Sidney Bazalgette, flying his very vulnerable Fairey Battle bomber, was killed in action on a mission over France on the 12th of May 1940. He was 22 years old.[11]
Frederick was buried at Nouvion-Sur-Meuse Communal Cemetery in the Ardennes region of France. This cemetery is located about nine kilometers southeast of Mezieres and two kilometers east of the main road from that town to Sedan. The cemetery is near the northeastern outskirts of the village on the road to Lumes. Pilot Officer Bazalgette's is the only Commonwealth war grave in this cemetery.[12]
On the 15th of September 1951, Reverend Bazalgette became the Vicar of the parish church in Botus Fleming. He held this position until the 19th of July when it appears that he may have retired at the age of 67.
REFERENCES
Books
1. GORDON, L.L. British Battles and Medals. Spink & Son, Ltd., London, 1971.
2. LETTS, C. Roadbook of Britain. Charles Letts and Company Limited, London, 1977.
3. SMITH, F. A Genealogical Gazetteer of England. Genealogical Publishing Co., Inc., Baltimore, 1977.
Documents
1. Letter from the War Office to The Reverend S.W. Bazalgette, dated 6 May 1918, subject: Enlistment in the Royal Engineers Signal Service.
2. Letter from the War Office to The Reverend S.W. Bazalgette, dated 29 June 1918, subject: M.N.S. Form (R) 203.
3. Ministry of National Service Form (R) 203.
4. Record of Service in the Reserve to include the following sections:
a. Questions to be put to the Reservist on Joining.
b. Certificate of Approving Officer.

c. Medical Record.

d. Military History Sheet.

e. Protection Certificate and Certificate of Identity.
Internet Web Sites
1. No. 218 (Gold Coast) Squadron.
2. Commonwealth War Graves Commission (CWGC).
3. The Old Barker Association.
4. RootsWeb.com. Isle-of-Thanet-L Archives.
5. WHITE, B.J. Thanet's Private Schools, 19th and early 20th century.
Periodicals
The Monthly Army List, June 1919
ENDNOTES
[1] 1901 Census, Enumeration District 20, Folio 105, Page 13. Civil Parish: Margate. Ecclesiastical Parish: St. Pauls. Registration District: Thanet. Sub-registration district: Margate.
[2] WHITE, p. 14.
[3] LETTS, p. 31.
[4] Pontefract was the depot of The King's Own (Yorkshire Light Infantry), Regimental District No. 51 and the location of the nearest Recruiting Area Officer.
[5] The Monthly Army List, June 1919, p. 1357.
[6] GORDON, p. 311.
[7] SMITH, p. 542.
[8] The Old Barker Association Internet web site.
[9] SMITH, p. 69.
[10] The squadron was known as "Weston-super-Mares Own."
[11] CWGC casualty record 2689718.
[12] CWGC Internet web site.